25 Things To Do in June In and Around Jersey City
With the sun shining brightly for the days to come, there are a plethora of enjoyable activities to do with the family such as having lunch at Jersey City's ideal outdoor dining options, going for a picnic, taking in nature's beauty on a hiking trip, petting zoos, drive-thru zoos, strawberry picking, and more.
Featured Photo: JerseyPhotograher via Instagram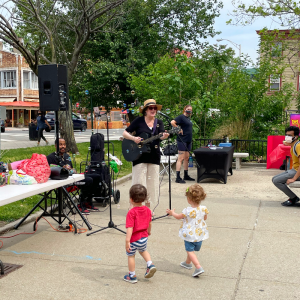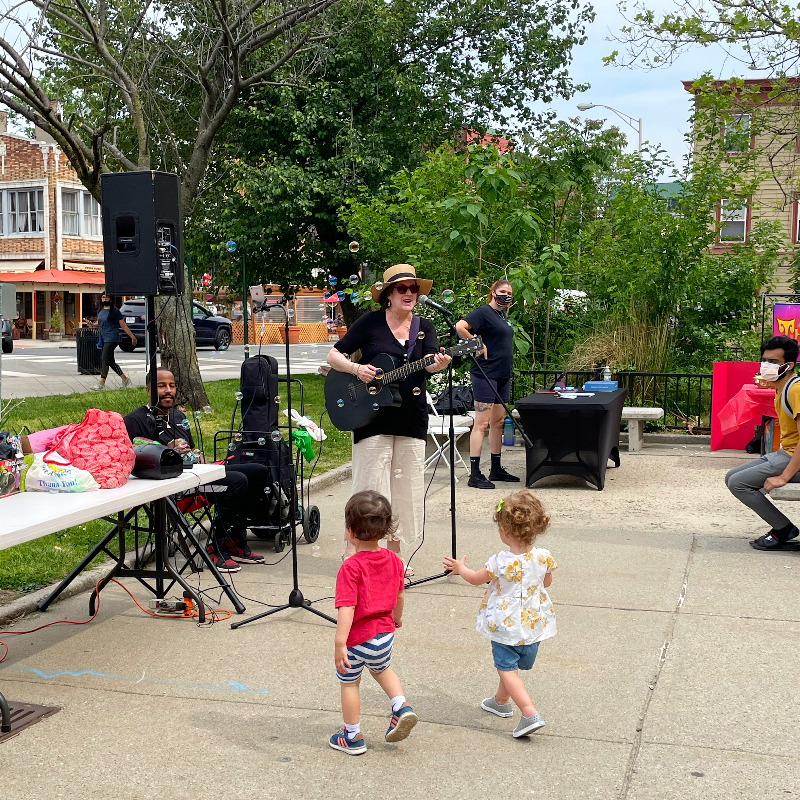 Join JCFamilies on Monday afternoon for Music for Kids sponsored by Mack-Cali. The class will be held from 5:30 pm-6:30 pm outdoors at 210 Hudson Street, Jersey City, NJ 07311 near Ziggy.
ALL kids and adults are welcome to join this FREE event! Please wear a mask and keep social distancing in mind if you attend.
https://jcfamilies.com/event/music-for-kids-at-harborside-free-event/
Attention JC residents!
This summer, join us for a weekly local market sponsored and organized by Mack-Cali and supported by JCFamilies. The event will be every Tuesday from 3-7 pm at 210 Hudson Street starting May 25th.
There will be local vendors and food vendors for you to spend the perfect day with the whole family outside. This is a free event, and everyone is welcome!
There will be a corner for kids to show their creativity; they can draw or paint.
Please come and support these local small businesses.
https://jcfamilies.com/event/jc-local-market-2021/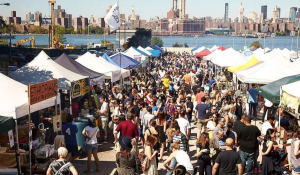 Exciting news! Smorgasburg is coming to Jersey City! The popular outdoor food market will be opening on May 29th in place of Lutze. The opening lineup will consist of 25 to 30 food vendors as well as beer and drinks.
Drive-In Movie Night Series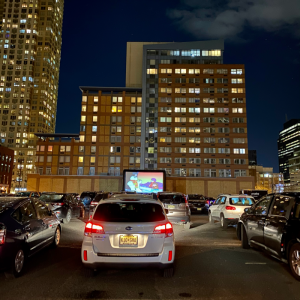 Exchange Place Alliance are so excited to organize another outdoor Drive-In Movie Night Series. This series will be taking place at 107 Morgan Street Jersey City, New Jersey 07302.  The price per car for a spot is $20 and is non-refundable. If you have made reservations, you will get a unique ticket number for your site via email. Please make sure to print your ticket and bring it with you to the event. BUY TICKETS HERE. 
There will be an FM channel to tune into and listen to the movie audio while remaining in your vehicle.
Wearing masks will be enforced when less than a six-foot distance cannot be maintained. Social distancing will be implemented for all vehicles.

Nimbus and JCFamilies are excited to bring you this summer fun Saturday event, which is part of the Youth Arts Talent Showcase.
There will be family-oriented performances, activities, and Youth Arts Talent Showcase– in collaboration with Nimbus Arts Center and LUX Performing Arts. This will be fun for the whole family to enjoy – with exciting entertainment like a magic show, arts and crafts, food trucks, vendors, and more! See Jersey City's talented youth performers in a showcase performance + special performances by the regionally recognized Nimbus Youth Ensemble.
Make your way to Hamilton Park for Feministival on 
Friday, June 18th from 5 pm to 7 pm
! This summer event was created to highlight women-owned businesses in our community. There will also be a ton of fun activities for children. Bring the whole family to enjoy a warm summer evening, grab dinner from a food vendor, enjoy all the entertainment we have planned for you and support local women-owned businesses.
There will be arts & crafts, faint bubbles, food vendors, and more!
Strawberry Picking With The Family

If you are looking for a fun and active way to get the whole family outside in the summer sun, give strawberry picking a try! There are plenty of strawberry picking farms around Jersey City, NJ, so you have no shortage of options. Not only will the kids have fun searching for strawberries in the fields, but they get to learn a bit about where their delicious food comes from, the importance of farming, and they will be much more excited to eat their fruit for the day. We have a full guide here. 
Head To A Local Winery

Who doesn't love a glass of wine or a bottle, especially during the summer? Luckily, there are some amazing wineries and vineyards near Jersey City that you can go over the weekend. Check out our guide of the 10 best wineries to check out this summer.
Go Shopping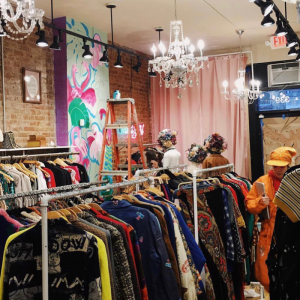 Looking for a gift for a loved one or just want to go out and treat yourself? As spring is upon us refresh your closet with some fun spring and summer pieces. Jersey City and Hoboken have an abundance of local shops to shop for some amazing things. Shop local and check out this full guide here.
Head To The Beach

It's summer and let's be honest, all we really want to do is sit on the beach. Head to the beach with the family and enjoy the beautiful summer weather. Here are some of the best picks for beaches near Jersey City.
Enjoy A Meal Outdoors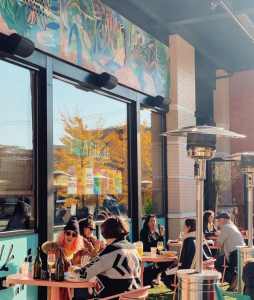 As the weather gets nicer, enjoying a nice glass of wine and a delicious meal sounds perfect. Luckily, all the amazing Jersey City restaurants make sure to have a lovely outdoor seating experience in the spring! A lot of them have opened their patios and backyards this month. Check this list out to find one.
Check Out A Local Park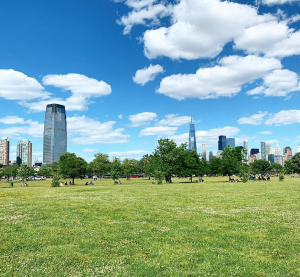 Although Jersey City is of the most populous cities in the US, it boasts dozens of parks and playgrounds for all ages to enjoy. These parks offer oases of peace in the middle of the busy, fast-paced city, but also numerous activities. Take a look at our guide to Jersey City parks and playgrounds and find the one (or more) that suits you best.
Get Fresh Produce At A Local Farmers Market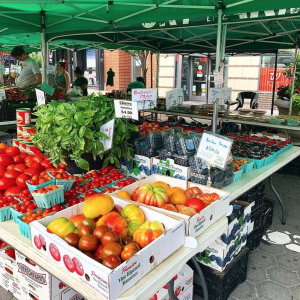 As the weather gets better, the farmers' market around Jersey City are opening. Check out a local market for your fresh produce as well as other local products. We have created a guide of 10 farmers' markets in Jersey City here.
Go On A Hike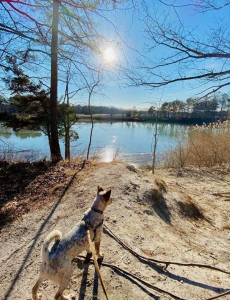 As the temperature gets warmer, it's the perfect time to grab your family and your camera and capture these amazing moments! Hiking is a great way to enjoy all that nature has to offer while spending quality time with the ones you love. Not to mention, it's an amazing workout! To help you find the perfect trail, we've created a list of the 10 Best Hiking Trails for Families Near Jersey City here. 
Take The Kids To A Playground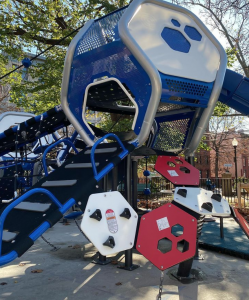 Jersey City is full of amazing playgrounds and parks for children of all ages. We have created a guide here of some of our top picks for playgrounds for kids in Jersey City. Step out and enjoy the sunshine with the little ones.
Watch A Movie At A Local Drive-In Movie Theatre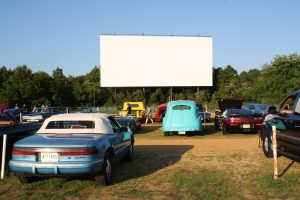 Drive-in movies have become a real hot spot during the pandemic. This is such a fun activity to do with the family and also a safe way to enjoy another activity to get you and the kids out of the house. Luckily, there are a few drive-in movies near Jersey City that continue to play your favorite movies! Here is a full guide to them.
Experience A Drive-thru Safari Experience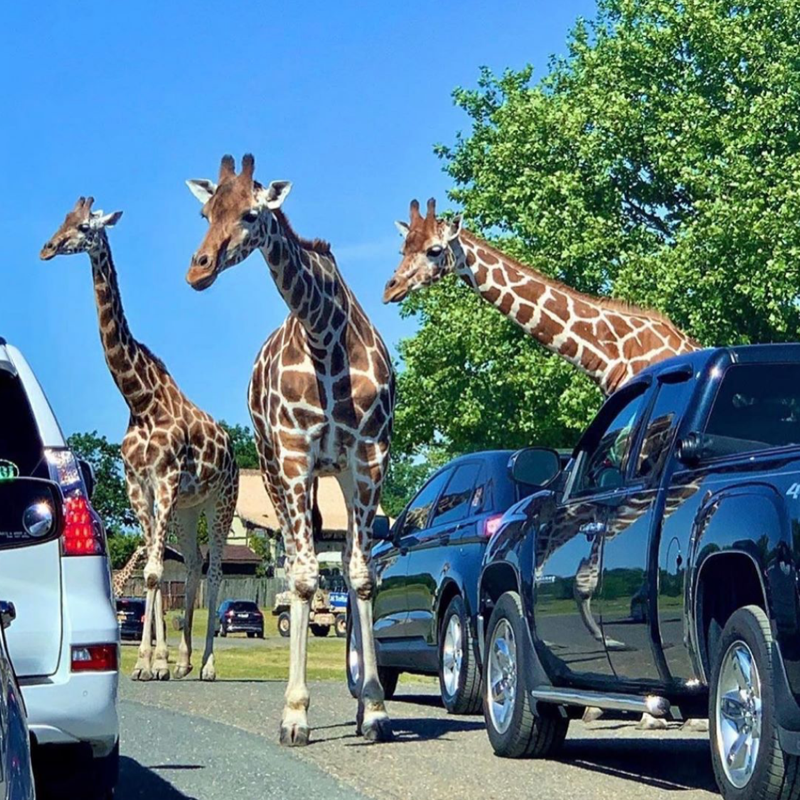 We know as the weather gets better it is an important time to keep the kids busy and adventure out into different activities with families. If you are interested in a fun socially distanced activity for the kiddos, drive-thru zoos are a must. The kids would totally enjoy this animal-filled experience with keeping safety in mind. Check this guide out on our website.
Have Fun With Farm Animals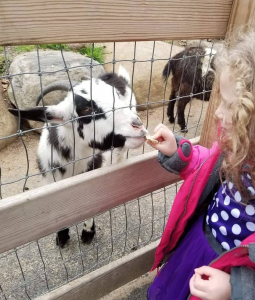 If you have small children who love animals or you're interested in having an animal-filled experience to remember, a petting zoo or pony ride might be the perfect place to take your little ones! Create amazing memories feeding and learning about all types of animals. Have fun with farm animals by checking this guide. 
Take Your Furry Friend To The Park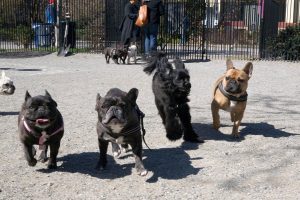 As the weather changes, our furry friends need fresh air. Take your pup to a local dog park. We have created a list of all the parks open in Jersey City here. 
Check Out A Garden Near Jersey City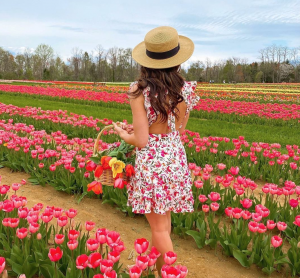 Are you looking for an activity where you can connect with nature this summer? Luckily, near Jersey City, there are gorgeous and luscious gardens that are open for the public. We have created a full guide on it here. 
Head to Governors Island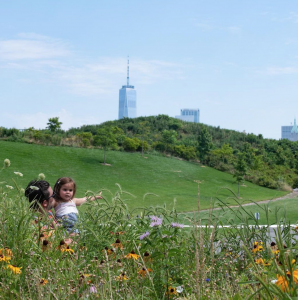 We know that families are always looking for new and fun exciting places to visit when it is summertime. Governors Island New York is a 172-acre island in the heart of New York Harbor. It is a world unto itself, unique and full of promise. If you are looking to escape the daily city life without having to go too far, check out Governors Island New York. With a ton of exciting activities for the family, beautiful views, good food, and so much more, you can have a perfect weekend here. More information here. 
Get Some Baked Goodies From A Local Bakery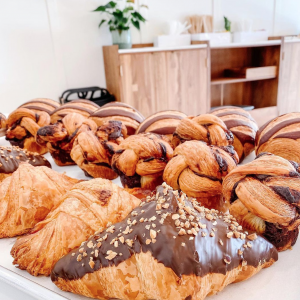 When it comes to fresh baked goods or the most scrumptious desserts, Jersey City bakeries do not disappoint! One great thing about a city as vibrant as Jersey City is that within each neighborhood, there's a great bakery filled with an array of bread and pastries. Therefore, we have created this list of the best 15 bakeries that you have to check out.
Check Out A Local Zoo or Aquarium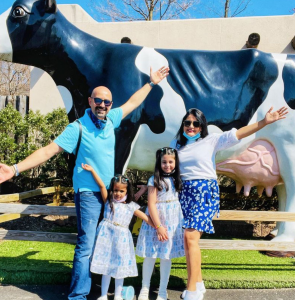 You don't have to travel very far to find educational and fun activities near Jersey City, there are many great zoos and aquariums located nearby to keep your family entertained all season long. Check out our list of some of the best ones to spend quality time with your family while also learning about wildlife!
Check Out A Beer Garden
Sometimes there is nothing like sitting outside, drinking a beer, and enjoying an awesome view on a warm summer day or evening. Luckily, we have quite a few Beer Gardens in Jersey City to choose from. Each has some great beer, delicious foods, and most are even kid and family-friendly! Check the list here.
Visit A Beautiful Lake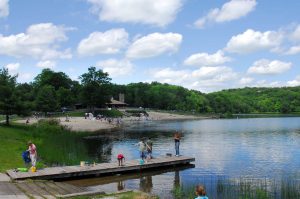 We know how much families want to enjoy the beautiful outdoors as the weather gets warmer. Luckily, there are endless opportunities to make unforgettable memories and experiences. New Jersey has some of the best lakes and the cleanest water for swimming, sailing, fishing, paddle boarding, and even kayaking. Check out the list we've created just for you of New Jersey's most beautiful lakes.
Thankfully, Jersey City/New Jersey is filled with infinite possibilities on what to do, places to see, and foods to eat. If you feel like learning about the history of winemaking and how wine is made, consider a one or a two-hour excursion to one of the wineries in New Jersey. Capture the summertime vibe by planning a trip to a lavender farm or sunflower fields and bring home fresh lavender, sunflowers, and handmade products. Looking to stay close to home? Explore one of the many parks or dine at top restaurants located in the state's most diverse city, Jersey City.