Grab your wallet, coats, and significant other and enjoy your time grubbing down delicious food at these 7 date night restaurants in Hoboken.
There is nothing like planning a perfect and charming date night in New Jersey. Just like New York City's cozy restaurants ideal for the quintessential date night, things are very similar across the Hudson River in Hoboken and other cities.
Amanda's Restaurant
908 Washington St., Hoboken, NJ
Amanda's Restaurant is the perfect destination for a date in Hoboken.
The establishment, which has been around for 30 years, is located in a restored sophisticated brownstone with charming decor and New American cuisine with an Argentine flair, all perfect for a first date or anniversary dinner.
Some of the mouth-watering items on the menu include beef, spinach, and chicken empanadas served with chimichurri, filet mignon with shallot butter, eggplant parmigiana and much more.
Olivia's Dining and Cocktails
1038 Garden St., Hoboken, NJ
Regarded as a "beautiful" place with a unique menu, Olivia's Dining and Cocktails is a restaurant you don't want to miss out on for date night.
They sell delectable dishes such as a seared Octopus dish with sauteed potato, olives, and piquillo pepper, and orange fennel relish for dinner, and the Olivia's Brunch Burger that contains things like Angus beef, chipotle mayo, swiss cheese, caramelized onions, fried egg, lettuce, tomato, on a brioche bun. 
As for the cocktails, the restaurant hasn't shied away from making them creative.
Olivia's High Tea drink offers Amsterdam lemon or grapefruit black tea infused vodka with cranberry and lemon juice, or The Hoboken Life, which has ginger whiskey, lemon juice, ginger ale, and hibiscus.
The Dining Room at Anthony David's
953 Bloomfield St., Hoboken, NJ
Did somebody say brunch? If you're fond of brunches, then take a trip to Anthony David's.
The unique restaurant serves up things like spicy tuna tartare and house-whipped ricotta for appetizers, truffle risotto, and pork chop parmesan for dinner.
And if you'd like to have a cocktail with your meal, you can try the featured cocktail called Love Bite, which has vodka, gin, and all spice dram with notes of cranberry and lemon.
Anthony David is one of the several BYOB restaurants in Hoboken and Jersey City that don't have corking fees. Essentially, you can jazz up your glass of orange juice and turn it into a refreshing and bubbly mimosa.
Belo Bar & Kitchen
104 Hudson St., Hoboken, NJ
Belo Bar is located in Downtown Hoboken and is an American bistro and drink establishment with an upscale and neighborhood charm.
The bar's drink menu seemingly takes you on a trip to taste the delicious flavors of countries worldwide. With cocktails like The Taj Mahal and Pyramids of Giza, which include coffee-infused mezcal, you're guaranteed a good time!
Cucina Saporito
328 Washington St., Hoboken, NJ
Launched in 1999, Cucina Saporito is an Italian restaurant that is a favorite in Hoboken.
The restaurant's atmosphere is romantic and cozy, which is lovely for date night. It's also a great restaurant for an Italian family dinner in Hoboken.
​You can start your meal with a  charcuterie platter consisting of different kinds of cheeses, meats, and olives that can go great with a bottle of wine as an appetizer. 
For the main course, hearty chicken marsala or gnocchi pesto are some of the great menu options.
Lola's Tapas Bar
153 14th St., Hoboken, NJ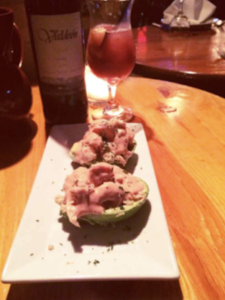 Lola's Tapas Bar has been around since 2000 and is one of Hoboken's top Spanish restaurants.
The establishment offers 80 unique and mouthwatering Spanish dishes and 100 wines to accompany the meal.
With delectable meals such as scallops with bacon on a sea of raspberry sauce and almonds, avocado stuffed with lobster and shrimp, to chicken cooked in whiskey sauce, there is something to satisfy your craving.
A gorgeous antique fountain in the middle of the dining area, the Spanish decor, and intimate lighting add to the overall easygoing mood of the establishment.
Elysian Cafe
1001 Washington St., Hoboken, NJ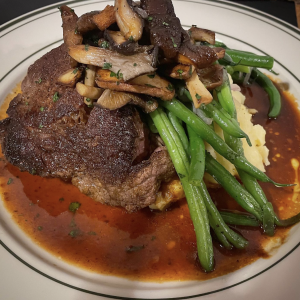 Elysian Cafe gives you a taste of history as one of the oldest continually operated restaurants and bars in Hoboken. 
Originally opening in 1895 and was called Dillenger & Jeffson's, the cafe served as an ice cream parlor and a hair salon during prohibition. 
Elysian Cafe currently offers a French Bistro style menu serving things such as classic juicy burgers with fries; steaks; poutine, which they make as truffled fries, duck confit, cheese curd, foie gras gravy; chipotle & honey-glazed short ribs with a side of white cheddar jalapeño grits and sauteed broccoli rabe.
If you're looking for other date-approved activities and top restaurants, check out these spots in Jersey City.  Should you have a craving for European food, take a look at these top European-style restaurants and cafes in Jersey City.
Additionally, if you want to know about one-of-a-kind date ideas, these restaurants with fantastic views in Jersey City will elevate your day or night outing!