A Guide To Live Music At Restaurants in Jersey City
Who doesn't love some good music while they enjoy a meal, on a night out or when you grab a bite at your favorite restaurant? Luckily, Jersey City has a ton of restaurants and lounges that provide an abundance of live music. From jazz to acoustic to a live DJ, there is something for everyone. Since outdoor dining is now open for the summer, a lot of these places have music in their patios for customers to enjoy. This guide will help you find the most current live music spots in Jersey City!
Before you visit, please make sure to call or check each venue's website as dates and timings can change daily. 
485 Marin Blvd, Jersey City, NJ 07302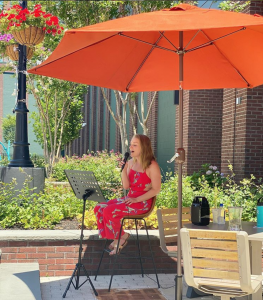 Looking for a cute place to enjoy brunch with some music? Check out, Cafe Esme! Café Esmé has been designed to bring a piece of Parisian taste to downtown Jersey City. They offer delicious sandwiches, pastries, coffee, and more. Recently, they have added brunch and dinner to their menus and offer live music on the weekends in their outdoor garden area. Everyone is welcome, whether you want to come with the kids, on a date or just on your own to grab a bite.
141 Bright St #4203, Jersey City, NJ 07302
The Brightside Tavern is a local restaurant that offers brunch, lunch and dinner. They have a lot of options on their menus from pasta to sandwiches. They offer jazz nights on Mondays, open mic nights on Thursdays and Sundays for live cover bands.
339 Communipaw Ave #4072, Jersey City, NJ 07304
Harrys Daughter is a gastropub in the Bergen-Lafayette neighborhood of Jersey City. Threading a fine line between relaxed and refined, the food elevates the flavors of Caribbean home cooking in unique and thoughtful ways and for the drink menu, tropical flavors with the latest trends in cocktails. If you are looking for some tropical drinks, a fun environment, and great food, Harry's Daughter is your best bet! They have recently started offering live music on Sundays(make sure to check their Instagram for updates) as well as a live DJ.
390 4th Street Jersey City – NJ 07302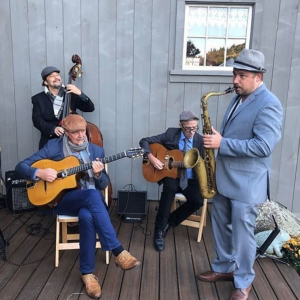 Think of charming little french bistro with lively jazz music. Madame Claus Bis offers some authentic and delicious french cuisine. Wife & husband, Alice Troïetto & Mattias Gustafsson both from France, opened Madame Claude Cafe in 2002 and Madame Claude Wine in 2010. At the moment they are offering brunch and dinner. Check out their live gypsy jazz music bands throughout the week. Check their Instagram and website for the latest details.
135 Newark Ave, Jersey City, NJ 07302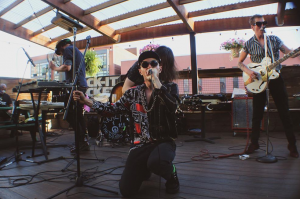 Looking for some Neapolitan style pizza with your drinks? Check out, Porta. Not only do they have a full bar and yummy food, but they also have a rooftop that is definitely worth checking out in the summer. They have DJ'S or live music on their rooftop weekly but make sure to call them or check their social media before you visit. The venue overall is quite spacious but can get quite packed on the weekends so keep that in mind when you visit.
502 Washington Blvd, Jersey City, NJ 07310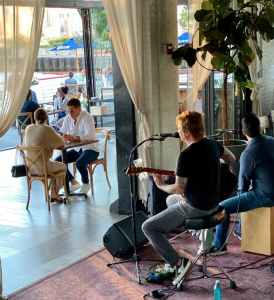 Battello is now open for outdoor dining and also offers live music on Thursdays and Saturdays on their patio. Situated on the Hudson with breathtaking views of the Manhattan skyline, Battello will be an unforgettable culinary experience featuring a contemporary Italian based, seafood-influenced menu designed by one of New Jersey's top culinary masters, Chef Ryan DePersio. Perfect for the family or date night! Check out their events calendar here. 
594 Palisade Avenue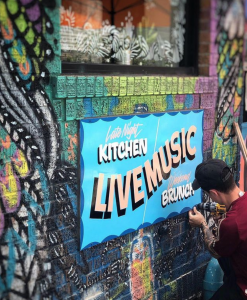 Fox and Crow is back with live music.  Enjoy this snug, local spot offering beer, cocktails, elevated pub grub, weekend brunch, and of course frequent live music.