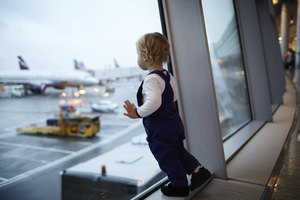 As I have said in the past, I think flying with kids is one of the biggest hurdles to overcome when planning and actually going on vacation. No one wants to be "that family" on the flight. But, I think if you are well prepared you have won half the battle.  I have written several blogs in the past on some of the issues I see families facing when it comes to flying, like getting seats together and getting the best price on your tickets.
The holiday season is fast approaching and I know many of you will be flying to your destinations so I wanted to share information on the different the carriers and the amenities they offer to families.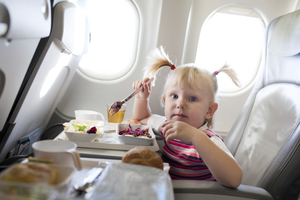 JetBlue   
Jet Blue is one of my favorite airlines for families.  A big reason is FREE checked 1st bag, for a family of 4 that means saving up to $200 on a trip.  As well, more leg room and seatback televisions which offer 36 channels of  FREE Direct TV.  As well, they actually still serve kid-friendly snacks, like animal crackers at no extra charge. Now, they also offer Family Pooling of your True Blue points.  A great way to save and maybe actually use your miles.  Also you can check your stroller at the gate and they offer pre-boarding with children 2 and under.  Make sure to check out the FREE Soar with Reading Activity Kit.   My boys have even received a set of JetBlue Wings, so make sure to ask for them.
Southwest Airlines 
Southwest also offers a FREE 1st checked bag, so again a family can save on this airline.  As well, they offer a discounted fare for infants, which is nice if you don't want to have to hold the baby the entire flight.  Southwest does not offer assigned seats, which can be an issue with families, however if you have kids 4 and under you are automatically in the second boarding group. Make sure to ask for coloring books and a set of  Southwest Wings. 
Another great airline which offers amazing amenities and service. There is a $25 bag fee for non-refundable tickets only. They offer seatback entertainment with FREE satellite TV, games and even seat-to-seat chat. I loved that I could order food or drinks directly from my seat. They also offer kid friendly meals like, PBJ and organic gummi bears for $4. Also, families with "small children" can pre-board.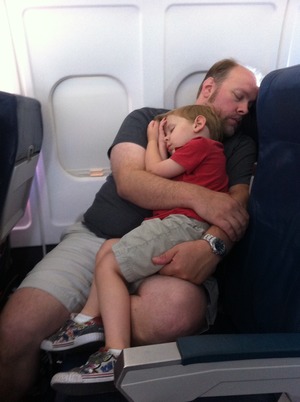 American
They do not offer pre-boarding, but they do offer kid-friendly snacks and meals to purchase on board. Also most planes are now equipped with wi-fi.  As well you can check your stroller at the gate, if it is collapsible and weighs less than 20lbs. 
Delta
They do offer pre-boarding for all families, even before first and business class. As well, they offer kid friendly meals like PBJ and fruit for purchase on board. Flights with seatback screens offer FREE satellite television as well as on demand movies and TV shows for a small fee.  Delta also now offers the Smart Travel Pack which for a fee ($199 until 1/14/14) you receive: 1 Free checked bag, priority boarding, preferred seats, Economy Comfort and 20% additional miles.  It really is a good deal.
United
United no longer offers pre-boarding for families.  However, they have been upgrading their planes and are now offering wi-fi as well as seatback set with more than 100 channels of live programming.  As well, they do have snack boxes which you can purchase on board.
Overall, I think we have all seen how the domestic airlines seem to be taking away amenities and trying to charge "fees" where they can.  However, if you can fly on an International carrier like Luftansa you will quickly see how much more civilized the flying experience can really be.  Heck, one airline even offer Sky Nannies. But since most of us are flying the above carriers. if you are prepared it really does not have to be a bad experience.  I have been flying with my boys since they were small, so now at 4 and 7 they enjoy flying.  
Make sure to get my Airplane Survival Packing List by signing up for my Busy Mom's Vacation Planning Kit