Back To School Planning and Tips During COVID-19
This school year is going to be very different due to COVID-19. We know how important it is as a parent to make sure your child is starting the new school year safely and the best way possible. It is very essential to prepare and train your children about going back to school while taking safety measures like making sure to wear their masks, sanitizing their hands, and not touching their faces. Gov. Murphy announced that in-person learning will resume this fall as long as social distancing among other protections are strictly adhered to. The school districts that cannot meet the health + safety standards can start off with being all-remote but they must assure the state they will be working to reopen in-person and provide a date by which they estimate they can have students in school buildings. If your child is going for in-person learning please check out this toolkit provided by the CDC. You can read more about JCPS opening plans here. 
Whatever the situation, these checklists are intended to help parents, guardians, and caregivers, plan and prepare for the upcoming school year by the CDC. 
Planning for in-person classes
Going back to school this fall will require schools and families to work together even more than before. Schools will be making changes to their policies and operations with several goals: supporting learning; providing important services, such as school meals, extended daycare, extracurricular activities, and social services; and limiting the transmission of SARS-CoV-2, the virus that causes COVID-19. Teachers and staff can teach and encourage preventive behaviors at school. Likewise, it will be important for families to emphasize and model healthy behaviors at home and to talk to your children about changes to expect this school year. Even if your child will attend school in-person, it is important to prepare for the possibility of virtual learning if school closes or if your child becomes exposed to COVID-19 and needs to stay home.
CDC has created a checklist to help with back to school planning for school year (SY) 2020-2021. If your school uses a hybrid model, you may want to review both the in-person and virtual/at-home learning checklists.
Check out the in person checklist here. 
Some actions to take and points to consider:
Check in with your child each morning for signs of illness. If your child has a temperature of 100.4 degrees or higher, they should not go to school.
Make sure your child does not have a sore throat or other signs of illness, like a cough, diarrhea, severe headache, vomiting, or body aches.
If your child has had close contact to a COVID-19 case, they should not go to school. Follow the guidance on what to do when someone has known exposure.
Identify your school point person(s) to contact if your child gets sick.

Name of school point person(s)
Contact information

Review and practice proper hand washing techniques at home, especially before and after eating, sneezing, coughing, and adjusting a mask or cloth face covering. Make hand washing fun and explain to your child why it's important.
Be familiar with how your school will make water available during the day. Consider packing a water bottle.
Develop daily routines before and after school—for example, things to pack for school in the morning (like hand sanitizer and an additional (back up) mask) and things to do when you return home (like washing hands immediately and washing masks).
Talk to your child about precautions to take at school. Children may be advised to:

Wash and sanitize their hands more often.
Keep physical distance from other students.
Wear a mask.
Avoid sharing objects with other students, including water bottles, devices, writing instruments, and books.
Use hand sanitizer (that contains at least 60% alcohol.) Make sure you're using a safe product. FDA recalled products

external icon

 that contain toxic methanol. Monitor how they feel and tell an adult if they are not feeling well.

Be familiar with your school's plan for how they will communicate with families when a positive case or exposure to someone with COVID-19 is identified and ensure student privacy is upheld.
Reinforce the concept of physical distancing with your child.
Talk to your school administrators and teachers about their plans for physical education and physical activity (e.g., recess).

Safer options include being outdoors when possible, reducing the number of people in an indoor space, and encouraging students to stay at least 6 ft apart.
Ask how your school plans to help ensure that students are following practices to reduce the spread of COVID-19.
Planning for virtual or at-home learning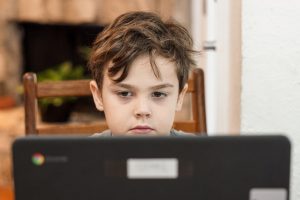 Virtual learning may be a choice or part of a child's Individualized Education Program (IEP) or Section 504 Plan for some children and families, and it may be necessary if your child has certain underlying health conditions or is immunocompromised. In a hybrid model, learning may occur virtually during part of the week and occur in-person for the rest.  Or, the school year may start with virtual learning but switch to in-person learning for the remainder or certain times of the school year. Going back to school virtually may pose additional challenges with staying connected to peers, since students may have less frequent or no in-person interactions to each other.
You may want to talk to school staff to learn more about what they are doing to support connection among students, interactive learning with feedback, building resilience, and social-emotional wellbeing for students who will not be onsite. In addition, if your child receives speech, occupational, or physical therapy or other related services from the school, ask your school how these services will continue during virtual at-home learning. Likewise, if your child receives mental health or behavioral services (e.g., social skills training, counseling), ask your school how these services will continue during virtual at-home learning.
Check out the in home learning checklist here. 
Some actions to take and points to consider:
Try to attend school activities and meetings. Schools may offer more of these virtually. These meetings can be a way to express any concerns you may have about the school's plans.
Create a schedule with your child and make a commitment to stick with it. Structure and routine can greatly help your child from falling behind with assignments. Discuss your family's schedule and identify the best times for learning and instruction, as well as family-oriented physical activity, such as walks outside. A family calendar or other visuals could be useful for keeping track of deadlines and assignments.
Try to find a space where you live that's free of distractions, noise, and clutter for learning and doing homework. This could be a quiet, well-lit place in your dining room or living room or a corner of your home that could fit a small table, if available.
Identify opportunities for your child to connect with peers and be social—either virtually or in person, while maintaining physical distance.
Find out if there will be regular and consistent opportunities during each day for staff and student check-ins and peer-to-peer learning.
Find out if students have regular opportunities for live video instruction by teachers or if they will primarily be watching pre-recorded videos and receive accompanying assignments.
Ask if the school will offer virtual or socially distanced physical activity. If not, identify ways to add physical activity to your child's daily routine.
Ask your school what steps they are taking to help students adjust to being back in school and to the ways that COVID-19 may have disrupted their daily life. Supports may include school counseling and psychological services, social-emotional learning (SEL)-focused programs, and peer/social support groups.
If you anticipate having technological barriers to learning from home, ask if your school or community can provide support or assistance for students without appropriate electronic devices for schoolwork (like a computer/laptop or tablet).
You can find more back to school resources here by the CDC.