Easter Events in and around Jersey City 
Easter is the perfect springboard into warmer weather and family friendly activities.  Whether you're looking to go on a proper Easter egg hunt, partake in some Easter crafts, get a picture with the big bunny himself, or attend the Easter Parade in NYC, we've got the lowdown on all the local Easter festivities coming your way, this includes a plenty of Easter events in and around Jersey City
Every year kids of all ages look forward with great anticipation for the Easter events in and around Jersey City. As Peter Cottontail, the rabbit is busy hiding all the Easter eggs, kids are equally busy preparing their Easter baskets.
Easter Events in and around Jersey City are filled not only with egg hunting but also a lot of games and activities children love. Most Easter hunts begin on time and end fast because kids are so good in finding them in every corner of the venue.
Most Easter Events in and around Jersey City are free unless otherwise specified.
JCFamilies' Annual Spring Festival in Jersey City (Entry Ticket Needed)
This year JCFamilies will be combining egg hunt with Spring Festival.
There will be multiple slots for egg hunts.
Mack-Cali and JCFamilies Presents The annual JCFamilies' Spring Festival on April 14th at Harborside Atrium in Jersey City! There will be entertainment and fun activities for the entire family to enjoy at this event, where local JCFamilies come together to celebrate the spring season
Free Pictures with the Easter Bunny @Smile Preschool Nursery
Saturday, April 13th at 10 AM – 12 PM
276 1st St, Jersey City, NJ 07302-2713

Join the HDSID in bringing the Easter Bunny to Downtown JC for all the kiddies out there to enjoy! FREE pictures, candy and Face Painting for all you kiddos out there!
A HUGE thank you to Smile Preschool and Nursery for sponsoring our event. 276 1st Street, 1st floor
www.jcdowntow.org
201-547-3554
Date:  Saturday, April 13th 2019
Morning Hunt: 10 am – 11:30 am
Afternoon Hunt: 1:30pm – 3 pm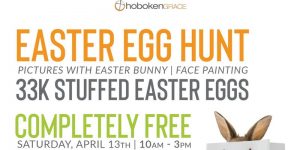 Experience the largest Easter Egg Hunt of Hudson County and one of the largest Easter Events in and around Jersey City. Have your kids try their luck in finding one of the 30,000 Easter eggs.  Let them have their picture taken with the Easter Bunny and have some face painting done on them. There will also be carnival games, arts and crafts and a lot more of other fun activities.
Venue: Mama Johnson Field, 4th & Jackson Street, Hoboken, New Jersey
Admission is free for everyone, but tickets are required! Find details HERE.  This event is organized by the Hoboken Grace Community Church.
Our annual Spring Fling event is an outdoor event for the entire family!  Join us for a day of fun activities including a stroll through the Spring Farm Egg Hunt (find eggs and trade them in for a bag of goodies!), a "Guess the Number of Jelly Beans" contest for a bike give-away and more! The event will take place at Columbus Park, Hoboken on Saturday, April 13th, 10am-12pm. Hoboken Family Alliance has been organizing this event for a few years and this is definitely qualifies for Easter Events in and around Jersey City, Hoboken is just few minutes away from our City.
Hope Church and Friends of Van Vorst Park are organizing the Easter egg Hunt in Van Vorst Park this year! It's a popular event, so make sure you're there on time!
Date: Saturday, April 13th at 11am to 12pm. 
You're invited to celebrate Easter at Downtown Community Church on April 21st at 10:30am or 12:00pm. Free snacks and coffee are provided and three separate Downtown Kids environments, for children 6 weeks through 5th grade, are offered during both the 10:30am and 12:00pm services.
Date: April 21 from 10:30am and 12:00pm
Location: 116 Newark Ave @ The Underground
Trips run April 13, 14 & 20
11am, 12:30pm, 2 pm and 3:30 pm
Child $12.00 ( ages 2 to 12)
Easter Sunday is never complete without the traditional Easter Egg Hunt. Almost everyone in the United States has been to at least one Easter Egg Hunt event during his childhood. Easter Events in and around Jersey City are always filled with lots of fun, and exciting activities!
For more details email [email protected] or call call (609) 927-2053
Come join us, Long Beach Twp PBA 373, Long Beach Township Parks and Recreation and the Where Angels Play Foundation for our Annual Easter Egg Hunt. This year the Egg Hunt will be on April 13th from 2pm to 4pm at Lauren Rousseau's Playground in Bayview Park 6800 Long Beach Blvd. Brant Beach, NJ.
We will have two egg hunt areas this year: one for 5 years old and under (with parents if needed) and an area for 5-10 year olds (please limit adults in this area). There will also be music, light snacks and refreshments and a special guest appearance by the Easter Bunny!
Venue: Lauren Rousseau Playground, Bayview Park, 800 Long Beach Boulevard, Long Beach Township, New Jersey
Entrance is free. Please have a basket ready, bring some light snacks and music. Also please bring a penny to commemorate Lauren Rousseau and the Angels Play Foundation.
Date:  Saturday, April 13th, 2019 (Rain Date : April 20th)
Time:  2 pm
Venue:  Count Basie Fields, 11 Henry St., Red Bank, New Jersey
Every year the Red Bank Parks and Recreation happily presents the Annual Easter Egg Hunt. Children of all ages are invited to join this fun and exciting event where they can have their picture taken with the Easter Bunny. Great prizes and a lot of fun await all those who will come to one of the most exciting Easter Events in and around Jersey City! Don't forget to bring a camera and of course a Basket.
This Easter Egg Hunter is presented by the Borough of Red Bank Department of Parks and Recreation. Special thanks to the Oriental Trading for all the products for the egg hunt.
For more details please contact the information office.at  email address [email protected] or visit them at 90 Monmout St., Redbank, New Jersey.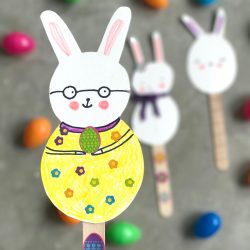 Make the Cute Easter Bunny with kids on this Easter…