Easter Events in and around Jersey City
Easter is the perfect springboard into warmer weather and family-friendly activities. Whether you're looking to go on a proper Easter egg hunt, partake in some Easter crafts, get a picture with the big bunny himself, or attend the Easter Parade in NYC, we've got the lowdown on all the local Easter festivities coming your way, this includes a plenty of Easter events in and around Jersey City.
Every year kids of all ages look forward with great anticipation for the Easter events in and around Jersey City. As Peter Cottontail, the rabbit is busy hiding all the Easter eggs, kids are equally busy preparing their Easter baskets.
Easter Events in and around Jersey City are filled not only with egg hunting but also a lot of games and activities children love. Most Easter hunts begin on time and end fast because kids are so good in finding them in every corner of the venue.
Most Easter Events in and around Jersey City are free unless otherwise specified.
JCFamilies' Annual Spring Festival in Jersey City (Entry Ticket Needed)
This year JCFamilies will be combining egg hunt with Spring Festival.
Mack-Cali and JCFamilies Presents The annual JCFamilies' Spring Festival on March 28th at Harborside Atrium in Jersey City! There will be entertainment and fun activities for the entire family to enjoy at this event, where local JCFamilies come together to celebrate the spring season.
Join Smile Preschool and Nursery and the HDSID for Easter FUNday on April 4th, 2020, from 10 AM – 12 PM! The Easter Bunny will be hopping over to Downtown JC for all the children and families to take pictures and have fun! There will be other fun activities for the kids.
Experience the largest Easter Egg Hunt of Hudson County and one of the largest Easter Events in and around Jersey City. Have your kids try their luck in finding one of the 30,000 Easter eggs. Let them have their picture taken with the Easter Bunny and have some face painting done on them. There will also be carnival games, arts and crafts and a lot more of other fun activities. The event is completely free for everyone, but you must register to attend.
Date:
April 4, 2020
Morning Hunt
10:00am | 11:30am
Afternoon Hunt
1:30pm | 3:00pm
Location:
Mama Johnson Field (4th and Jackson)
This event is organized by the Hoboken Grace Community Church.
Saturday, April 4, 2020
10:00am – 12:00pm
Location: Columbus Park, Clinton Street, between 9th & 10th Streets, Hoboken.
Cost: Free for HFA members; $5 suggested donation per child for non-members.(Rain Date, Sunday, April 5)
Activities include: A stroll through the Spring Farm Egg Hunt (Find eggs and turn them in for a bag of goodies!); Bunny-hop and egg races.The egg hunts will be continuous, starting at 10 am, and children will trade their found (empty) eggs for a bag of goodies to take home so that we can reuse and recycle the eggs for other participants.
Please note that groups of children of all ages will be able to enter the Spring Farm for 15-minute intervals and re-enter. The entrance time for the last egg hunt will be at 12pm. Plan to pose with bunnies and spring-themed props, courtesy of Hoboken High School art department. Please bring your cameras and baskets!
SPRING OUT: A free family fun day!
10:00AM @ Siena Hall on April 4th
*Formerly known as the Women's Club
*On Fairmount Ave Between JFK & West Side
ALL THE FUN THINGS…
Photos with Easter Bunny
Temporary Tattoos
Snacks & Prizes
Jumbo Jenga
Connect Four
Corn Hole
Bean Bag Toss
and more!
Ride the Easter Bunny Train Ride and visit with Mr. E. Bunny on the train. Your ride will wind along the scenic Delaware River leaving from the Historic District of Phillipsburg, New Jersey. The train will travel along the river to Carpentersville and our destination will be the site of the historic Lime Kilns. In front of the 150-year-old Lime kilns is a beautiful little glade filled with Easter eggs! Once we arrive you can get off the train, take a picture with Mr. Bunny and gather 4 Easter eggs! On the train enjoy our banjo playing Hobo and a Juggler!
Trips run April 4, 5, 11
Child: $12.00 ( ages 2 to 12) Adult: $18
Date: April 11th, 2020
Time: 10:00 AM - 11:00 AM
Venue: Count Basie Fields, 11 Henry St., Red Bank, New Jersey
Every year the Red Bank Parks and Recreation happily presents the Annual Easter Egg Hunt. Children of all ages are invited to join this fun and exciting event where they can have their picture taken with the Easter Bunny. Great prizes and a lot of fun await all those who will come to one of the most exciting Easter Events in and around Jersey City! Don't forget to bring a camera and of course a Basket. This Easter Egg Hunter is presented by the Borough of Red Bank Department of Parks and Recreation.
Easter Sunday is never complete without the traditional Easter Egg Hunt. Almost everyone in the United States has been to at least one Easter Egg Hunt event during his childhood. Easter Events in and around Jersey City are always filled with lots of fun and exciting activities!
For more details email [email protected] or call (609) 927-2053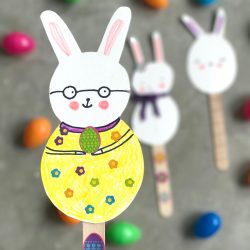 Make the Cute Easter Bunny with kids this Easter…