Events Happening This Week/Weekend In Jersey City
Look no further if you want to have a good time while taking advantage of the beautiful weather! Jersey City offers a diverse range of activities and sights to see, guaranteeing that you have a great day. From kid-friendly summer events to live music to markets that promote local artists and entrepreneurs, there's something for everyone. We've put up a selection of local events that you might like.
As the weather gets warmer make sure to enjoy the local parks in Jersey City, maybe even go for a picnic or enjoy one of the outdoor dining options in the area as well!
Featured Image: JerseyPhotograher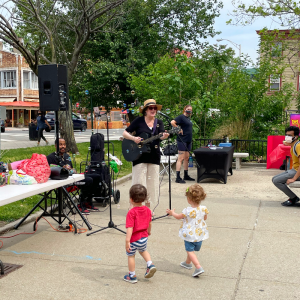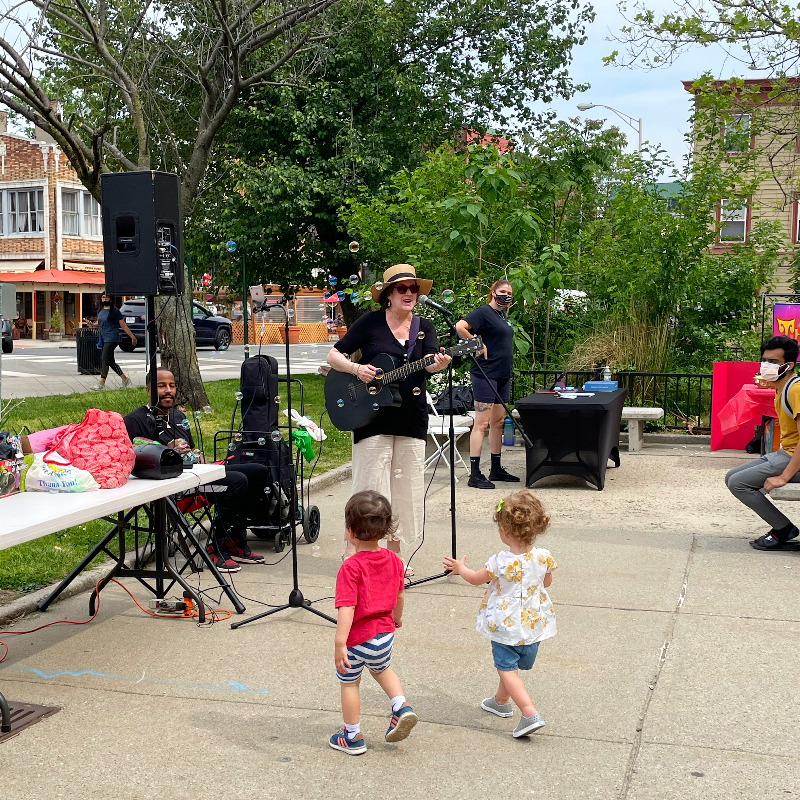 Join JCFamilies on Monday afternoon for Music for Kids sponsored by Mack-Cali. The class will be held from 5:30 pm-6:30 pm outdoors at 210 Hudson Street, Jersey City, NJ 07311 near Ziggy.
ALL kids and adults are welcome to join this FREE event! Please wear a mask and keep social distancing in mind if you attend.
https://jcfamilies.com/event/music-for-kids-at-harborside-free-event/
Attention JC residents!
This summer, join us for a weekly local market sponsored and organized by Mack-Cali and supported by JCFamilies. The event will be every Tuesday from 3-7 pm at 210 Hudson Street.
There will be local vendors and food vendors for you to spend the perfect day with the whole family outside. This is a free event, and everyone is welcome!
There will be a corner for kids to show their creativity; they can draw or paint.
Please come and support these local small businesses.
https://jcfamilies.com/event/jc-local-market-2021/
Make your way to Hamilton Park for Feministival on 
Friday, June 18th from 5pm to 7pm
! This summer event was created to highlight women-owned businesses in our community. There will also be a ton of fun activities for children. Bring the whole family to enjoy a warm summer evening, grab dinner from a food vendor, enjoy all the entertainment we have planned for you and support local women-owned businesses.
There will be arts & crafts, faint bubbles, food vendors and more!
To celebrate Father's Day we are hosting a fun-filled night of sports challenges for daddies and their little ones! My Gym will have exciting games, challenges, a photo booth, and MORE!
Grab your favorite jerseys and join us on June 19th! Pizza dinner included. All ages welcomed.
WHERE: My Gym Jersey City
WHEN: June 19th, 2021 from 3 pm – 5 pm
COST:$45 per child

Join them on June 19, 2021, for GO Jersey City! Better the community, Have fun and make a friend. RSVP at gojc.org. Go Jersey City is a day of service and fun where residents of Downtown Jersey City, and beyond, go out and serve organizations and parks throughout the city. It is a way for them give back and support the people and places that make our city great.
They will gather outside City Hall at 10 AM on June 19th. There you can register for any of the available projects, get your free T-shirt, find your team, have some coffee, and then head out for your project. After the projects, we will gather for an after-party to celebrate the day.

Treat yourself and dadto a relaxing massage, pampering facial, and enjoy some music, delicious food and beverages! Join us on Sunday, June 20 from 3:00 pm to 7:00 pm for our Father's Day Spa Brunch hosted by Angela Branch Skin Care. Honor dad, yourself or a special gentlemen in your life with an afternoon of relaxation that begins with brunch and champagne prepared by Indulgence Catering Company. Then prepare for neck, arms, shoulders and back massages provided by Hands by Rissa. Along with a healthy skin facial or foot scrub from Angela Branch Skin Care. All while you enjoy music and entertainment. This is a special event you don't want to miss!
Brunch (Buffet Style):
-Grilled Chicken
-Fish & Grits
-Atomic Shrimp
-Yellow Rice
-Sautéed String Beans
-Garden Salad
-Desserts – Key Lime Cheesecake, Strawberry Shortcake & Fruit Bowls
-Beverages – Water, Soda, Juice & Mimosas
Gift bags for all guests, giveaways and a raffle for a free massage and facial.
Masks are required for entry!
Early Bird Special Savings for tickets purchased by Friday, June 11.
To Avoid Ticket Fees, payments can be made via Zelle, Venmo or CashApp.
For more details Call/Text Angela at 862.283.0127 or email [email protected]
Stop by Hoboken this Father's day for a fun family event! You can shop from local makers and artists, listen to live music, and make a free present for your dad!

Looking to enjoy a nice meal and some jazz this weekend? Head over to The Cottage every Saturday and Sunday from 2:30 pm-6 pm.
Drive-In Movie Night Series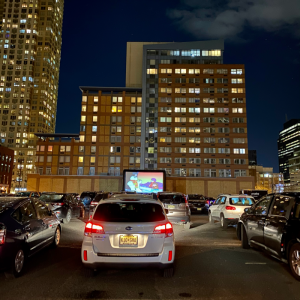 Exchange Place Alliance is so excited to organize another outdoor Drive-In Movie Night Series. This series will be taking place at 107 Morgan Street Jersey City, New Jersey 07302.  The price per car for a spot is $20 and is non-refundable. If you have made reservations, you will get a unique ticket number for your site via email. Please make sure to print your ticket and bring it with you to the event. BUY TICKETS HERE. 
There will be an FM channel to tune into and listen to the movie audio while remaining in your vehicle.
Wearing masks will be enforced when less than a six-foot distance cannot be maintained. Social distancing will be implemented for all vehicles.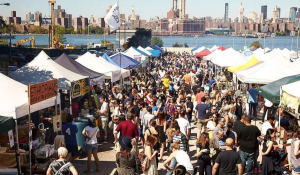 Exciting news! Smorgasburg is coming to Jersey City! The popular outdoor food market will be opening on May 29th in place of Lutze. The opening lineup will consist of 25 to 30 food vendors as well as beer and drinks.
Enjoy a fun painting session with DT234 Gallery & Art Studio as we guide you step by step in the creation of your masterpiece! All materials provided for each class, just show up! Sign up here.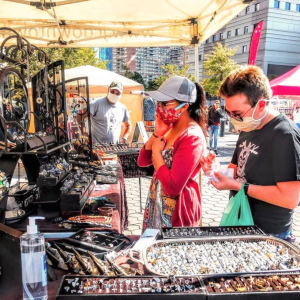 The Artist & Maker Market is an open-air bazaar featuring locally created fine art and premium hand-crafted goods. Artist & Maker Market connects artists and artisans with the Jersey City & metro NYC community. The mission is to support handmade goods as an alternative to mass-produced items and cultivate small businesses and entrepreneurship by providing a thriving place for them to sell. Visit the market Wednesday and Friday from 3-9 pm. They are also open on Saturdays from 12-6 pm.
Lace up your dancin' shoes and get ready to get down if you're headed to Jersey City's Groove on Grove. This free weekly music series that lasts from spring to early fall, is an oasis of funky live tunes, local businesses, arts & crafts vendors, delicious food trucks and a strong sense of community. The talent is in full force and the vibes are at peak positivity at the Grove PATH Plaza.
Fill your week with some of the exciting activities and events mentioned above or plan your adventures at an amusement park near Jersey City. What if you don't want to feel the surge of adrenaline? Here is our guide that includes 30 Places to Visit in New Jersey This Summer for ideas to choose from.