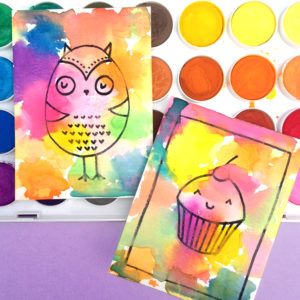 The celebration of Holi is right around the corner, and this art activity is the perfect way for children to have fun with color, without making too much of a mess! In some fine art communities, artists exchange small works of art with one another (called artist trading cards) the size of a baseball card. It's a great way for creatives to begin art collecting on a small scale.
Materials you will need:
– watercolors
– paint brushes
– bowl of water
– watercolor paper / scissors
– permanent black markers
Step 1 Cut watercolor paper into small rectangular pieces about the size of a small index card or baseball card. 3.5″ x 5.5″ would work nicely.
Step 2 Have your children draw patterns with black permanent markers that are happy and intricate. Some ideas would be: flowers, owls, hearts or geometric patterns.
Step 3 Using a good amount of water, dip a paintbrush into a single paint color and begin adding color on top of the hand drawn design. The idea is to add droplets of color to the painting without mixing the hues too much. This technique mimics Holi powder, as it is vibrant and very colorful. I would suggest using yellow, orange, magenta, light green and blue for a nice balance of colors.
Step 4 The artist trading cards will curl a little from all the water, so allow them to dry fully, and then place a large book on top over night to flatten them properly.
Step 5 If you're making these with a group of children, have the kids exchange art cards with another. The more the merrier!
Variations: This project could also be done with pastels instead of watercolors. Another idea would be to have the children drop paint on their paper, and then add designs on top after the paint dries like so:
Ashley Lucas (aka Lady Lucas) is an artist, illustrator, author and crafts designer. Her adorable characters can be found online via her website and Etsy shop. She loves celebrating all holidays and teaching art to children of all ages.