The Best Holiday Events In And Around Jersey City 2020
The season of happiness, delicious foods, cozy fires, snowy days and family are upon us! There are plenty of events in Jersey City that truly bring out the cheer around the holidays for you and your loved ones to enjoy! We've created a list of The Best Holiday Events In and Around Jersey City!

December 7th, 2019 at 11am-2pm
It's that time of the year again! Join us for this festive event where local JCFamilies come together to celebrate the holiday season! The festivities start at 11:00 AM at the Harborside Atrium in Jersey City and will go on until 2 PM. Families can enjoy an array of activities including pictures with Santa, holiday-themed picture corner, holiday decoration, face painting, a bouncy house, a holiday train perfect for kids to enjoy and yummy cookie + cupcake decorating! Bring your cameras and holiday cheer! Buy tickets here. 

December 10, 2019
The Historic Downtown Special Improvement District presents its Annual Holiday Lighting Ceremony at the Pedestrian Mall on Tuesday, December 10, 6:00 pm – 6:30pm! Please join Mayor Steven Fulop and the HDSID in celebrating the holiday season as we light the Christmas tree and Menorah.
JCFamilies will be organizing an ornament-making workshop where kids will make their ornaments and decorate the Christmas tree at the event. They can take their ornaments home after if they like. We will be there by 4:30-6pm.

December 8, 2019
On December 8th, meet your buddies at My Gym for their Cookies with Santa event! The action never stops at My Gym. They have exciting activities, games, rides and treats planned for you. Finish it off with cookies and take a picture with Santa! Space is limited so please RSVP as soon as you can! Members are $20 and $10 for each additional sibling. Non Members will pay $30 and $15 per additional sibling.

December 7, 2019, at 5:30 PM
Chestnuts will be roasting and hot cider will be served to warm you up as you enjoy the beautiful Victorian Yuletide Carolers Annual Concert! Hear the harmonious sounds of the holidays at the Historic Jersey City & Harsimus Cemetery on December 1st at 5 PM. Kids can also enjoy a visit from Mr. and Mrs. Clause. This is a free event!

December 14, 2019
This year we will be at Gabert Library, directly across from the Journal Square Path Station, in the beautiful gallery's atrium, with floor to ceiling windows that overlook striking views of Jersey City! The atrium will be transformed into a Winter Wonderland, featuring a Festive Magic Show for Family & Kids, Holiday Craft Stations, Face Painting, Selfies with Santa & More! All FREE for the community!
Remember to register EACH member in your group.
November 22nd-December 31st, 2019 
Want to see a towering giraffe made of lights? Or how about a glowing lion?  A trip to the Holiday Lights Spectacular is a must this holiday season which is why it's on our list of The Best Holiday Events in and Around Jersey City. They can also see and take photos with Myrtle the Turtle, the mascot of Turtle Back Zoo, and several of his winter friends will be on hand to greet visitors at the Zoo. Step up your selfie game by getting a photo with Mr. and Mrs. Clause! There will also be a mailbox where children can send letters to Santa Clause at the North Pole. They are closed Christmas Eve and Day. Admission is free however, donations on non-perishable food items, new toys, and gently used coats are always welcome. Friday, Saturday, Sunday: November 22- 24, November 29-December 1. Every Night: December 6 – 31. 5-9pm.
November 24th, 2019 at 10:00 am – 4:00 pm
The Swedish Christmas fair has something for everyone. There will be a great selection of food, crafts, and gifts. Swedish handicrafts like handmade Christmas decorations, linen, and wooden items and a variety of cheeses, herring and other Swedish delicacies as well as home baked goods (bread, cookies, and cakes) are available for you to buy. Enjoy it with your family on November 24thth from 10 AM – 4 PM!

November 21st-December 14 2019
Enjoy an old fashioned season with friends and family and the Stickley Museum at Craftsman Farms' special holiday programming!
Holiday Decorations beginning November 21 …on view on all tours
Crafts-mas Shop beginning November 21 …with seasonal gifts and treasures!
VIP Crafts-mas Shopping Night on December 6 …with guest artisan Sheila Fernekes!
Holiday Open House on December 7 …a one-day-only event & part of Holly Walk!
Candlelight Tours on December 13 & 14 …a perennial favorite!

December 7th-14th, 2019
The Festival is a community celebration featuring a spectacular display of Holiday Trees in a Winter Wonderland Setting. The trees are sponsored and/or decorated by individuals, families, businesses and organizations. The Festival of Trees is a benefit event which provides funding for the Senior Resource Center (SRC), a non-profit organization that provides advocacy, support, information, education, training and referral for seniors and their caregivers. There will be visits from Santa, sing-along storyteller and holiday entertainment.

Nothing says "holiday magic" better than the classic Nutcracker. The New Jersey Ballet has been bringing this production to families for more decades. Audiences will be delighted when the theater lights go down and the magical toys come alive on stage. The Nutcracker by the NJ Ballet is the longest running original production in the entire state of NJ. It is a classic show that is perfect for the whole family.

December 8th from 10 AM – 1 PM
Santa will be coming to town! On December 8th from 10 AM – 1 PM you and your family can walk amongst giant trees and holidays wreaths while waiting to take a photo with Santa!

December 14, 2019 at 11 AM – 3 PM
Theme: Annual Holiday STEAM Fest Party
Your child is invited to participate in our monthly Student STEM Education FREE Product Explorations events. You & your child will also get to experience our 3D printed furniture, makerspace, and other cool aspects of their facilities at Kearny Point.
Who: Students between 7-12 years old!
When: 12/14 from 11am-3pm Rolling basis
What: A variety of STEAM Activities from
They will be from one of their themes though. (Entrepreneurship, Mechanical/Biomedical/Computer Engineering, or General Sciences)

November 18th- December 23rd 2019
This season shop handmade, unique, one-of-a-kind and local!!
HDSID are thrilled to announce Artist & Maker Market "Happy Holiday Market" on Grove Street PATH Plaza in conjunction with the regular Farmer's Market in downtown Jersey City.
Market Time: 4:00 pm-8:00 pm
Location: Grove St PATH Plaza
Dates: Nov. 18th, 21st, 25th; Dec. 2nd, 5th, 9th, 12th, 16th, 19th, 21st, 22nd and 23rd

December 14th at 6:00 pm – 10:00 pm
Mayor Steven M. Fulop is excited to announce that the 7th Annual Jersey City Mayor's Holiday Concert will be held at The Landmark Loew's Theatre on Saturday, December 14, 2018. Entertainment for the evening includes performances by The Jersey Joint and The St. Dominic Academy Dominoes. This concert is free and open to the public.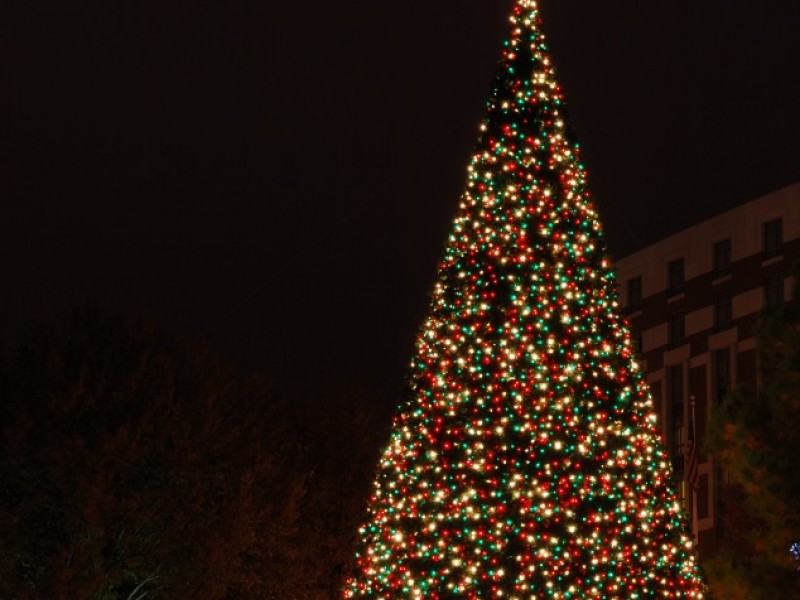 December 2nd, 2019 at 5-7pm
The Hoboken Christmas Tree Lighting is Thursday, December 2nd from 5 PM – 7 PM in front of City Hall. The event features MC: Elvis the Elf with a special appearance by Santa Claus and many amazing performances!

December 7 & 8 at 11am to 5pm
The Hoboken City Hall Craft Fair will take place bringing with it awesome holiday gifts and treats! Three floors of City Hall will be open to the public, featuring unique handcrafted gift items by local artisans.