On September 25, 2021, we held our annual Education Fair. The only fair in Jersey City where you can get information about and speak to the representatives of primary Schools, Day Cares & Activity Centers in & around Jersey City & Hoboken.
Private Schools, Daycares, Activity Centers, Charter Schools & Public Schools participated in the event. We have created this guide if you didn't have a chance to talk to all or need more information.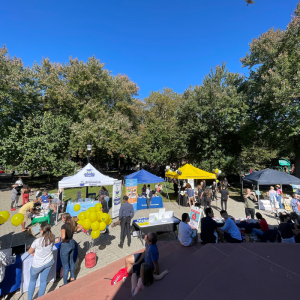 A visionary new high school in Jersey City designed to educate innovators and socially responsible global leaders is excited to be part of the JC Education Fair this year!
The Brunswick School encourages its students to think and learn by utilizing various brain parts to become holistic learners. Loosely based on The Creative Curriculum, The Brunswick School educators use a diverse approach to educate our youth that encompasses logical/abstract thinking, creative outlets to fasten fundamental ideas, hands-on, student-driven exploration, teacher-guided large group and small group instruction to provide a comprehensive curriculum for lifelong learners.
The Waldo School has set the standard for leading private education since 2010 for children ages 2 through 13 across two locations. PreK 2 through PreK 4 students are housed in our Waldo Preschool location at 125 1st Street, Jersey City, and Kindergarten through 8th Grade students are housed in our Waldo School location at 110 1st Street, Jersey City.
Their core value is to academically challenge children and encourage them to explore and grow while discovering and developing new interests and talents. They value student-teacher engagement by maintaining a 5:1 ratio. Teachers can identify our students' learning styles and capabilities to alter the lesson plan based on their individual needs.
My Gym was born out of a passion for teaching children in a fun, physically engaging environment. Their goal is to create an environment where children feel loved and supported to flourish their self-esteem and confidence. My Gym Jersey City and Hoboken provide classes and activities for children starting as young as 6-weeks-old. Each class is specifically tailored to each age group based on parent participation and independent courses.
Smart Start Academy is dedicated to bringing the best environment for learning and creativity to each student. Their full-day programs have a curriculum that meets every learning style that nurtures every aspect of a child- the physical, emotional, intellectual, and social aspects.
They offer a variety of swimming classes for families located between Fort Lee and Elizabeth, with multiple pools easily accessible from Jersey City, Hoboken, Bayonne, Secaucus, Weehawken, Edgewater, North Bergen, Harrison, Newark, Kearny, Clifton, Passaic, Fairfield, West Caldwell, Montclair, West Orange, East Orange, Livingston, Short Hills, and the surrounding communities!
Academy of Excellence Preschool is enrolling for the 2021/2022 Academic Year. Infants, toddlers, and PreK grades. At the Academy of excellence Preschool, they believe in nourishing each child & curiosity by opening their mind to the endless world of possibilities before them. In addition, they make sure that every student is encouraged and guided to achieve their most significant potential. The School is known for turning mirrors into windows so that each child will have a solid foundation to see their path to success.
Luna de Papel (paper moon) is a crafting workshop. They offer crafting and DIY classes and workshops for adults and children of all ages. It is a place where all can test the bounds of their imagination in an environment you can enjoy. They also have a ton of after-school programs.
Camp Riverbend is a classic camp with swimming (daily lessons and free swim times), sports, crafts, outdoor adventure, and more! The counselors are teachers and college students, and no staff tipping is allowed. Bus service, lunch, and snacks are all included in camp tuition. Seven-week season from the end of June to mid-August. They are located about 30 minutes from downtown JC in Warren Township (Somerset County).
The School of Nimbus offers professional dance instruction in ballet, modern, hip hop, tap, and other dance forms for children, teens, and adults. The School emphasizes small classes, excellent instruction, and opportunities for students to perform alongside Nimbus' professional dancers, including in the annual Jersey City Nutcracker production. Classes are taught by Nimbus' company dancers and Teaching Artists, who national leaders train in dance education.
The Little Gym is an activity center for kids. They strongly believe in providing a nurturing environment where children explore their physical development while growing socially, emotionally, and intellectually.
Hudson Montessori School was founded in 2009 and is an independent school committed to providing the highest quality education to children from ages two infancy through upper elementary school.
At Tessa International School, children are introduced to other languages and cultures to enhance their cultural awareness; they are bilingual and culturally adaptable.
The Ethical Community Charter School (TECCS) is a free public charter school that opened in the Marion section of Jersey City in 2009. We currently serve 380+  students from all over the city, enrolled in K-8th grade. The School is a safe, caring community where ethics, service, and social justice are the principles that inform school life.
All Saints Episcopal Day School is an independent school of approximately 200 students in Nursery through Eighth Grade, serving children of all faiths since 1985. They are located in Hoboken on the corner of 7th and Washington Streets (Grades 1-8), and the corner of Sixth and Clinton Streets (Nursery, Pre-K, and Kindergarten).
The Garden Preschool Cooperative (GPC) is a parent-run nonprofit preschool that seeks to provide high-quality progressive early childhood education in a nurturing atmosphere.
Tonal Art Music Center's mission is to give students the tools they need to play the music they love. Founded on the belief that musical training can positively impact many different areas of life, they are dedicated to providing quality, focused, results-oriented lessons to students of all ages. They believe that one of life's greatest joys is to communicate with others through music and they strive to provide that experience to our students.
Explore Middle School is the only career and technical middle School in New Jersey. This is a project-based school whose curriculum is developed around thematic units which integrate interdisciplinary studies and engage students in a hands-on approach. Career and Technical programs include the arts, technology, and applied sciences.
Mustard Seed School is a PK-8th-grade independent Christian school in Hoboken, NJ. Their curriculum focuses on academics, arts, faith, and service to educate the whole child. Mustard Seed School teaches each child to know and care for their community and world. Together they inspire minds, cultivating hearts, and remove barriers.
Waterfront Montessori is a parent-founded, parent-run independent school for children from two years old through eighth grade.
The Hudson School is a learning community where individual talents can be shared and celebrated. The School's small size provides opportunities for teachers to be creative, collaborate, and experiment with curriculum design.
Next Step Broadway's mission is to provide an environment where all ages and levels can experience the joy of expression through dancing, singing, acting & much more. Instructors will introduce the knowledge of technical, musical, creative, and performance skills, and will develop these skills for all levels!
In a world where employers are valuing soft skills over traditional education, how can you prepare your child for success? With JC Chess Kids, your child will develop fantastic problem-solving as well as critical thinking skills with fun sessions on Wednesdays and Saturdays. Give your child a head start as they enjoy the creative and interactive sessions with leading experts in chess and robotics. They welcome ages 3.5 up to 10 years old.
Brighter Bee Academy is an after-school program located in Jersey City, NJ serving children ages 2 to 8-years-old. They are committed to helping your child develop an understanding of important concepts, acquire essential skills, develop particular attitudes and learn to take socially responsible actions.
As a nonprofit arts organization, NJPAC enhances and transforms lives every day. They delight audiences with world-class performances, nurture students through education programs, and engage the community with free events and festivals across the city.
Harbor Hills offers campers a wide range of impactful experiences that are designed to encourage a love of all sorts of activities. From sports and swim to creative arts and outdoor adventure, they have something for everyone! As campers grow from their experiences, they begin to develop preferences.
A leader in bilingual education, the French American Academy serves students from Pre-K2 through 6th grade, adding a grade each year with plans to go to 8th grade. The Academy also hosts after-school activities in French, enrichment classes, summer programs for children, and language classes for adults. There are locations in New Milford, Morris Plains, and Jersey City. French American Academy has 3 locations: New Milford, Morris Plains, and Jersey City.
Performing Arts Workshop is celebrating a decade of building confident, resilient, happy kids in our community! 2021-22 Youth Performance Programs begin October 2 with classes available in-studio & online. All students progress at their own pace and perform in our showcases. Additional performance/competitive opportunities are available for intensive students throughout the season. Learn more about PAW's programs, team, procedures & protections at www.performingartsworkshop-nj.com.
At Curious Kids, our classes are designed to make learning relevant to a child's world in a fun and innovative way while meeting children at their level. We lay a solid foundation that helps instill a love of learning and is designed to help propel them to future educational successes all while having fun, getting messy, and making social-emotional connections with friends and caretakers.
Adventures in Learning provide a safe, healthy, nurturing, and stimulating learning environment. Their program embraces cultural diversity and fosters a love of learning in all children. They encourage children to become self-directed learners while implementing strategies and techniques that support child development through appropriate practices.
Happiness comes from within. They teach your child the skills to focus, manage adversity and developmental strength using movement, breathwork, and self-reflection. Make your child a part of this fun and interactive community where they can discover more about themselves and the world around them. What you will see is your child becoming more happy and grateful. Empower your child with tools they can use for life! Learn more at streetsmartkids.org.
The Hamilton Park Montessori educates children from infancy through 8th grade by nurturing each child's love of learning. Each child is provided opportunities for growth and development to help them become capable, confident, and compassionate citizens of the world. Furthermore, click here for information on tuition. Hamilton Park Montessori is included in the list of best preschools, elementary schools, and day cares in Jersey City.

The Scandinavian School of Jersey City is inspired by the Scandinavian and Reggio Emilia Approaches to Education and includes a preschool for children 1-4 years old, a Forest Kindergarten as well as an Elementary School.
At Scandi School, children are seen as being curious and capable citizens of the world, whose interests and passions are placed at the center of curriculum negotiations. Children construct knowledge alongside passionate teachers who as co-learners and facilitators make visible the children's hundred languages through the arts, eco-sustainability, mindfulness, and the outdoors.
Bambino Chef offers children cooking lessons, birthday parties, summer/winter camps, storytime sessions, playdate gatherings, holiday events, adult cooking classes, and other learning and developmental activities while learning the importance of healthy nutrition and cooking up little masterpieces.
Auburndale, Personalized, State-aligned enrichment programs in math, English, and reading. JEI strives to create an educational environment where all children have the ability to become strong leaders of tomorrow by helping to develop their critical thinking and problem-solving skills.