Martin Luther King Day Events In and Around Jersey City
Martin Luther King Jr. Day is a federal holiday falling on the third Monday of every January. It celebrates Dr. Matrin Luther King's legacy and honors everything he did for the civil rights movement. We will never forget Dr. Martin Luther King Jr's words and actions, or his impact as an activist, working to give a voice to all. We have compiled some events in and around Jersey City for you to celebrate the day.
January 14th through January 16th, 2023
The 28th Annual Oratory Contest begins next month! #JerseyCity students can deliver their best renditions of Dr. Martin Luther King Jr.'s most influential lectures. Are they interested in participating this year? Schools must nominate students to participate by next Friday, January 27.
Contact @JCartandCulture for more information at 201-547-6921 or [email protected]
January 20, 2023: 7:30-8:30 pm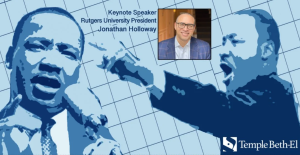 Join Temple Beth-El's 38th Annual Dr. Martin Luther King Jr. Commemorative Kabbalat Shabbat Service. All are welcome to our historic sanctuary for this special annual service as we honor the work life and vision of Dr. Martin Luther King Jr. with honored keynote speaker Jonathan Holloway President of Rutgers University. Holloway is a U.S. historian who took office as the 21st president of Rutgers The State University of New Jersey on July 1, 2020. He also serves as a University Professor and Distinguished Professor.
Before accepting Rutgers's presidency, Dr. Holloway was provost of Northwestern University from 2017 to 2020 and Yale University's faculty member from 1999 to 2017. At Yale, he served as Dean of Yale College and the Edmund S. Morgan Professor of African American Studies History and American Studies. President Holloway's scholarly work specializes in post-emancipation U.S. history, focusing on social and intellectual history.
January 14th through January 16th, 2023
BCM is celebrating MLK weekend! Three days of civil rights-inspired programs & performances w/ music, theater, volunteer projects, art-making + more! Join Brooklyn Children's Museum to celebrate the life and legacy of Dr. MartinMuseumr King Jr.:
EVERY DAY (1/14–1/16)
Shadow puppet performances w/ @nehprii.
Shadow puppet-making workshops and community theater.
Music and civil rights chants w/ @fyutch.
Protest poster-making followed by a march through the Museum.
Collaborative art project inspired by MLK's "I HMuseumDream" speech – write down your hopes for the future and attach them to our hanging dream cloud sculpture.
MLK DAY (1/16 only)
Volunteer project led by @brooklyn_repair – help assemble baby care packages that will be donated to at-risk families via @lehelps.
January 16, 2023: 12-5 pm
A celebration of Dr. Martin Luther King Jr.'s legacy, his teachings of social justice, and his service to the community. He features dynamic performances, hands-on activities, and opportunities to help others. There's something for the whole family! Visitors are encouraged to bring nonperishable food items to support a local food bank, women's shelter, or church.
Food will be available for purchase.
January 17th, 2022 
Another great way to celebrate the day is by volunteering with the family. The Jersey Cares Dr. Martin Luther King, Jr. Day of Service engages people across the state to embody Dr. King's vision and bring people of all ages and backgrounds together, strengthening their communities and building a stronger New Jersey. In addition, volunteers across the state will unite to honor Dr. King's legacy through various projects.
January 16, 2023: 1-4 pm
The Visual Arts Center of New Jersey will participate again in Summit's 25th Annual Martin Luther King, Jr. Day of Justice, Equality, and Service to Others on January 16, 2023. All ages and families are welcome to come to the art center from 1-4 pm to make a thank you card. The cards will be mailed to organizations that do social justice work in New Jersey.
All materials and supplies will be provided. Our teaching artist and art therapist, Megan Tuttle, will be there to assist with materials and ideas.
Updated January 12th, 2023