Martin Luther King Day Events In and Around Jersey City
Martin Luther King Jr. Day is a federal holiday falling on the third Monday of every January. It celebrates Dr. Matrin Luther King's legacy and honors everything he did for the civil rights movement. We will never forget Dr. Martin Luther King Jr's words and actions, or his impact as an activist, working to give a voice to all. There are some great  Martin Luther King Jr. Day Events happening In and Around Jersey City  that we have compiled for you to celebrate the day.
Saturday, January 18, 2020, 7:00  PM
Join the Jersey City Free Public Library for their annual Dr. Martin Luther King Jr. tribute on Saturday, January 18th at 7pm at Miller Branch Library- Cultural Arts Auditorium. There will be a cultural performance and choir as well as guest speakers. Cultural Performance Featuring: Rev. George Hodnett's Instruments of Praise and Miracle Temple Pentecostal Church Choir.  Guest Speaker: Rev. Dr. Marion J. Franklin, Minister of First Baptist Church of Vauxhall, NJ, Dr. Franklin has taught at St. Peter's University, New York Theological Seminary and Bloomfield College as Professor of Sociology.
Wednesday, January 22nd, 2020, 10:00 am – 12:00 pm
Lift Every Voice: Standing at Times of Challenge and Controversy
Brunch is served at 10 a.m.
The program begins at 10:30 a.m.
General Admission: $40/$30 Senior Citizens/$20 With NJCU Student ID
Guests may purchase tickets for an 8-seat table for $40 per person.
A portion of the ticket price is a tax-deductible donation that will fund scholarships for NJCU students. The keynote speaker of the evening is Angela V. McKnight.
Buy tickets here. 
Monday, January 20, 2020 
Another great way to celebrate the day is by volunteering with the family. The Jersey Cares Dr. Martin Luther King, Jr. Day of Service engages people across the state to embody Dr. King's vision and bring people of all ages and backgrounds together, strengthening their communities and building a stronger New Jersey. This year, 2,200 volunteers will honor Dr. King's legacy at 10 sites across the state.
For a complete list of projects and details please click HERE.
Monday, January 20, 2020, 10 am-5 pm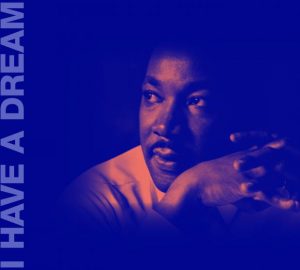 FREE For All
Register here.
Join the Museum to celebrate MLK's life and further his mission. All-day long we will have hands-on activities, planetarium showings, music, performances, and free health screenings. You and your family won't want to miss this annual celebration!
Activities include:
10:45 AM Free Planetarium Screening: GOURD, every 30 minutes
For centuries people have relied on the wonders of the night sky to guide them safely. Join us as we explore how slaves used the Big Dipper and Polaris to find their way to freedom on the Underground Railroad. Created by local arts collective SQAD NWK. (Duration: 15 minutes)
11:00 AM Yendor Theatre Performance in the Galleries
11:30 AM Dance Performance by Premiere Dance
Noon Yendor Theatre Performance in the Galleries
1:00 PM Yendor Theater Performance in the Court
2:30 PM Dance Performance by Premiere Dance
3:00 PM Family Fun Tour of the Galleries
4 PM Yendor Theater Performance in the Galleries
Ongoing All Day
* Hands-on artmaking
* Watch Dr. Martin Luther King Jr's "I have a Dream" speech
* Health and fitness consultations
* Take a picture in our photobooth
* Snacks to eat
* Story readings in the galleries
Monday, January 20, 2020 at 3 PM – 7 PM
Join Councilwoman Denise Ridley, Hudson County Democratic Black Caucus, Jersey City Vulcan Society, and Jersey City Greek Alliance for a day of service. This will be a day party and donation collection. Admission is a donation of travel-size hygiene products or female hygiene products that will then be donated to Ward A Public Schools. Those who choose not to donate products will be asked for a $10 donation at the door. Light refreshments will be provided. Music, fun, and community service.
Monday, January 20, 2020 at 10 AM – 12 PM
Calling all BLMS families, friends, and alumni! Put on your BLMS spirit wear & join them 10am-12pm on Monday, January 20th to prepare meals for people without permanent homes at Fountain of Salvation Church, 324 Communipaw Ave., Jersey City, NJ 07304. MLK Day is a time to serve!
Monday, January 20, 2020 at 11:00AM – 1:00PM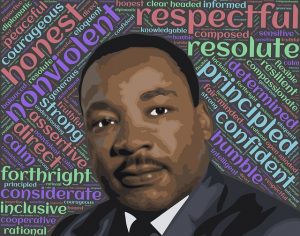 Make a peace dove craft, experiment with what Harriet Tubman would look like on a $20 bill, listen to the I Have a Dream speech, and then participate in an interactive experience in their latest exhibit: The Adventures of Baron Von Steubon and Cromwell: A Kinetic Tale by David Bowman. There will also be materials available to learn more about Harriet Tubman and Dr. Martin Luther King Jr.
Their exhibitions which will be open from 11:00 AM – 5:00 PM.
Aerosol: Graffiti | Street Art | New Jersey | Now
The Adventures of Baron Von Steubon and Cromwell: A Kinetic Tale by David Bowman
Everyday People: Mel Leipzig's Figurative Realism
Eva Zeisel – A Century of Designing Elegance
Special Installation Spotlight: Daniel Rozin's PomPom Mirror
Murtogh D. Guinness Collection of Mechanical Musical Instruments and Automata (Demonstration at 2:00PM – free with Museum Admission)
Dinosaur Den
Mega Model Trains and Railroad
American Indian
Rocks and Minerals
FREE with Museum Admission.
And, don't miss a musical performance, Mariel's Melodies in our theatre for kids with jazz trombonist Mariel Bildsten and some members of her ensemble at 11:00AM and 1:30PM (additional fee).