By now the kids are going stir crazy inside with all this cold weather and snow, so I wanted to offer a ski themed craft that is both fun to make and can double as a toy for creative play. This cute ski friend can be made by all ages – just check out my special tips below!
Materials:
– Pipe cleaners
– Popsicle sticks (small size)
– Toothpicks or wire
– Pom poms
– Wooden bead (for the head)
– Paint / or permanent markers
– Scrap of yarn or string
– Hot glue, craft glue or double sided tape (see below)
– Scissors
1) Cut a pipe cleaner in half to make the body for your skier. I chose a few different colors so it looks like pants and a shirt.
2) Fold one pipe cleaner half like an upside down V to make the legs. Fold the other pipe cleaner half around it to form arms, as the photo shows.
3) Paint a wooden bead for the face. You could also use a thin tipped permanent marker for eyes, a nose and a mouth.
4) Using hot glue (adult supervision only) or craft glue (such as Aleene's Tacky Glue), attach the head to the body, and the feet to two Popsicle sticks. Attach pom poms to the head for a hat.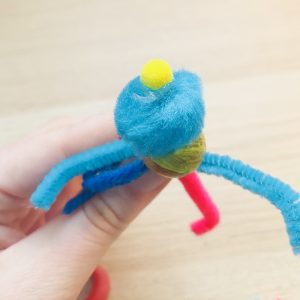 5) Fold each pipe cleaner hand around a toothpick to create ski poles.
6) Tie a little yarn or string around the skier for a scarf.
VARIATIONS
This craft really works the best with hot glue, because if done right – it can be played with over and over again! The kids will have a great time bending the knees, etc. like a real skier. If you do use hot glue, make sure it heats completely before applying (usually 5 minutes after plugging the glue gun in).
If you do not wish to use hot glue, strong double sided tape could be used to adhere the feet to the Popsicle sticks.
Don't have a wooden bead at home? Simply use a sticker for the face (such as a round colored dot from the dollar store).
As long as you have pipe cleaners and Popsicle sticks at home – you can get creative with this fun, winter craft!
Ashley Lucas (aka Lady Lucas) is an artist, illustrator, author and crafts designer. Her adorable characters can be found online via her website and Etsy shop (which highlights instant coloring books & party crafts). She offers bespoke, private art lessons to children in Jersey City and Hoboken ages 4 – 12 years.