It's been a long winter and we are all itching to get outside! Spring Break is coming up and I'm sure you want to get out of the house as much as the kids do. Outdoor activities would be great but, with the crazy weather we've been having, it's good to have options for outdoor and indoor activities to keep the kids busy this Spring Break.

Spring Break Camps
Several local establishments are offering Spring Break camps for kids to stay busy even when they aren't in school!
For Application form: FAAJC-Spring Camp 2015 Application Form
Tiny Greenhouse, an art and design studio for kids, is offering a camp called "Rain, Rain, Don't Go Away!" The camp runs from April 6 – 8 from 12:30pm – 3pm for ages 3.5 – 7 years. The cost is $135 for three sessions or $50 for one session. Click here to sign up.
If your little ones are into Lego, try Bricks 4 Kidz school break camps! The location in Hoboken will offer half day camps from 8:30am – noon for $45 per day and full day camps from 8:30am – 2:30pm for $65 per day for kid's ages 4 and up. The dates range from April 6 – 10. Enroll on their website.
The Crop Shop in Hoboken is offering a camp on April 6 – 10 from 9am – 3pm for children ages 6 and up. Activities for kids will include gardening, ceramics and clay work, painting, collaging and more! They will even take the kids to the park for a bit of play time each day! The cost is $299 for the whole week or $65 for "mini-camp" days. To register, click here.
If your children are into dance, try the spring break camp at Monroe Street Movement Space in Hoboken. They make it convenient by allowing parents to register for a whole week or just single days. The camp runs April 3 – 10 from 9am – 3pm or 9am – 5pm and is offered for children ages 3 – 12 years old. Students must be fully potty-trained and not need a nap anymore. For a full week, prices range from $275 – $375 per child. Single days are $60 – $80 per day, per child. Siblings receive a discount. Plus, they offer early drop-off and late pick-up. Click here to register.
Turtle Back Zoo is a fun place to visit in spring. When the air is getting warmer, it's the perfect place to hang out for the day. And this year, for Spring Break, they are even offering a Mini Zoo Camp! Indoor and outdoor spaces are used to explore, discover and examine local and exotic wildlife. They are offering two sessions that will run 4 days each from 9am – 3pm and each session will offer classes for three age groups (K-1, 2-3, 4-5). Session one will run March 30 – April 2 and session two will run April 7 – 10. The cost is $325 per camp session. Click here to register.
Classes and Indoor Activities
If you don't want to do a whole camp for your children, try a class or two! There are plenty of local places offering classes throughout Spring Break.
Try Guitar Bar, Jr for the little music guru in your family. They offer classes for infants and up. Their Little RocknRollers class is from ages 6 months – 4 years and offers an eclectic mix of musical genres for young rockers to shake, drum and dance! You can purchase a drop-in class for $24 or $15 for babies' classes. Classes are offered throughout the week, check out their online schedule to book the class that works best for you.
The Crop Shop in Hoboken offers many different arts and crafts-themed classes for children of various ages. There is an Easter Egg Decorating class being held on April 4 from 11am – 1pm. Children receive 6 hard-boiled eggs to dye, paint and bling out! The cost is $22 per child. Register here.
Get your little ones active and relaxed at Mimi Yoga in Hoboken! They offer classes from crawlers – 7 years old. Your first trial class is free! Drop-in classes are $25 each and you can purchase class passports for discounted rates on multiple classes. Click here for the daily schedule of classes.
Take the family to a screening of "The Wizard of Oz" in 3D at the Museum of the Moving Image in NYC. Tickets are $12 or $9 for students. Showtimes are at 12:30pm daily from April 3 – 12. Click here for tickets.
The Amazing Max Live is a magic show with a mind of its own! Enjoy magic, comedy and lots of audience participation. This show is perfect for the entire family. See the show from April 6 – 11. Tickets start at $29.50. Click here to buy tickets.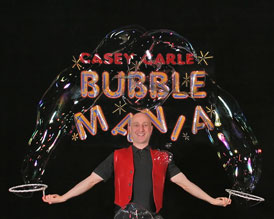 Head over to the New York Hall of Science in NYC to check out BubbleMania: Science, Art and Comedy with Casey Carle. This fun 30-minute show includes a high-energy mix of comedy, swing music and amazing soap bubble manipulations! $6 per person, plus NYSCI admission. Shows are from April 7 – 9 at 1pm and 2pm.
Get Outside
If you need to just get outside, there are too many options to list. In our area, Liberty State Park is probably the first option that will come to mind. The large park offers many options to families seeking some outdoor activity. There is a large playground that the little ones love. There are pathways for biking, skating and running. As the Interpretive Center is still closed, check out the Richard J. Sullivan Natural Area, which is adjacent to the center and boasts 36 acres of natural area. You can take a self-guided nature path to observe this local wildlife habitat.
If you want some place a little bigger to explore, try Watchung Reservation. Only about 30 minutes from downtown Jersey City, this 2,000-acre natural area offers playgrounds, more than 13 hiking trails, Surprise Lake, the Deserted Village of Feltvile/Glenside Park and much more! Take the kids to the Trailside Nature and Science Center which offers 4,500 square feet of interactive, state-of-the-art exhibits and much more.
Branch Brook Park is located in Newark and is about a 15 minute drive from downtown Jersey City. The 360 acre park will begin its 2015 Essex County Cherry Blossom Festival on April 11. It's at the tail end of spring break this year, but fun anyway! The fun begins on April 11 and runs through April 19.  Come on an off day and take a historic cell phone tour of the park!
If you haven't checked out The Bronx Zoo, this is the time, before summer crowds make it hard to park and harder to see exhibits. There is a lot of outdoor walking, so dress appropriately. There are so many things to see and do at the Bronx Zoo including Tiger Mountain, the Bug Carousel, The Wild Asia Monorail and so much more! Online rates for tickets are $21.55 for adults 13 and up, $15.25 for children 3 – 12 and kids under 2 are free. Click here for tickets.