Things To Do Around Halloween in NYC & NJ
Doesn't Fall energy just intentionally make you want to pick up, take little day trips and explore beyond your neighborhood? There are lots of Halloween events happening in Jersey City this month but suppose you want to grab the train into the city that's so accessible to us or hop into the car and head out West for some suburban/country time. We've got you covered with a handful of other things to do in New York City and New Jersey around Halloween so you can create some new adventures with your family. Read on below!
NEW YORK
Saturday, October 19th, 2019, 11:00am to 2:00pm
Brooklyn Bridge Park's 10th Harvest Festival features free, fun activities such as pumpkin carving, arts and crafts, storytelling, games, and music. More information here.
Saturday, October 26, Brookfield Place, 12-3pm, Battery Park
This is sure to be fun. Costume-clad kids will have a "FANGtastic" afternoon at this family-friendly Halloween Bash at Brookfield Place! Activities include Razzle Dazzle spooky magic, trick-or-treating, a Costume Catwalk, a Lego Photo Op, drag queen story hour, and musical adventures with Sweetbeatz. More information here.
Saturday, October 26, Upper West Side
The American Museum of Natural History hosts its annual Halloween celebration, with room to roam around the museum's vast halls. Free treats plus preschool-friendly characters like Curious George and Clifford the Big Red Dog will be there as well as live musical performances and arts and crafts to enjoy.
Sunday October 27, Tribeca, 1-3pm
It's the park's highlight of the year for kids, with free events from Penny in a Haystack to Bone Dig in the sandbox to a Hay Maze. More information here.
Central Park, Wed Oct 30, 2019, 4:00pm to 7:00pm
This free event in Central Park includes pumpkin carving, crafts, spooky stories, a costume parade, a pumpkin patch, and the Conservancy's iconic Pumpkin Flotilla, which sails across the Harlem Meer at twilight. More information here.
Thursday, October 31—Washington Square Park, NYC, 3-6pm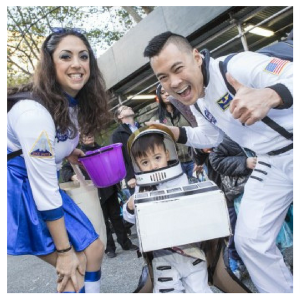 Take your Halloween afternoon to New York. At one of the city's largest free children's events on Halloween, children ages 3-12 are invited to Washington Square Park to line up for the parade at 3pm. Afterwards, free trick-or-treat bags, games, and rides  await on West 3rd Street between LaGuardia Place and Mercer Street. More information here.
NEW JERSEY
Saturday, October 19, Pier A Park, Hoboken, 11-3pm(PASSED)
The festival features pony rides, inflatables, a trackless train, a petting zoo, pumpkin and face painting, a hay maze, craft activities and more. More information here.
Terhune Orchards, Princeton, October 26-27, 10-5pm
Trek down to Princeton with the family and spend the day doing it all for the last who weekends of Terhune's AppleFest–get apples if you didn't pick them yet, paint pumpkins, enjoy music, food, and fun! More information here.
Main Street, Chester, October 19 & 20, 11-5pm
This two day event on Main Street in quaint Chester will host a blacksmith demo, clown performances, face and pumpkin painting, square dancing and an opportunity to meet the star of NBC's Produce Pete. Be sure to check out one of our favorite farms while you're out there. More information here.
October 26-27, various times
Venture to Westfield's town-wide AddamsFest. The two-weekend spooky lineup features Maniac Pumpkin Carvers, a Monster Mash Dance Party, a Halloween parade, costume contest and trunk-or-treat. The parking lot of the train station will load up with decorated cars on Sunday, October 27, distributing candy in the trunk-or-treat. More information here.
Stony Hill Farms, Chester, Sunday, October 27, 2019 at 10 AM – 5 PM
Visit Stony Hill Farms for the final weekend of pumpkin picking and enjoy homemade Pumpkin Ice Cream, a pumpkin painting craft, live music, and a scenic hayride to the pumpkin patch. More information here.
Adventure awaits…
There are plenty of day trips to take and things to do in New York City and suburban NJ around Halloween this year! Bundle up, get those costumes on, and let us know wherever you choose to venture during the rest of October! If you are looking to enjoy Halloween in Jersey City, check out our blog on all the Halloween events happening in Jersey City. You can also check out our 'Free, Fall Fun Events' guide.