Winter Outdoor Seating Experiences In Jersey City and Hoboken
Even if it is cold outside, We still want to enjoy our favorite restaurants outdoors and luckily Jersey City restaurants are not disappointing. All these local amazing restaurants have stepped up this year with their outdoor dining setups that are a fun experience. From igloos with heaters to greenhouses, these winter outdoor experiences are a must-see. Therefore, we have created this list of the best outdoor dining winter seating experiences.
500 Jersey Avenue, Jersey City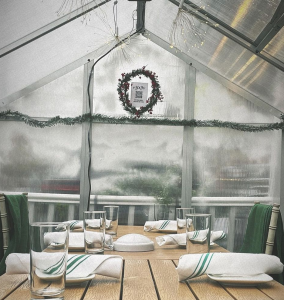 Kitchen Step is stepping up its creative game with these greenhouse dining experiences. With 6 fully heated and totally private greenhouses, they are ready to serve you throughout the cold winter months. Reservations can be made online through their website kitchenstepjc.com or over the phone.
85 Morris St, Jersey City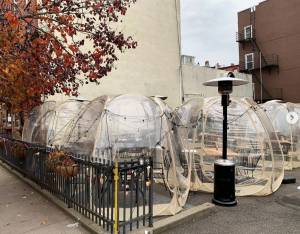 (Photo by JC Upfront) 
Bistro La Source is offering a full experience with cozy dining igloos. While you enjoy the heated igloos, you can take advantage of their yummy food as well as cocktails.
708 Jersey Ave, Jersey City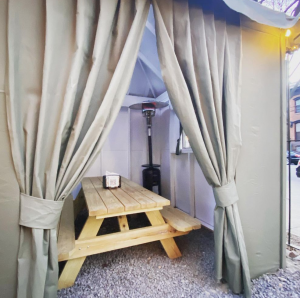 Hamilton Inn has made a great addition to their dining experience outdoors. Join them for brunch or dinner at one of these heated tablespaces. This one is not to miss this season!
8 Erie St, Jersey City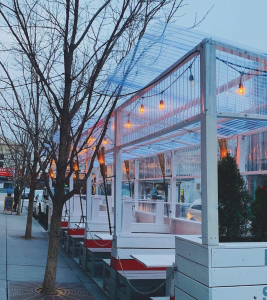 (Photo by SueandApril) 
Yummy cajun food outdoors? Yes, please! The boil has created the perfect pods for customers to enjoy their meals safely and is also covered with heaters.
264 Grove St, Jersey City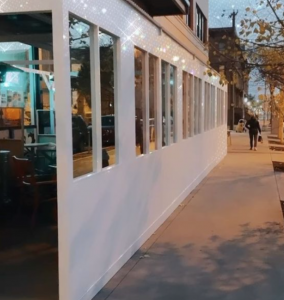 Frankie is enjoying Australian eats in the perfect warm environment. They have created this beautiful outdoor dining seating area that is perfect for the winter to keep you warm but also open on top so there is enough fresh air for safety.
289 Grove St, Jersey City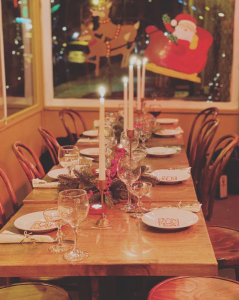 Check out Uncle Momo for some delicious Lebanese eats while staying warm! They have created a fully covered area with windows as well as warm heaters for you to stay warm but also stay socially distant.
98 Morris St, Jersey City
(Photo by vrealtygroup)
Light Horse Tavern is ready to welcome you to their dining igloos! Enjoy a delicious dinner with the family and stay warm!
183 Montgomery St, Jersey City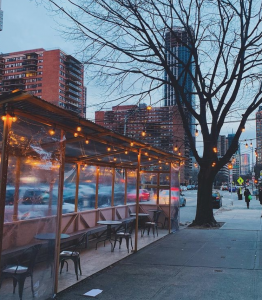 Looking for a spot to enjoy a nice lunch or coffee? Short Grain has you covered! They have created a cozy area with socially distant tables.
99 Greene St, Jersey City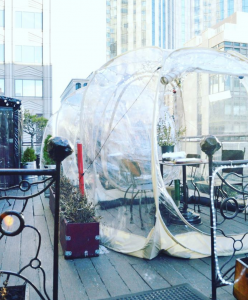 Iron Monkey is bringing the whole igloo experience to another level. Not only do they have these warm igloos outside, but they have also brought them up to the rooftop as well. Feeling chillier? They will bring you a fleece blanket. Enjoy some yummy food while staying safe and warm.
700 1st St, Hoboken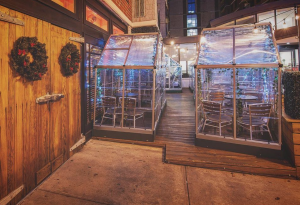 Northern Soul is bringing their Soul Shacks this winter! Each greenhouse has its own heating, Bluetooth speaker, and LED lights. This would make the perfect date night or dinner with the whole family.
953 Bloomfield Avenue, Hoboken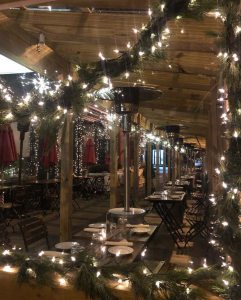 Anthony Davids's outdoor heated dining space makes the perfect experience for anyone. This Hoboken staple not only offers delicious eats, but they have the perfect outdoor environment for you to enjoy a night out. Their whole outdoor space is covered with heaters and they are offering yummy warm cocktails too.
700 Clinton St, Hoboken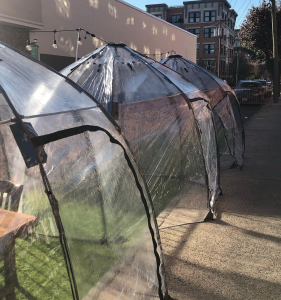 Il Tavolo di Palmisano is offering these warm bubbles. Each bubble has its own heater to keep you warm. They are disinfected in between each party with an industrial fogger. Il Tavolo di Palmisano's offers delicious authentic Italian cuisine.
1319 Washington Street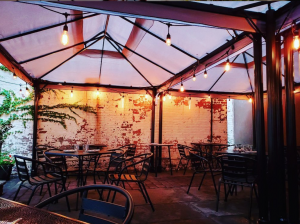 Apulia in Hoboken is offering a beautiful outdoor setup with a tented area filled with heaters to keep you warm. Enjoy some Italian eats and drinks while you stay warm and safe!
Updated Jan 24th, 2022