Beets, Beautiful Beets
Whatever you prepare this coming week for your Thanksgiving feast, be sure to include a beet dish. Please avoid the canned or jarred variety as this simply does not come close to sweet, aromatic, freshly roasted beets. Try roasting them in olive oil along side similarly sized cut carrots and red onion. Then dress with a bit of good quality extra virgin olive oil, balsamic, salt, pepper and dill, you have yourself a fantastic, colorful & delicious vegetable side to feature on your Thanksgiving table.
Often an overlooked side dish, this humble root can certainly hold it's own center stage should you wish to prepare a vegetarian meal. The recipes below are supremely scrumptious and simple, healthy options, great for the days before the big feast.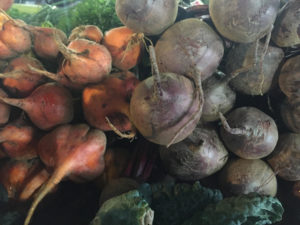 Beet Burger (GF, vegetarian)
Eating too much meat is not healthy for he waist line or heart and we could all benefit from a few light meals during the holiday season. This beet burger recipe will be sure leave you feeling satiated and satisfied without the burger bloat from it's conventional counterpart.
Ingredients
• 
Approx. 3 cups thickly sliced beets, once roasted will yield approx. 
1½ cups
• 
1-15 ounce can of chickpeas, drained and rinsed
• 
1 
tablespoon fresh dill
, minced
• 
1 tablespoon balsamic vinegar
• 
¼ teaspoon black pepper
• 
Extra virgin 
olive oil
 (EVOO)
• 
Fresh greens (rocket, cress, spinach etc…)
Lemon Yogurt Sauce:
• 
Small bunch fresh parsley
, minced
• 
¼ cup low fat plain yogurt
Instructions
1. 
Pre-heat the oven to 400 degrees. Place the 
b
eets onto a large 
lined baking sheet
 and drizzle with a little bit if olive oil and season with a pinch of salt and pepper. Roast beets for about 40 minutes, until they are cooked through. Let cool.
2. 
While beets are roasting, quickly sauté the onions until soft over medium heat 7-10 minutes, then add garlic and sauté additional couple of minutes until garlic is soft.
3. 
A
dd the beets, chickpeas, 
quinoa
, 
dill, 
balsamic vinegar, garlic,
 onion,
 salt, 
p
epper
 and raw egg to food processor
. Process for about 15-30 seconds until everything is mixed and 
just combined into a rough texture, do not
 over blitz into a puree. 
4. 
Form the mixture into patties, you will get about 6-8 depending on how big you make them. Place patties on a large 
lined 
baking sheet. Place in the refrigerator for at least 30 minutes
 (or freezer for about 15 minutes). Firm chilled patties will handle the heat better and help to ensure they maintain their shape when being cooked.
*while burgers are chilling, prep the yogurt dressing.
5. 
P
lace a large pan over medium heat and coat the bottom with 
EVOO and c
ook for about 3-5 minutes on each side.
6. 
Place 
a handful of fresh greens on plate, drizzle greens with EVOO and pinch of salt
, top with the beet burger, sliced avocado 
and the lemon yogurt
 sauce.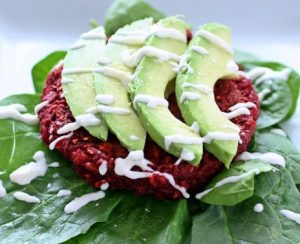 Warm Beet and Buckwheat Salad 
This dish a nod to my Easter European roots. Being half Polish, buckwheat (or kasza) was a staple in my house and my Babcia (grandma) growing up. It's truly a delicious nutrient dense grain that's packed full flavor (also gluten free).
Being a lover of both beets and buckwheat, it occurred to me they may just be a perfect match, indeed my hunch was accurate. This is an earthy, hardy warm salad that packs a punch of flavor while also filling the belly and exciting the taste buds.
Serves 4
2 cup roasted beets, chopped
2 cups cooked kasza
3/4 cup crumbled feta cheese
1 cup fresh spinach leaves, roughly chopped
1 small onion, finely minced and sautéed
1 large celery stalk, chopped and sautéed
1 clove garlic, minced & sautéed with onions until soft
1 large handful fresh dill and parsley, roughly chopped
2 tablespoons EVOO
Juice of ½ lemon
Salt and pepper to taste
1 tablespoon poppy seeds
Combine above ingredients, stir to combine, dress and season to taste.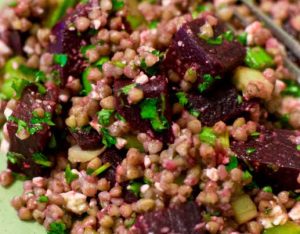 Up next – Mid week squash recipes.