Our local Jersey City parents have opened a brand new business, Code Wiz, Jersey City located in downtown Jersey City conveniently located only a few blocks away from the Grove Street PATH station. Code Wiz is a modern STEM learning center in Jersey City, NJ where kids 7-17 learn to code, build robots and learn critical problem-solving skills! They have courses for kids ages 5 – 18!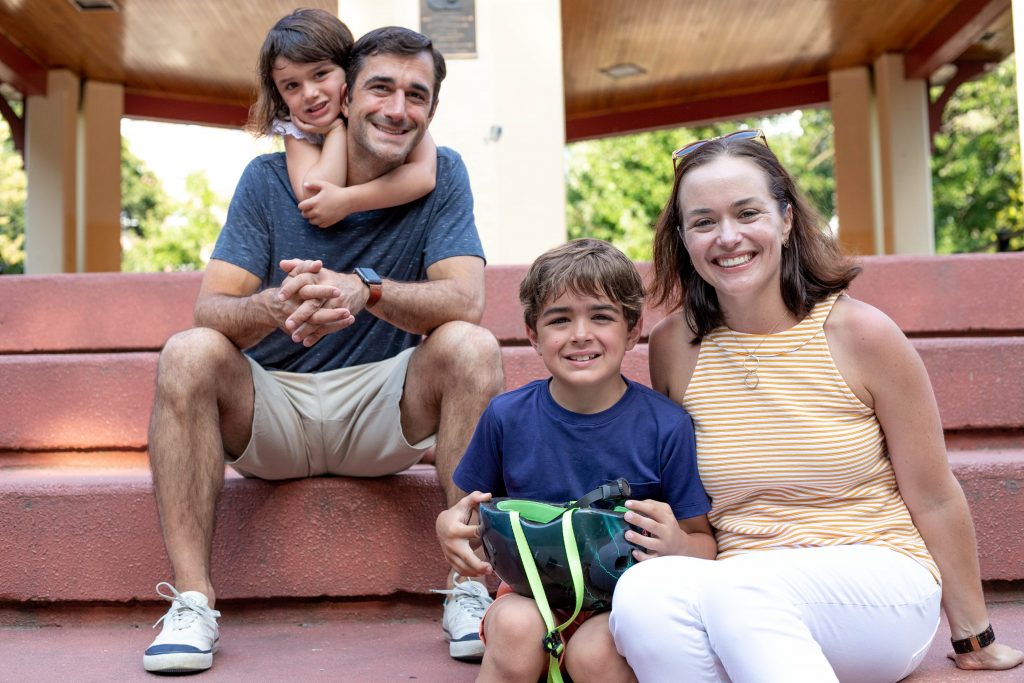 Evan and Kate Gilbert recently relocated to New Jersey after living outside of Boston, with their two kids, Caden and Lilah. Kate is originally from NJ and Evan is a Massachusetts native. He brings an MBA from Babson College and experience in both finance and entrepreneurship, having come from a family of small business owners on his mom's side. Kate is a front-end web developer and WordPress expert and has been working in code and programming for more than a decade. Caden is into Minecraft, rock climbing, and Pokemon, and Lilah loves rock climbing, unicorns, and going to the dog park with their dog, Rumi. Both kids will start at Hamilton Park Montessori in the fall. They decided to move to Jersey City because Kate is a Bergen County native, and they have friends and family in JC Downtown, Hoboken, and the Heights. When they decided to move from MA back to NJ, they sought out a more diverse, walkable and urban setting and all signs pointed to Jersey City. They especially love all the food choices and the flexibility of a (nearly) car-free life.
Kate's love of all things code and NJ roots combined with Evan's financial know-how and entrepreneurial drive are what inspired them to launch their own kid's coding and robotics center. They both have an entrepreneurial spirit and many family members who are entrepreneurs. When the Code Wiz opportunity came up, it felt like a natural fit.
Code Wiz offers us a unique opportunity to combine business and tech skills with a love of learning, teaching, and community involvement. Evan has always had a desire to teach and is excited to get back to helping kids learn. In addition, Kate's career as a front-end coder and Caden's love for learning to code has shown us the benefits of these skills and knowledge in learning and everyday life.
Code Wiz offers coding classes in game design with Minecraft Moding, unity and python. Front end web development with HTML/CSS/JS, and full-stack classes for more advanced coders in Java. For robotics, they focus on the FIRST organization and Lego partnership under the FIRST Lego League and lego league Jr. They offer classes utilizing the WeDo and Mindstorms EV3 robot platforms. These are a great way to get kids interested in engineering and programming, while also building problem-solving and complex reasoning skills.
They also offer limited classes in simple electronic circuitry and 3D modeling/printing. In addition, they will be offering birthday party hosting, parent's night out events, and camps later in the year. They will be open Mon-Fri 4-8pm and Sat 10am-3pm and Sunday by appointment.
Why should Jersey City Families choose them?

They are passionate about learning while having fun. Code Wiz is a fun educational environment. Children come and play with these tools and technologies and gain real skills for both life and careers. Their center aims to offer a break from the school day, a fun after-school or weekend activity that lets kids dive into tech at their own speed. The Code Wiz project-based curriculum rewards success and failure as part of the learning process. Learn to code and have fun is their motto because they believe learning is and should be fun. And they like to have fun, too! As entrepreneurs, they hope to infuse that drive into everything they do in their business. Their mission is to encourage doing and creating so that failures become lessons and the learning process never ends.
Location:
357 3rd Street on the corner of 3rd and Brunswick
Jersey City, NJ
07302
(201)-589-0199
[email protected]
Hours:
Mon -Thur: 3pm -8pm
Fri: 3pm -6pm
Sat: 10am -1pm