Bubble Fest in Jersey City
July 16 @ 5:00 pm

-

7:00 pm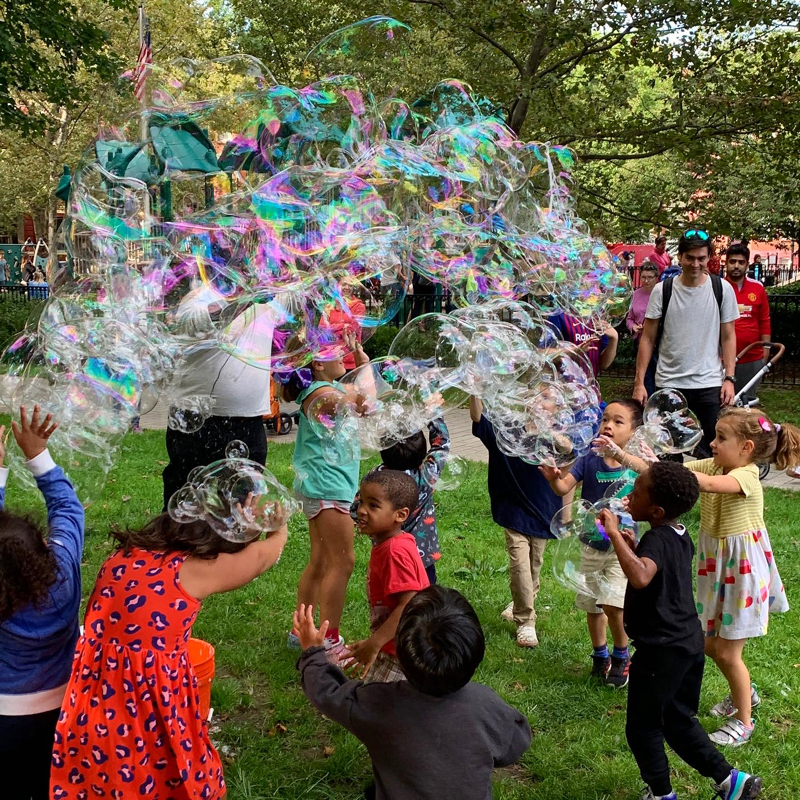 Bubble Fest in Jersey City
Hey families! Join JCFamilies for Bubble Fest, another fun and free summer event on Friday, July 16th from 5-7pm at Hamilton Park.
Bring your picnic blanket and enjoy some music, delicious food, arts & crafts, and other fun activities for the whole family! This is a great event for families to come together and spend some quality time together.
We love organizing events for you and your family. If you haven't attended our events before visit our photo galleries to see what our past events were like.
Please See This Information Before you Attend:
We will be taking photos and videos at all our events, which we use to promote our future events.

Parents are responsible for their kids at the event. We are not responsible for any injuries in our event. 
Please make sure your child/children keep their distance from the bubbles and do not get the bubble solution in their mouth or eyes as it can cause sensitivities. 
Entertainment for the event: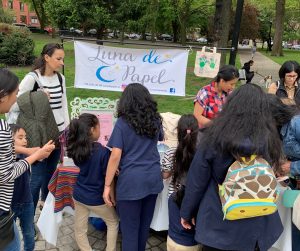 Luna de Papel is a crafting workshop that offers crafting and DIY classes and workshops for adults and children of all ages. It is a place where all can test the bounds of their imagination in an environment they enjoy.
Tiny Artisan is a uniquely small, but large imagination process art studio dedicated to promoting creativity, discovery, and independent thinking. Guided by an out-of-the-box team of creatives, they fuse unique techniques to create the most interesting experience for kids.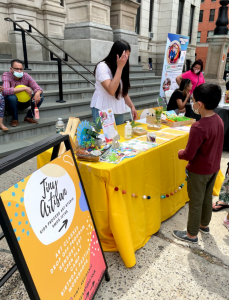 Giant Bubbles
Which kid doesn't love giant bubbles? So we will be having a fun big bubbles show that everyone can enjoy!

My Gym will incorporate a warm-up, dance, age-appropriate gymnastic skills and end with a puppet show!
Performances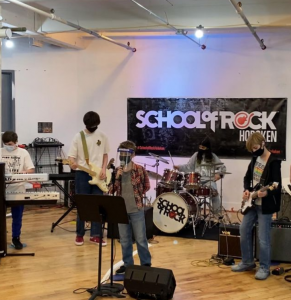 School of Rock will be performing with their best student House Band. These students act as mentors in our community every day and act as role models for their school both musically & socially. They are kept to their highest standard in this regard. Their goal for House Band is to teach students what it's like to be a professional musician within our community. They will be performing an array of classic rock songs for the event, from David Bowie to Pat Benatar.
Dance performance by Impress Ballroom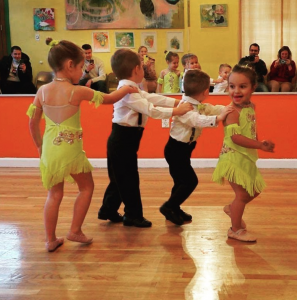 1. Cha-cha-cha
2. Western dance
3. The dance scene from the movie "Mask" – Cuban Pete
4. 7:05 pm – Cabaret Song by Sasha Blum
Come and get a massage and relax at our event with Harborside Sport & Spine.

FOOD VENDORS:
Mr. Softee Ice Cream Truck
Jerkin Chicken
SCHEDULE FOR EVENT: 
Ongoing Activities:
Arts & crafts with Luna De Papel
Arts with Tiny Artisan
Scheduled Activities:
Puppet Show And More with My Gym: 5:00 pm-5:30pm
Giant Bubbles: 5:30pm-6:30pm
School of Rock: 6:00pm-7:00pm
Impress Ballroom: 6:30pm-6:45pm
Cabaret Song by Sasha Blum: 7:05pm
Partners:
Partners/Sponsors:
Tatiana is a small business owner. Arcos HandMade makes handmade authentic vintage/UpCycled High fashion silk accessories specifically headbands.
The Waldo School(World Of ABC)
The Waldo School sets the standard for leading private education since 2010 for children ages 2 through 13 across two locations. PreK 2 through PreK 4 students are housed in our Waldo Preschool location at 125 1st Street, Jersey City, and Kindergarten through 8th Grade students are housed in the Waldo School location at 110 1st Street, Jersey City.
They offer a variety of swimming classes for families located between Fort Lee and Elizabeth, with multiple pools easily accessible from Jersey City, Hoboken, Bayonne, Secaucus, Weehawken, Edgewater, North Bergen, Harrison, Newark, Kearny, Clifton, Passaic, Fairfield, West Caldwell, Montclair, West Orange, East Orange, Livingston, Short Hills, and the surrounding communities!
My Gym Jersey City is an activity center that offers kids birthday parties, Mommy and Me, gymnastics camps, and other fantastic fun-filled programs for ages 6 weeks – 10 years.
F45 is specifically designed to provide a functional full-body workout while improving energy levels, metabolic rate, strength, and endurance.
Hoboken Smile Specialists offers pediatric dentistry, orthodontics, and general dentistry, making the practice accessible for any member of the family.
With instruction in various styles of dance, theater, music, and fine art, JC SummerArts provides an in-depth experience in the arts from process to refinement to performance. Classes are taught by working professional artists, including members of Nimbus' acclaimed professional dance company.
Starting 6/21 – 9/6 three sessions from 9 am – 4 pm, early/extended day options provided. Activities include weaving, felting, embroidery, painting, knitting, crochet, and lots more. New outdoor space available; we will add gardening activities to each session.
New York Life Insurance Company is the third-largest life insurance company in the United States, the largest mutual life insurance company in the United States.