Feministival Series- FUNtastic Summer in JC
June 18 @ 5:00 pm

-

7:00 pm
Feministival Series- FUNtastic Summer
Feministival (An event for women, by women) Fair in Jersey City!
Make your way to Hamilton Park for Feministival on 
Friday, June 18th from 5 pm to 7 pm
! This summer event was created to highlight women-owned businesses in our community. There will also be a ton of fun activities for children. Bring the whole family to enjoy a warm summer evening, grab dinner from a food vendor, enjoy all the entertainment we have planned for you and support local women-owned businesses.
 We hope to see you at this fun community event!
Entertainment For The Evening:
Arts and crafts by Luna De Papel
Luna de Papel is a crafting workshop that offers crafting and DIY classes and workshops for adults and children of all ages. It is a place where all can test the bounds of their imagination in an environment they enjoy.
Tiny Artisan is a uniquely small, but large imagination process art studio dedicated to promoting creativity, discovery, and independent thinking. Guided by an out-of-the-box team of creatives, they fuse unique techniques to create the most interesting experience for kids.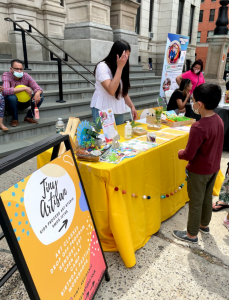 Giant Bubbles
Which kid doesn't love big bubbles? We will be having a fun giant bubbles show that everyone can enjoy!
Puppet Show by My Gym
There will also be a puppet show at the event for the kids' entertainment.
Come and get a massage and relax at our event with Harborside Sport & Spine.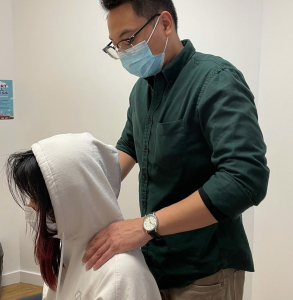 Kids Yoga with Mindful Play Yoga 
Mindful Play Yoga is bringing us yoga for the kids!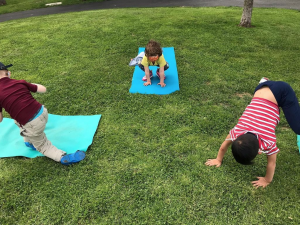 Dance Performances by Shehnaaz Dance Academy
Dance performance by Impress Ballroom
1.Waltz (7-12-year-old kids)
2. Macarena (kids 3-6 years old)
3.. Cha-cha-cha (7-10 years old kids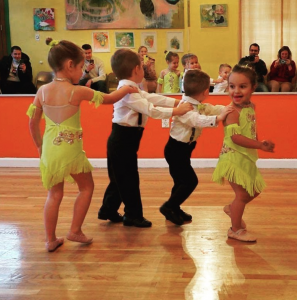 Dance Performance by Next Step Broadway

Food Trucks:
Ice Cream Truck
Partners/Sponsors: 
The Brunswick School encourages its students to think and learn by utilizing various parts of the brain in order to become holistic learners. Loosely based on The Creative Curriculum, The Brunswick School educators use a diverse approach to educate our youth that encompasses logical/abstract thinking, creative outlets to fasten fundamental ideas, hands-on, student-driven exploration and teacher-guided large group and small group instruction to provide a comprehensive curriculum for lifelong learners.
The Waldo School(World Of ABC)
The Waldo School sets the standard for leading private education since 2010 for children ages 2 through 13 across two locations. PreK 2 through PreK 4 students are housed in our Waldo Preschool location at 125 1st Street, Jersey City, and Kindergarten through 8th Grade students are housed in the Waldo School location at 110 1st Street, Jersey City.
Their core value is to academically challenge children and encourage them to explore and grow while discovering and developing new interests and talents. They value student-teacher engagement by maintaining a 5:1 ratio. Teachers are able to identify our students' learning styles and capabilities to alter the lesson plan based on their individual needs.
They offer a variety of swimming classes for families located between Fort Lee and Elizabeth, with multiple pools easily accessible from Jersey City, Hoboken, Bayonne, Secaucus, Weehawken, Edgewater, North Bergen, Harrison, Newark, Kearny, Clifton, Passaic, Fairfield, West Caldwell, Montclair, West Orange, East Orange, Livingston, Short Hills, and the surrounding communities!
Hoboken Smile Specialists offers pediatric dentistry, orthodontics, and general dentistry, making the practice accessible for any member of the family.
They specialize in pain management services, spinal decompression therapy, acupuncture, back pain treatment, chiropractic care, massage therapy, physical therapy, and many more!
New York Life Insurance Company is the third-largest life insurance company in the United States, the largest mutual life insurance company in the United States.
SCHEDULE FOR EVENT: 
Ongoing Activities:
Arts & crafts with Luna De Papel
Arts with Tiny Artisan
Massages with Harborside Sports & Spine
Scheduled Activities:
Mindful Play Yoga: 5:00pm-5:30pm
Puppet Show with My Gym: 5:30-5:45pm
Dance Performance by Impress Ballroom: 5:45-6pm
Giant Bubbles: 6:00pm-7:00pm
Dance Performance by Shehnaaz Dance Academy: 6:15 pm-6:30
Dance Performance by Next Step Broadway: 6:45pm-7pm