Mother's Day Celebration in Jersey City
May 12 @ 4:00 pm

-

7:00 pm
Mother's Day Celebration in Jersey City
Mother's Day is on Sunday, May 14th, and we are so excited to bring back our Mother's Day Celebration this year. A FUN and FREE event planned to make all the moms feel special on their day!
Join us at Hamilton Park on Friday, May 12th, from 4 pm to 7 pm—activities for Mother's Day. We have organized a ton of activities for moms and their kids. There will be a picture corner to capture sweet memories with your kiddos and arts & crafts, music for kids, cookie decorating, delicious food vendors, performances, and more!
The Brunswick School of Jersey City will be giving away flowers to the moms at their table; please visit their table at the event.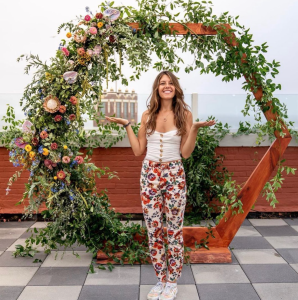 Made of Leaves is a floral design company located in The Jersey City Heights! Made of Leaves is known for its unique style and whimsical designs. Meghan Kramer, the founder of the company, started Made of Leaves during the 2020 Pandemic. She began by selling bouquets outside of coffee shops and pop-up markets back in 2020. Currently, Made of Leaves main focus is large event design and creating beautiful arrangements for unique weddings. Meghan opened up her own private floral design studio in August of 2022, where she and her team can execute their detailed and large-scale projects through the space. Made of Leaves also offers in-studio floral design classes for those looking to learn the skills and techniques of floral design.
Website: Madeofleaves.com
Instagram: @Madeofleaves
Ongoing Activities
Handcrafts by Luna De Papel
Luna de Papel is a crafting workshop that offers crafting and DIY classes and workshops for adults and children of all ages. It is a place where all can test the bounds of their imagination in an environment they enjoy. They will have many fun handicrafts for the little ones to enjoy and take home.
Picture Corner
A beautifully decorated picture corner will allow moms to take photos and make memories with their little ones.
Massage therapists from Harborside Sport & Spine
Get a massage and relax at our event with Harborside Sport & Spine.
Soft Play Area with My Gym
Schedule:
Music For Kids by Lisa Orin
Music For Kids by A Sound Start
Puppet Show for Kids by My Gym Jersey City
Dance performance by Impress Ballroom
Dance Performance by Nimbus Dance Works
Dance Performance By Performing Arts Workshop
Dance performance by Cadencia Dancers
Indian Dance by Deblina Ghosh
Dance Party
Enriching the Lives of the Children & their Families through Music
MUSIC PLAY STUDIOS, founded by Lisa Orinn in 1995, is on a mission to enrich the lives of children and their families through the joy of music. In a happy and playful environment, children explore the wonders of music-making with their family, friends, and caregivers. Families start off with our fun-filled core program, Music Together®, the internationally renowned music program for children Newborn to 7 yrs. This award-winning program stands out among its peers because of its cutting-edge research and specialized teacher training.

About Sound Start
A Sound Start is Jersey City's unique, fun, and educational "mommy and me" classes and  "Canta Conmigo" bilingual music class. A Sound Start has been part of our community for the past 16 years; Miss Claudia and her team love spreading joy and fostering the love of music with all families.
Partners:
A Sound Start
British Swim School
First Light Therapy
Garden Preschool Cooperative
Ivy Primary Prep
Liberty Physical Therapy & Wellness
Luna de Papel
Miss Yvonne Swim School
Momcrated
My Gym
New York Life Insurance
Shehnaaz Dance School
Smart Start Academy
Sweet Dreams
The Brunswick School
The French American Academy
The Scandinavian School
The Waldo School
True Dental Care
Waterfront Montessori
A Sound Start
Venture Studios
There will be food vendors available at the event; please bring a picnic blanket to enjoy a family dinner at the park 🙂
If you have any questions about the event, please email [email protected].