Workshop for New Parents: The Do's and Don'ts of PostPartum Fitness
May 18, 2019 @ 11:00 am

-

12:00 pm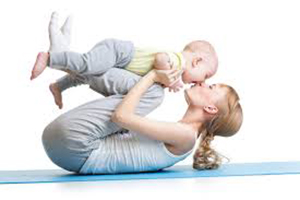 Workshop for New Parents: The Do's and Don'ts of PostPartum Fitness
Coming up on May 18th at 11 am: Workshop for New Parents: The Do's and Don'ts of PostPartum Fitness with Meghan Mizrachi!
You were cleared to return to exercise at your six week check up, but your doctor didn't give any instructions or guidance on how to do it safely and effectively. Maybe you're still wearing an abdominal brace or you're worried you have an abdominal separation. Maybe you're still having some leakage or back pain? or perhaps a sense of heaviness and are afraid that working out will make it worse. Maybe you tried to dive back into your routine but found that things didn't feel quite right.
This lecture with Meghan Mizrachi is designed to provide clarity on the steps to take after pregnancy, in order to have the confidence to achieve a pain-free lifestyle and reach your fitness goals. She will cover screening for diastasis, the truth about sit-ups, advice about postural behavior, the best exercises for core strengthening, and safe exercise progressions.
The workshop is held at our JC Fitness Fair at City Hall Plaza, Jersey City.
Register HERE.
About Meghan
Meghan holds her Doctorate in Physical Therapy from Mercy College and her BFA in Dance from Marymount Manhattan College. Meg is passionate about fitness and wellness. Prior to becoming a PT, Meg spent three years dancing professionally in NYC and abroad. She then transitioned to running half-marathons and teaching strength training classes. Most recently, her experience as a mom has led her to extensive coursework in pelvic floor dysfunction, with an interest in diastasis rectus abdominus and postpartum fitness.  Meg's greatest desire is to help clients reach their goals and achieve their greatest functional capacity.
She currently works for Zion Physical Therapy, a private outpatient physical therapy practice that prides itself on providing unparalleled service that is hands-on, consumer-driven and evidence-based.
The workshop is non-refundable and non-transferable. If you have any questions or suggestions for future workshops, please send an email to [email protected].