Halloween Events in Jersey City 2019
Every year, there's something spooktacular going on in Jersey City around Halloween! But no year is exactly the same! Grab your witches hat and vampire fangs and get ready to enjoy the fun! Here is the list all the spooky events of 2019.

October 3-31; November 1-3; 8-10; 15-17; 22-23; 29-30
Location: Van Cortlandt Manor, 525 S Riverside Ave , Croton-On-Hudson
BlazeMeander through an 18th-century landscape and discover a breathtaking display of more than 7,000 illuminated jack o'lanterns—all designed and hand-carved on site by our team of artisans! Tour the brand-new Museum of Pumpkin Art, where classic paintings get the gourd treatment, see who let the (pumpkin) dogs out, listen for the Headless Horseman—and watch out for swooping jack o'lantern bats! Click here for tickets.

Friday, October 18th 5:30 PM – 8 PM
Location: Zaniac Jersey City 
Zaniac will be scaring up a good time STEAM style. Build a haunted house with working lights. Channel your inner Dr. Frankenstein with circuits and LEGO monsters. Come dressed in your best costume to receive a prize! Pizza will be provided.
Saturday, October 19th, 12-3pm
Location: Historic Jersey City and Harsimus Cemetery
Annual Fundraiser for the Historic Jersey City & Harsimus Cemetery with 11 bands at the cemetery and 23 bands at 5 after parties
[horrific weather date for cemetery show Sunday, October 20th]
$12 adv / $15 at the gate
Saturday, October 19th + October 20th: 6 PM 
Location: Liberty Science Center
Experience all your favorite parts of the Halloween season – mazes, haunted houses, spooky fun – under one roof at the ultimate slumber party adventure! Snooze in your favorite exhibits, but not before experiencing a night of Halloween thrills! Navigate your way through our outdoor Spider Maze, a 4,000-sq-ft webby labyrinth that's unlike any maze you've experienced before. Fight zombies in our virtual reality game, transform into a ghost at the Pepper's Ghost Illusion Chamber, and explore chemistry by mixing some magic potions! Get tickets here.
Saturday, October 19th, 1PM-4PM – Halloween Parade at 3:45 p.m.
Location: Leonard Gordon Park, Jersey City 
Ghouls, Goblins, Superheroes and Villains! Come join us for our Third Halloween Bash @ Leonard Gordon Park aka Mosquito Park! Music, crafts, games, parade, costume contest and a pumpkin patch ($3). This program is made possible by a grant from the New Jersey State Counsel on the Arts, a division of the Dept. of State and administered by the Hudson County Office of Cultural & Heritage Affairs, Thomas A. DeGise, Hudson County Executive & the Hudson County Board of Chosen Freeholders.
Costume Contest at 2:00 p.m. (registration required https://forms.gle/oZ8b95cw1Qev1eiN9)

Sunday, October 20th-October 27th: 9AM-5:30PM
Location: Liberty Science Center
This season, Liberty Science Center debuted Fall Fest – North Jersey's ultimate autumn adventure! Beginning Oct. 19, Fall Fest gets "spookified" and turns into Fall Fright Fest!
Everything you love about the Halloween season—the haunted houses, the mazes, the creepy surprises—is right here in Jersey City. And we've got activities for all ages in your group! See if you can find your way out of our outdoor Spider Maze, a 4,000-sq-ft webby labyrinth that's unlike any maze you've experienced before. The eight-foot-tall haystack is the perfect climbing challenge for your big kids, while the hay maze is a blast for the little kids in your group. Everyone will love turning into ghosts and learning the science of illusion at the Pepper's Ghost Illusion Chamber!

Wednesday, October 23: 4:00 PM – 7:00 PM
Location: Hamilton Park
Get ready to dress up the whole family (or just the little ones) for the Annual Halloween Parade in Jersey City! Drummers, stilt walkers, and jugglers will guide children and families along the parade route. The parade takes participants ¾ of the way around the park and begins near the gazebo. The parade will start at 5:30 PM and will take approximately 30-45 minutes to complete. There will be performances and other fun activities for kids too. Additional activities include a DJ dance party and a picture corner. This is also a great opportunity to visit a farmers' market and local food trucks. The farmers' market and food vendors will be operating as usual from 3:00 PM – 7:00 PM.
Wednesday, October 23: 4:00 PM – 7:00 PM
Location: Hamilton Park
Join JCFamilies, Hamilton Park Neighborhood Association and Trusty Tails Pet Care for the Halloween Pet Costume Walk in Jersey City. Register your pooch ahead of time at JCFamilies or on the day of the event at the JCFamilies' or HPNA's table between 6-6: 30 pm. The costume walk will start at 6:30 pm.
Prizes will be awarded for 1st, 2nd, and 3rd place comPETitors. 
 Winners will receive raffle prizes and gift basket from Trusty Tails Pet Care.
Friday, October 25th from 4-7pm
Location: Shipyard Park, 1, 13th St, Hoboken, NJ 07030
There's something spooktacular going on in Hoboken around Halloween! This event will be great fun for the whole family, kids will be entertained and parents will get the opportunity to know other families from the area, this will be your perfect Family Halloween event in Hoboken. Magic Show by Cisco the Magician, Carnival Games, Picture Corners, Face-painting, Fun Characters, Cotton Candy station, Popcorn station, Halloween Costume Family Parade and much more…
Bring your friends and family for this free -family event and don't forget to wear your BOOOOtiful Halloween costume…
Friday, October 25: 6 PM – 9 PM
Location: 38 Duncan Ave, Jersey City
Come enjoy some Halloween fun with your local Girl Scout Troop. They will have a ton of exciting activities, costume contest, candy & more.
Friday, October 25: 9 PM – 3 AM
Location: White Eagle Hall, Jersey City
Join ChicpeaJC for their 4th mega Halloween costume bash on Friday, October 25th as they transform White Eagle Hall into Terminal of Terror 4. Located in a one of a kind venue in downtown Jersey City, this annual bash should make everyone's calendar list. 800 expected party-goers – all in costumes- ready to party- under one roof!There will be Food Trucks parked on Newark Ave, giveaways, a Costume Contest with a large cash prize and much more! This is an ADULTS ONLY event.
Join Code Wiz for a second Parents Night Out at Code Wiz Jersey City. This special, Halloween-themed night, features costumes and a special glow-in-the-dark dance party! As always we will play with robots, build with Legos, create with perler beads, mod in Minecraft and relax with pizza. This event is for children 5-12. 
 Limited spots available and special pricing for siblings.

Sunday, October 27:  12:00 PM- 4:00 PM
Location: Harborside Atrium (Rain or shine; Indoor event)
Our annual family Halloween event is going to happen in Jersey City. We'll be sheltered under the Harborside Atrium in case of inclement weather and kids can enjoy an array of activities and entertainment. The entry fee includes a costume competition, a dance party, carnival games, a bubble show, kids favorite characters and other entertainment for the kids. Make sure to stop by the picture corner to snap a family photo. Join us for this annual family Halloween event!
Sunday, October 27:  11:00 AM- 2:00 PM
MEET UP starts at 11AM Oct 27th in front of Hound About Town ( 218 Montgomery St. Jersey City, NJ 07302) where all will march to Like Home Pet Care (763 Montgomery St.) for music, snacks, & beverages. Let your pups run free and enjoy the yard! FREE ADMISSIONS, must RSVP to receive goody bag and enter contest. Pls bring your pups in costume (Parent costumes encouraged). There will be a costume contest and several prizes including a free full grooming S'paw day @thegroomingspaw . In the case of inclement weather, the pawrade will be canceled and meet up will be at Like Home Pet Care for the Pawty & costume contest.
Thursday, October 31st 3-7pm
Location: Newark Ave Pedestrian Plaza
Halloween is coming soon! Get ready to have a ghoulishly good time on The Newark Ave Pedestrian Mall this Halloween! We have partnered with HDSID to bring you some fun activities! We will be at the event coordinating fun art activities, pumpkin painting, and a magic show!
There will be face-painting, a bouncy house, music, and CANDY! Face -painting and the bouncy house are $5.00 total.
Thursday, October 31st, 5-7pm
Location: Hazel Baby and Kids
The Teal Pumpkin Project encourages people to raise awareness of food allergies and promotes the inclusion of all trick-or-treaters throughout the Halloween season. The nationwide movement offers an alternative for kids with food allergies, as well as other children for whom candy is not an option.
Trick-or-treaters will be welcome to stop by participating locations on Montgomery & Grove street in Downtown Jersey City from 5 pm – 7 pm to receive a non-food treat or toy.
We'll have a Halloween Photo Wall, costumes, decorations, and more.
**Allergy parent? Sign up to host a 'trunk-or-treat' at our designated parking area to add another stop for the children! Email [email protected] for more information.**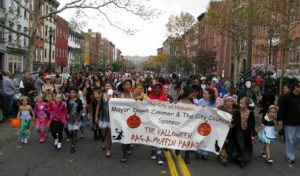 Thursday, October 31st: 3:45 PM
Location: Washington Street Hoboken
Line of march setup for the parade is on Washington & 13th St. beginning at 3pm; Costume contest at Little League Field on 5th St. & River Terrace. Prizes awarded for best costumes. Sponsored by Litzky Promotions.
Thursday, October 31st: 4-8pm
Location: Van Vorst Park 
The VVPA & The Friends of Van Vorst Park welcome you if you dare…..(cue scary music) to meet them at their Haunted Gazebo on Halloween! Candy & cookies for the kids! Hot cider for the adults–all are welcome and it's free! A ghoul time for all!!!
Saturday, November 2nd, 10AM-1PM
Location: Lincon Park
Before you get rid of your kid's Halloween costumes this year yet there will be one more exciting event coming up where your kids can show off their amazing costumes!
JCFamilies and United Sports Clinic will be hosting the Kids Super Hero Run this year! Kids Super Hero Run will be a small run for children ages 1-12 years old. They will run wearing their costumes. All participating kids will receive a cape, a mask, and a finishing medal.
Register HERE.