As the school years come to an end and the summer begins you may begin to wonder how you and your children can have an unforgettable summer. Look no further than the many parks located right in the New Jersey area. These parks have a variety of activities that is sure to bring fun and excitement to the whole family. If you are looking for a more local option, check out our blog here.
Liberty State Park
1 Audrey Zapp Drive, Jersey City, NJ 07305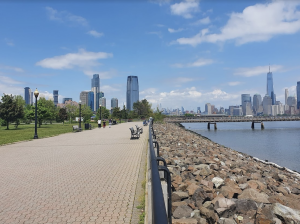 Want to go to a park that provides a great view of the Manhattan skyline while the kids can enjoy leisure activities such as kayaking? Well, that's exactly what you will get if you decide to visit Liberty State Park located in New Jersey's North Metropolitan area. The park provides a beautiful view of the skyline along with Ellis Island not too far away. Kayaking, fishing, and swimming are just a few of the activities you can do along the Hudson River. The park is also connected to a picnic area known as the Imperative Center which is a performance area and the Liberty Science Center isn't far away.
Island Beach State Park
2401 Central Ave.,Seaside Park, NJ 08752
What's can be more relaxing for you and the kids than going to a warm beautiful beach? Island Beach State Park is located near the Atlantic Ocean near Barnegat Bay. The beach provides plentiful for the whole family to enjoy. To begin the Barnegat Bay allows canoeing and kayaking tours with a natural view of wildlife such as the tropical birds. Fishing is also another activity allowed on the beach. Of course swimming along the six miles of ocean supervised by a many lifeguards to ensure safety for you and your family. If you're feeling adventurous sailboarding and surfing is also one of the many options one the beach as well.
Kidstreet
700 Garretson Rd, Bridgewater, NJ 08807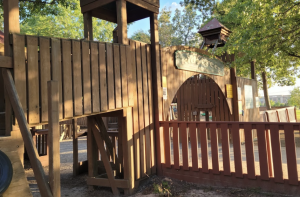 Kidstreet is a park that is sure not to disappoint you or the kids. The park is located in Bridgewater New Jersey. The park comes with newly installed structures including a sandbox. Its wooden features include a huge slide and its tire swings allow endless fun for the whole family. After a log day feel free to have your own in one of the many empty tables or lots the park has to offer.
Thompson Park
Forsgate Dr., Monroe Township, NJ 08831
Looking to get closer to wildlife while enjoying playing sports with the family? Thompson Park will suite you quite well. The park has a feature in which children can feed deer (through a protected fence of course). The park is known for its various fields including a baseball, basketball, softball, and soccer field. There are also hiking and bike trails along with a huge lake if you enjoy fishing. If you decide to return the park in the winter, the hills are great for snow tubing.
Ross Dock Park Area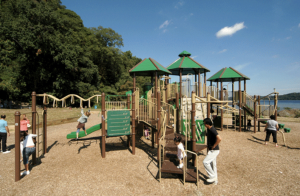 Ross Dark Park area is located in one of the most beautiful places; next to the Hudson River of course! The park is huge and consists of many climbing walls, monkey bars, and a slide. Since the park is right next to the Hudson River fishing is another option for you and the family. Ultimately if you choose to visit Ross Dock Area make sure to take advantage of the amenities the Hudson River has to offer. Boats are also available for rental if you want to travel on this vast river, while enjoying a scenic view of the New York skyline.
Esposito Park
659 Madison Hill RoadClark , New Jersey 07066
If you visit Clark located in New Jersey make sure to visit Esposito Park along the way. This is also a community park that sits on a fenced in lot to ensure safety for your kids. The park has numerous amenities including a softball and a soccer field. If you're looking for a place to rest a picnic area is available that sits directly next to the playground. A walking path is also another feature for the park, if you decide to exercise while the kids play.
Sprayground at Dorbrook Recreation Area
353 County Rd 537, Colts Neck, NJ 07722
Looking for a place to cool off and escape the heat? If you visit Dorbrook's recreation center located in Colts Nook, New Jersey, you won't have any problem with that. The huge faculty offers the kids a chance to play in the sprinklers, a bucket, and other water amenities. There is also a pool that is only accessible by registration for visitors and campers throughout the summer.
Micheal Lepp Park
Park Avenue & E. Main Street in Somerville, in Somerset County.
Located in Sommerville, New Jersey this newest park is the perfect place to cool off with its newest water amenities. The park is equipped with numerous sprinklers, buckets, and other water tools that will keep the kids on their toes. There is also a small pool but you have to be registered in order to gain access. A basketball court is also another option that is near the park.
Sycamore Park
26 Lambert Rd, Blairstown, NJ 07825
A dramatic park that has a little for everybody to keep the kids energized and satisfied! The park located in Blairstown, New Jersey definitely has some unique attractions including a structure resembling food such as a slide of bacon. The park has a rock climbing wall that is shaped into a hot air balloon that extends into a bouncy bridge. Of course the park has all the other structures for a day of fun including ropes, ladders, and monkey bars. Before you leave make sure to visit the Butterfly and Dog park near the park.
Regatta Playground
Cherry Ln, West Orange, NJ 07052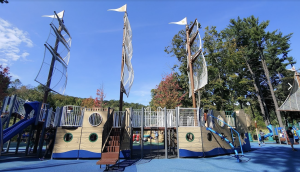 The Regatta Playground located in South Mountain Reservation in New Jersey is sure to be fun for the whole family. The park is sectioned off into two sections for toddlers and ages five to twelve. The park has a side for older children that is equipped with a rock climbing wall as well as a rope to climb up. There are also huge musical instruments that the children are allowed to play. Make sure to also check out the Reservation Complex in order to see the Turtle Back Zoo.
Updated November 2023