1. Find a beach fits your style. For me (for all of us, maybe), Asbury Park feels like everything I love about Jersey City, but on a beach. And it's about an hour drive so even if the traffic is annoying, it's not annoying for long.
2. Apply sunscreen at home before you get them dressed. Use the spray kind. Bring that with you. Periodically spray them while they play.
3. Asbury Park has metered parking and a parking lot. The parking lot is a little more expensive, but there's no time limit and it's easy to remember where your car is. I park in the lot every time.
4. You have to pay to get on the beach. If you think you're going to be a regular, you might want to buy the season pass. If I were the person buying the tickets instead of the person corralling the toddlers, I woulda bought the season passes. My partner refuses to fill out forms, so we wound up with day passes.
5. There's a splash pad, but it's not that much better than the ones we have at our local parks in JC so we've never paid the price of admission for that. They have mini golf too, but we've never attempted to take our 2 & 3 year old in. Maybe next summer.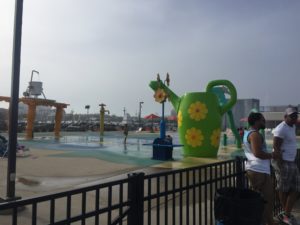 6. There's an amazing playground. We typically save that for the end of the day– it's the cherry on top at the end of a long day in the sun.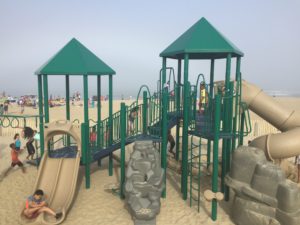 7. Bring your own buckets, shovels, trucks, towels, and extra clothes.
8. Do yourself a favor and wear your bathing suit to the beach with a sundress and flip-flops. Don't try to manage kids while you're fumbling with your bra in the public restroom. This goes for the kids too. Arrive beach ready.
9. Try to find a spot near someone else who has kids. Encourage your kids to dig or build with those kids. More kids = more parents = less stress.
10. Find a spot near the water. You don't want to keep getting up to fill up buckets that will be almost empty by the time they get back to your spot.
11. When we went, the water was so cold that I wasn't at all worried about the kids going in without me. They approached the shoreline, and when the water tickled their feet, they shrieked and ran away. This game lasted about half an hour, which is also known as forever in ToddlerLand. It was awesome.
Also there are lifeguards there so if there was an emergency, I wouldn't have been on my own.
12. Pack a lunch that's already chopped up, like strawberries or chunks of sausage. Bring toothpicks as utensils. (Don't let them hold the whole container!) Juice boxes are also a great beach treat.
13. Asbury Park has people stationed on the beach who rent out lounge chairs and umbrellas for $10. Before I had kids, I might have scoffed at that price and lugged my own chair. Now it's part of the reason I like that beach.
14. The boardwalk has enough food, shopping, art, and oddities to make it fun, but not too many to make it unmanageable. There are no rides or overly intoxicated twenty-somethings.
15. Take it easy. It's a beach. Be as prepared as you can be and don't forget to check the weather before making the trip!
This blog is written by Mel and she is the founder and CEO of The Moxie Group, a consulting company for all your marketing needs.