12 Ski Resorts Near Jersey City
Winter is here, but that doesn't mean we cannot enjoy this time of year! So many winter activities can be fun, including skiing with the family. Luckily, there are some family-friendly ski resorts where you can enjoy an entire weekend while spending quality time and hitting up slopes on a mountain. Therefore, we created this list of the 12 best ski resorts near Jersey City.
Mountain Creek Resort
123 Route 94, Vernon, NJ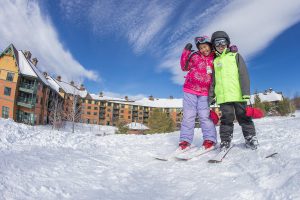 About an hour and a half away from Jersey City, Mountain Creek resort is the perfect destination for the whole family. Liberate yourself at Mountain Creek, the premier four-season resort in the New York/New Jersey Metro. Whether you seek the thrill of sliding on snow at the largest ski area in New Jersey, plunging into the world's tallest and only double-looping waterpark slide, or descending the uniquely East Coast trails of the Mountain Creek Bike Park, there's no shortage of adventures to leave you with stories that will last a lifetime. With a range of accommodations, from mountaintop cabins to poolside condos and townhomes, there are plenty of relaxing options. You will fall in love with this ski resort near Jersey City. This is an excellent option as it offers ski lessons for all ages, including children as young as 4.
Camelback Mountain Resort
301 Resort Drive, Tannersville, PA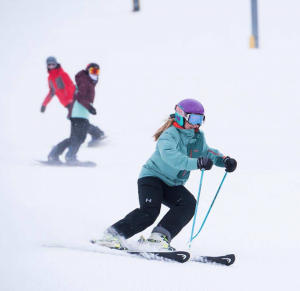 Life needs an adventure, and you can have a weekend or week filled with it at Camelback Resort. With the best slopes in the Poconos and more fun, like waterparks, skiing, tubing, arcades, rock climbing, zip-lining, and more, this is perfect for the whole family. The ski resort is an hour and a half away from Jersey City. Campgaw Mountain offers daily group, private and semi-private lessons for all ages, starting at around $39.
Hunter Mountain Resort 
64 Klein Ave, Hunter, NY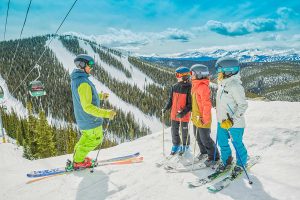 Hunter Mountain is one of the most popular NY ski resorts near Jersey City in the Catskills mountains. Hunter is about a 2.5-hour drive from downtown Jersey City. They have adult and children's lessons for skiing! At the moment, they are requiring face coverings to access mountains and in all parts of operations. To allow for physical distancing, they manage access to their mountains through a reservation system that prioritizes pass holders and limits lift ticket sales. They have postponed their opening day, so check their website before visiting for updates.
 Split Rock Resort 
428 Moseywood Road, Lake Harmony, PA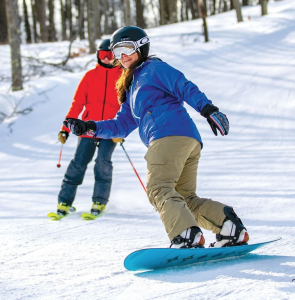 About two hours away from Jersey City, right next to Jack-Front and Big Boulder, Split Rock Resort is a four-season, family-friendly resort where families have been making memories for generations. Located in the beautiful Pocono Mountains, Split Rock Resort is the perfect destination for indoor & outdoor family fun with nearby snowboarding and skiing at their neighbor, Jack Frost Big Boulder, to Whitewater Rafting, Biking, and Skirmish with our partners at Pocono Whitewater! This is a perfect getaway if you are looking for lots of activities.
Great Wolf Lodge
1 Great Wolf Drive, PA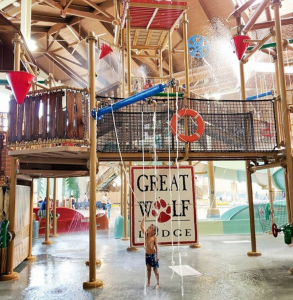 An hour and 35 minutes away, Great Wolf Lodge is right next to Camelback Mountain! The unique element of Great Wolf Lodge is its sizeable indoor waterpark and a multitude of children's activities. Activities include arcades, a children's spa, a kid-friendly mini-bowling alley, a kiddie movie theater, a ropes course, and many quest-type activities, plus much more! In addition, many people who ski at Camelback Mountain stay at Great Wolf Lodge, which is an excellent option if you are looking for other activities besides skiing.
Blue Mountain Resort 
1660 Blue Mountain Dr, Palmerton, PA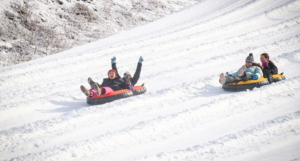 Mountains. Snow. Thrills. Need we say more? Blue Mountain Resort is home to PA's highest vertical, one of the largest snowmaking systems on the east coast, and the longest and fastest snow tubing lanes in PA! With 40 slopes, ranging from beginner to expert, there's a trail for every level of skier & rider! So whether you're looking to carve up the slopes, shred some terrain parks, or snow tube with the gang, Blue Mountain always packs a ton of winter fun! They are about a two-hour drive away from Jersey City.
The Shawnee Inn & Golf Resort
100 Shawnee Inn Drive, Shawnee on Delaware, PA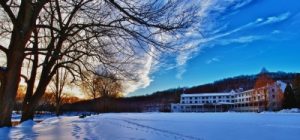 About an hour and a half away from Jersey City, Shawnee Mountain offers 23 trails, eight lifts, two parks, and snow tubing. Their Inn is a perfect destination for families. Evoking an atmosphere of old-world charm, many recently updated guest rooms and suites balance comfort, convenience, and joy. All of the Shawnee Inn and Golf Resort accommodations offer views of our famous golf course, the Delaware River, or their expansive landscaped grounds. Because the property was built in 1911, no two rooms are alike. They also have lodges and a glamping package which is excellent if you want to try something new.
Bear Creek Mountain Resort 
101 Doe Mountain Ln, Macungie, PA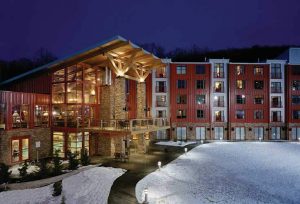 Bear Creek Mountain Resort is a four-season destination resort located an hour and 45 minutes away from Jersey City. Bear Creek offers a premium experience in skiing, snowboarding, tubing, spa getaways, hotel stays, dining, or special events. Throughout the calendar year, Bear Creek has something for everyone.