Best Places to go Skiing in New Jersey:
 Besides the benefits skiing has on your cardiovascular, muscle health, and flexibility, it's great fun to enjoy with your family! Before planning your next ski trip, look at our list of 8 Places to Go Skiing in and Around New Jersey! Please make sure to call before you visit and make a reservation. Are you looking to eat something yummy for your head out? There are some great food options in Jersey City. If you are looking to grab a coffee, check out one of these cafes. 
New Jersey

Mountain Creek
200 NJ-94, Vernon Township
Phone: (973) 827-2000
Mountain Creek is about a 1.5-hour drive from downtown Jersey City and offers 167 acres of trails on four mountain peaks, 100% snowmaking coverage, and whole night skiing, the region's highest skiable vertical, and is the only actual All-Mountain Terrain Park south of Vermont. In addition, they offer golf, spa amenities, lodging, several restaurants, skiing, snowboarding, snow tubing, and more!
Season passes are available now, and if you purchase them, you receive tons of unique perks! New to the slopes? No problem; they offer lessons and a beginner's guide to ensure safety before, during, and after skiing and snowboarding. In addition, kids can get in on the action with Mountain Creek's Kids Camp!

Campgaw Mountain
200 Campgaw Rd, Mahwah, NJ 07430
Phone: (201) 327-7800
As New Jersey's premier learn-to-ski/snowboard and tubing destination, Campgaw Mountain offers an alpine escape about an hour away from Jersey City! This is a smaller mountain but a great place to learn to ski or snowboard. Campgaw Mountain offers daily group, private and semi-private lessons for all ages, starting at around $39.
New York

Thunder Ridge Ski Area
2319, 137 Birch Hill Rd, Patterson
Phone: (845) 878-4100
Located in the rolling hills of Patterson, New York, Thunder Ridge Ski Area is about a 2-hour minute drive from Jersey City. Ith 22 trails, three chairlifts, and four magic carpets, the ski has slow and gentle slops to meet the needs of new skiers and snowboards to more advanced courses for those who are daring and adventurous. F you're a frequent skier and snowboarder, the season pass is the best choice for you! the access is currently being sold at a discount of $299 for adults, teens (ages 13-17), and kids (ages 6-12) until November 8th. Seniors ages 65-69 cost $229, while children ages five and under and super seniors cost $109!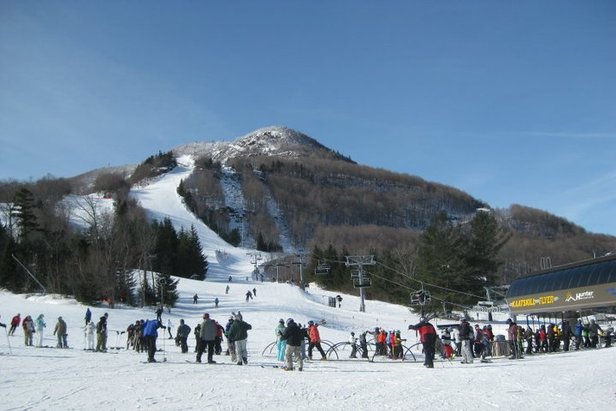 Hunter Mountain
64 Klein Ave, Hunter
Phone: (800) 486-8376
Hunter Mountain is one of the most popular NY ski destinations! Unter is about a 2.5-hour drive from downtown Jersey City. Are you looking to stay the weekend or maybe a little longer? They offer on and off-site lodging options for you to choose from! There's also a full-service spa open to the public. In addition, Unter Mountain offers the largest snow tubing park in New York State, including more than 20 chutes nearly 1,000 feet long, a mini tubing park for children, a snack bar, a fire pit, and more! 
Hunter Mountain is dedicated to ensuring you and your loved ones get the most out of their experience. They offer classes of all levels to ensure your safety under Mountain doesn't just offer ski and snowboarding activities. 

Mount Peter
51 Old Mt Peter Rd, Warwick
Phone: (845) 986-4940
Mount Peter, located a little more than an hour from Jersey City, was started in 1936 by Macy's Department Store to display and sell their ski fashion. Their unique history is a perfect reason for Mount Peter to be on our list of 8 Places to Go Skiing in and Around New Jersey! The Mountain started as a savvy marketing tool and has grown to a winter wonderland offering 14 trails and five lifts.
Mount Peter is known for many things, such as its famous Free Beginner Ski and Snowboard School, suburb snowmaking and expert grooming, an excellent terrain park, its top-notch racing and development programs, and the warm family atmosphere. 
Pennsylvania

Camelback Mountain
301 Resort Drive 
Tannersville
Phone: (570) 629-1661
The Poconos offers many fun ski resort options, including Camelback Mountain. It's about a 1.5-hour drive from downtown Jersey City and offers the most extensive ski and snowboarding terrain (34 trails and 16 lifts) in the area. Last year Camelback Resort launched "Galactic Snowtubing," which includes an after-dark "Galactic" LED light show.
This excellent snow tubing experience lands Camelback Mountain on our list of 8 Places To Go Skiing in and Around New Jersey! In addition, they offer several types of lesson packages and programs for children and adults. 

Great Wolf Lodge
1 Great Wolf Drive
Phone: (800) 768-9653
Great Wolf Lodge doesn't offer on-site skiing. However, they are located near Camelback Mountain! The unique element of Great Wolf Lodge is its sizeable indoor waterpark and many children's activities. Activities include arcades, a children's spa, a kid-friendly mini-bowling alley, a kiddie movie theater, a ropes course, many quest-type activities, and much more! Any people who ski at Camelback Mountain stay at Great Wolf Lodge. Discover the perfect place to rest your head after all that fun with their numerous suite options!

Shawnee Mountain
401 Hollow Rd, East Stroudsburg
Phone: (570) 421-7231
Shawnee Mountain has a spot on our list of Best Places To Go Skiing in and Around New Jersey because it's a great family destination for winter sports and only a little over an hour's drive from downtown Jersey City. They offer 23 trails, eight lifts, two parks, and snow tubing. Grab your season pass for non-stop winter fun for you and your family! Choose from several learning packages for all levels! Of course, you're going to want to ski and stay! Shawnee Mountains and their lodging partners have Ski & Stay packages to suit you whether you wish to plan an exciting week of family fun or a romantic getaway for two, and everything in between!
Updated January 9th, 2023