20 Must-Do Indoor Activities for Kids
We need more activities to keep the kids busy, especially indoors when the weather is not favorable for outdoor activities. There are many unique indoor activity places for you and your loved ones to enjoy. Therefore, we created this must-do indoor activities guide for you. Looking for some delicious food before you head to these fun activities? Jersey City has an abundance of them.
Liberty Science Center
222 Jersey City Blvd, Jersey City, NJ 07305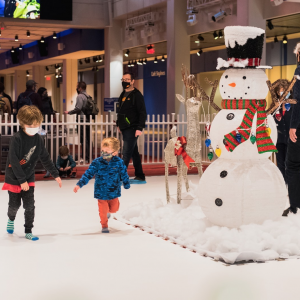 Liberty Science Center is the perfect place to go with the kids. They have many winter activities this time of year, like Sock Skating Rink, Snowflake Maze, Holiday Laser Show, planetarium shows, animal presentations, and beyond. Also, if your kids are fans of space adventures, they will be thrilled to see the planetarium that is a part of the Liberty Science Center.
My Gym Children's Fitness Center
252 9th St, Jersey City, NJ 07302

My Gym Children's Fitness Center offers a variety of programs devised to help children ages 6 weeks-10 years develop physically, cognitively, and emotionally. Each class is tailored to each age group based on parent participation and independent classes. So spend a fun wintery day indoors. Have a fun, energetic day with the kids.
Urban Jungle Play
1140 Maxwell Ln, Hoboken, NJ 07030
Urban Jungle Play focuses on core pillars of childhood development that encourage cognitive, social-emotional, and motor development in various classes. Classes are 45 minutes and tend to children five months to 6 years of age and can be booked individually or ongoing.
The Little Gym
380 Newark Ave Units 101 & 102, Jersey City, NJ 07302
The Little Gym of Jersey City specializes in unique educational classes around active play. They are the perfect indoor activity center as they offer many different classes for your little one!
Grit Sports Training
201 Marin Blvd Located On The SW Corner Of The Building, Jersey City, NJ 07302

Are you looking for a place to learn parkour and freerunning, gymnastics and tumbling, or to hone your athletic skills and build sports fitness? Check out Grit Sports Training today! This will help the kids stay active and is an excellent indoor activity.
The Gravity Vault Indoor Rock Gym
1423 Clinton St, Hoboken, NJ 07030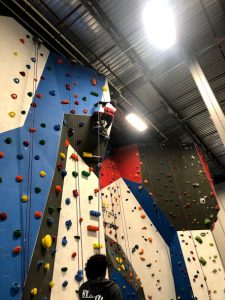 One of the best indoor places for kids in Jersey and Hoboken is the Gravity Vault Indoor Rock Gym. If your kids tend to climb every piece of furniture at home, this is the perfect activity for them. It is much more fun and less dangerous than jumping around the house. There are climbing options for little ones, older children, and parents.
Hoboken Historical Museum
1301 Hudson St, Hoboken, NJ 07030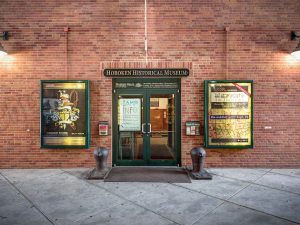 Why not head to a local museum? The Hoboken Historical Museum (est. 1986) collects and displays artifacts in themed exhibitions on Hoboken history, offers educational programs, lectures, and tours, and hosts films and plays. Apart from the fascinating exhibits, the Museum provides an academic Family Program. At the moment, they are taking all COVID precautions.
Monster Mini Golf
Multiple Locations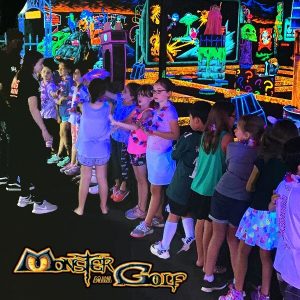 Monster Mini Golf is a unique and quirky type of family entertainment! We love their monster-themed décor featuring fun-loving, animated monsters. With over 20 locations in the United States, there are several options in and around New Jersey to get in on the fun. They also have other laser tag, arcade games, virtual reality, laser maze, and bowling!
RPM Raceway
99 Caven Point Rd, Jersey City, NJ 07305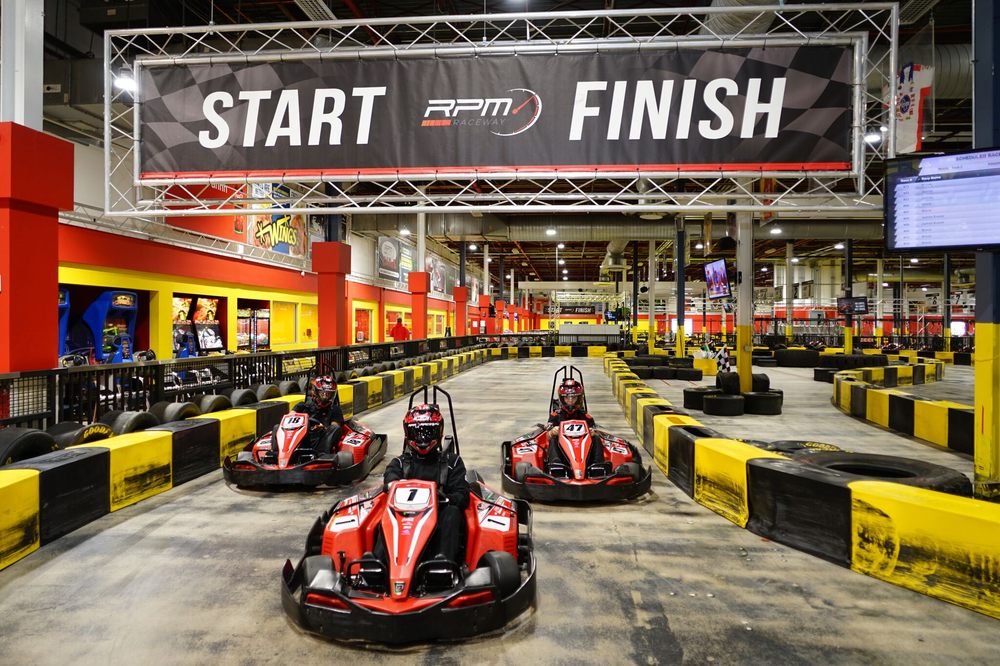 RPM Raceway brings you the thrill of competitive racing, no matter your driving experience! This can be a great activity with the kids on the weekend! You'll drive state-of-the-art Italian go-karts that challenge you to stick to the fastest line.
Urban Air Trampoline & Adventure Park
69 Wesley St, South Hackensack, NJ 07606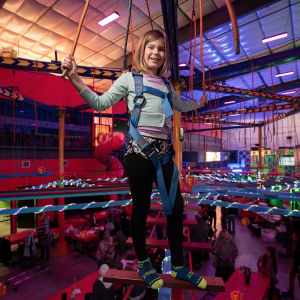 Urban Air Trampoline & Adventure Park is a year-round indoor amusement park! Urban Air is the ultimate indoor playground for your entire family, with new adventures behind every corner. Also, test your strength with the Warrior Obstacle Course and channel your inner basketball All-Star with their Slam Dunk Zone!
Painting and Arts & Crafts Classes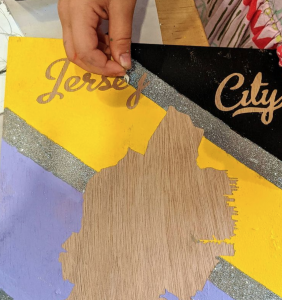 The perfect activity in the winter to get the kids creative is painting and arts & crafts. Luckily there are a ton of unique classes that are available. Check out this list here.
Hudson Lanes
1 Garfield Ave, Jersey City, NJ 07305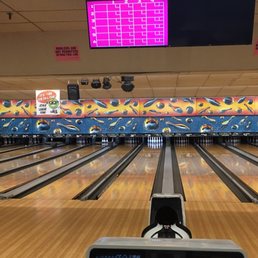 Strike! With over 60 Lanes, a full-service grill, and arcade games, your family will have a great time at Hudson Lanes! This is fun for all the kids and families!
Tay + Te Imaginative Play
240 Pegasus Ave, Northvale, NJ 07647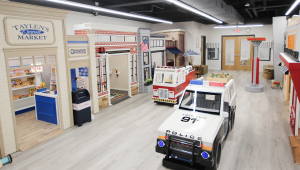 Imaginative play allows children to express their feelings, encourages them to explore their surroundings, and helps ignite new learning. Therefore, Tay + Te is the perfect spot for kids of all ages. Tay+Te Imaginative Play is an indoor play space for children ages 0-6 focusing on learning through pretend play. Their modernized play structures are the first in Bergen County, from the Organic Market to the Pizza Parlor to a miniature Convention Center!
Build-A-Bear NYC
Multiple Locations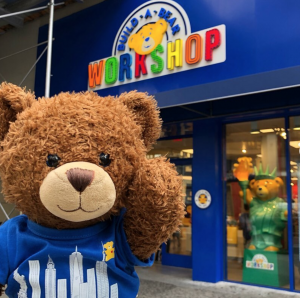 Build-A-Bear is a one-of-a-kind global brand that kids love and parents trust. With more than 20 years of making special memories, one furry friend at a time. This can be an excellent activity for the little one to go and build their bear. At Build-A-Bear Workshop, kids make their way through the hands-on, interactive process of making their stuffed animals! Add lots of stuffing, make a wish on a heart, and personalize your friend with fun outfits and accessories.
Imagine That Museum
4 Vreeland Rd, Florham Park, NJ 07932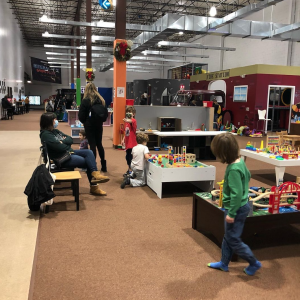 Imagine That Museum is a New Jersey Children's Museum, one of the few local museums specializing in pre-school age and young school children. At the moment, they are only taking bookings. Children are encouraged to touch, discover, learn, and explore in their 16,000-square-foot space, featuring many unique exhibits. Additionally, embracing a learning-through-play model, Imagine That!!! It is a safe environment for young children to stretch their legs and imagine.
The Funplex
182 NJ-10, East Hanover, NJ 07936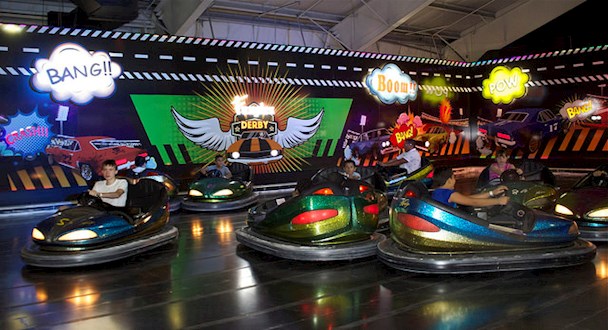 The Funplex is a fantastic place to escape the cold weather with bright neon lights and sounds. Win tickets with over 100 arcade games, challenge your friends with laser tag, and more! This is perfect if you want a day filled with different activities.
iPlay America
110 Schanck Rd, Freehold, NJ 07728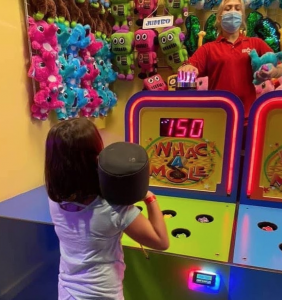 Another must-see indoor activity is iPlay America. Imagine the boardwalk on the Jersey Shore brought inland and blended with a New York City street, complete with Brownstones and quaint shops. The entire atmosphere is energized by NJ's highest concentration of fun things to do indoors, like rides and attractions, all sized to fit our nearly 4 acres of indoor family fun. You can ride go-karts, the Kite Flyer, Skyscraper, Reverse Time, and play 2-level laser tag indoors, so the weather is never an issue.
American Dream Mall
1 American Dream Wy, East Rutherford, NJ 07073
Updated January 9th, 2023