Best Winter Activities in Jersey City
Winter is the best period of the year for staying inside and making everything around you cozy, not to mention binge-watching your favorite TV shows and series with some yummy food and a warm cup of tea. However, there will be times you'll get bored of staying inside, especially if you have kids, and start exploring the best winter activities in Jersey City. You can explore more indoor activities, or you can go out. So, here's a list of fun activities to do with your family during wintertime. You will love these suggestions if you are from JC or nearby, or even if you're visiting. Enjoy reading!
The ultimate list of winter activities in Jersey City
Jersey City has a lot to offer to individuals and families with children, which is why many families decide to move from NY to NJ. So no matter if you plan to relocate from the neighboring New York or plan on having a holiday in Jersey City, our list of winter activities will save you the time thinking where to go and what to do.
We asked around and came up with a list of seven activities you can do in wintertime in JC, now that the thrill over Christmas is over. It can be exhausting to think of different activities to keep everyone entertained. Therefore, here's what you can do when you feel like leaving the house.
Go ice skating

Visit My Gym Children's Fitness Center (a considerable must)

Enjoy the swimming pool

Go to Liberty Science Center

Enjoy activities at the Gravity Vault

Go-kart racing

Go bowling
Hit an ice skating rink
Winter is the season for ice skating, and this is an activity most people enjoy! Ice skating is great fun and will offer some quality bonding family time.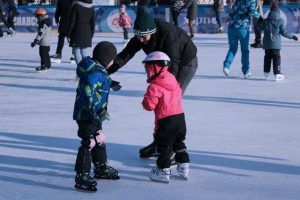 Be sure to check out our list of ice skating rinks in and around Jersey City to choose the one closest to you.
Visit My GymChildren's Fitness Center in JC
If you want your kiddos to have the best time and be active, of course, My Gym Children's Fitness Center is the place to be. They are a worldwide company dedicated to teaching children and improving their skills and confidence while playing and having fun. So it's no wonder why they're constantly being ranked as the #1 children's program worldwide.
Therefore, if you want your kids to cognitively, physically, and socially develop, signing up for classes at My Gym Children's Fitness Center is the right way.
Break the monotony with swimming
Swimming is a great sport. It's also relaxing, and above all, an important life skill to be learned. So, if you or your kids still haven't learned to swim, signing up for swimming lessons in JC is another excellent thing to do in the wintertime.
On the other hand, if you are all good at swimming, then that's a reason more to spend a busy morning at an indoor swimming pool. Then, later you can enjoy relaxing and spending a warm and cozy afternoon with your family at home.
Liberty Science Center as the ultimate escape
Liberty Science Center is great fun for all ages. It offers an array of interactive visits and is best known for its Planetarium.
Children adore the Sherlock Holmes adventure, where they'll be on a task to solve a thrilling mystery. The younger ones will enjoy the Doc McStuffins exhibit based on Disney shows.
Their mission is to inspire the next generation of little scientists, engineers, and all the curious ones out there to learn about the fun behind science and technology. Also, this is the perfect time for you to tap into your inner child and appreciate some scientific fun.
Visit the Gravity Vault
The whole family can enjoy rock climbing at the Gravity Vault. However, if you don't have any experience in rock climbing, it would be great to check out a bunch of different programs with a day pass at the Gravity Vault.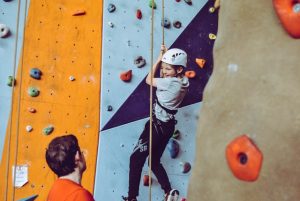 This center is especially great for children who love to challenge themselves. So, if you are a parent of a wild one or you're all a team who seeks some active fun, this will be another great indoor activity during wintertime.
Go-kart racing
Jersey City is the home to RPM Raceway, a perfect spot for Go-kart racing. Go-kart racing is one of the ideal winter activities in Jersey City and a great way to pass the time in cold weather.
So, if you're up for some authentic racing experience, make sure you check out this place. Also, you may want to make a reservation if you're going as a group to ensure there are enough karts and time.
Go bowling
Another great activity to bond with the whole family that is affordable and fun is bowling. As the weather gets colder in January and February, you'll want to have some fun while keeping everyone warm and entertained.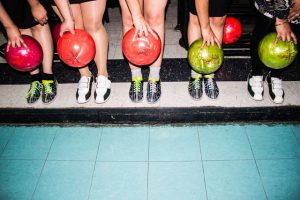 Luckily, there are tons of bowling options to find in Jersey City. Bowling alleys are also a perfect spot for birthdays, so keep this in mind if you have a birthday approaching.
We agree it can be pretty tough to get motivated to go out during cold winter days. Also, it can be challenging to come up with different activities to keep your kids amused in the house all day. So, be sure to refer to our article on winter activities in Jersey City to ensure everyone has fun during the winter months too. We hope our suggestions help you get out of your winter home cocoon and start creating fun memories with your family during wintertime. Take advantage of the family-friendly activities JC offers because each time of the year can be magical if you make it so.
About the Writer:
Angie Sims used to work in the traveling industry for six years, and her current job is in the relocation industry. She has helped many people with their domestic and international relocation for the last three years. She is also a full-time mom and a part-time content writer. She writes about traveling and moving with children using her own experiences.