15 Things To Do in January with kids in Jersey City:
January is here and even though it's super cold outside, luckily there are a ton of fun activities happening in and around Jersey City that you can plan to do with your kids to make winter fun! Our fun list of 15 Things To Do with kids in Jersey City this winter will offer you few options for weekend activities to keep your little one busy.
Check out the kid-friendly exhibitions at Liberty Science Center. This January, LSC has two fun exhibitions for kids: Angry Birds Universe: The Art and Science Behind a Global Phenomenon and Dinosaur Train: The Traveling Exhibit. You can find more information here. 
Visit the Jersey City Public Library. They have great resources for children as well as a children's room that offers story times, crafts, movie sessions and more. They have these unlimited activities every week. Check out the schedule here.
Get your wild ones to run freely and have the best time at Hudson Play, My Gym or The Little Gym. They can have the best time by letting out that pent up energy at one of these activity centers.
Story time at WORD Bookstore in Jersey City is a local bookstore that caters to kids. They have story time for kids every here. Baby story time on Wednesdays at 1:30 p.m. and all-ages story time at 11:00 a.m. on Saturdays.
This is the season for ice skating so why not take the kiddos to an ice skating rink? Check out Newport Skates in Jersey City. It is $8 for admission and $7 rental. Open from Mon-Fri 4:00 pm-9:00 pm, Sat 11:00 am-9:00 pm and Sun 11:00 am-7:00 pm.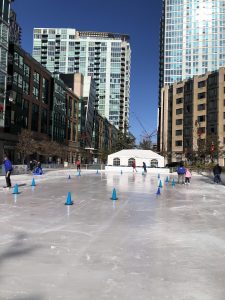 Music for Kids at Harborside by JCFamilies. Enjoy a free music session with different teachers around 5 or 5:30 pm every Monday. Make sure to check our website to see the correct time.
Story time for kids with JCFamilies and The Brunswick School. Enjoy a free story time and arts & crafts event for kids at DT234 Gallery. Check the JCFamilies website for updated times.
Looking for some warm and delicious pie? Check out Bucket and Bay's Pie 66. You can top off that slice of pie with their famous gelato.
Want your kiddos to challenge themselves? Visit Gravity Vault in Hoboken. Kids can try rock climbing and you can too!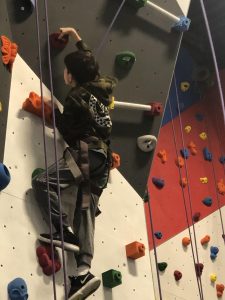 RPM Raceway brings you the thrill of competitive racing, no matter what driving experience you have and kids can especially enjoy this on a winter day.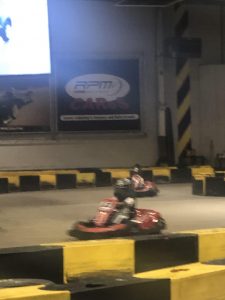 Jersey City has so many cute cafes that are perfect to take the kids on a winter day. Stop by Cafe Esme for some hot chocolate.
Want a full day of fun with the kids indoors? You have to visit Kids Village. They have arcade games, a diner where you can play kitchen, a kid's cinema, and even a little beauty salon!
Another fun activity for kids is joining some classes that help kids keep busy but also challenge them physically and mentally. Check this list of all the winter classes. 
Want to feed those hungry ones? Why not check out one of the best kid and stroller-friendly restaurants in Jersey City.  Check out Zeppelin Hall. They have a perfect kids menu which includes hot dogs, large pretzels, fries and much more!
Visit the mall and catch a movie with the kids at AMC at Newport Centre. Sometimes there is nothing better than getting candy and popcorn and enjoy a good movie with the kiddos.
It can be super tough to get out in the winter and be motivated to have fun with the kids but these quick ideas will help you enjoy the month! You can also check out our indoor activities for kids in and around Jersey City for some more ideas.
Photo Credit: Liberty Science Center