15 Things To Do in January With Kids in Jersey City:
January is here and even though it's super cold outside, luckily there are a ton of fun activities happening in and around Jersey City that you can plan to do with your kids to make winter fun! Our fun list of 15 Things To Do with kids in Jersey City this winter will offer you a few options for weekend activities to keep your little one busy.
Visit Liberty Science Center
Liberty Science Center is the perfect place to go with the kids. During this time of year, they have a ton of winter activities like Sock Skating Rink, Snowflake Maze, Holiday Laser Show, planetarium shows, animal presentations, and beyond. If your kids are fans of space adventures, they will be thrilled to see the planetarium that is a part of the Liberty Science Center.
Visit Jersey City Public Library
Visit the Jersey City Public Library. They have great resources for children as well as a children's room that offers storytimes, crafts, movie sessions and more. They have these unlimited activities every week. Check out the schedule here.
Take a Class or Head to A Camp At A Local Activity Center
Get your wild ones to run freely and have the best time  My Gym or The Little Gym. They can have the best time by letting out that pent up energy at one of these activity centers.
Go Ice Skating
This is the season for ice skating so why not take the kiddos to an ice skating rink? Check out Newport Skates in Jersey City. It is $8 for admission and $7 rental. Open from Mon-Fri 4:00 pm-9:00 pm, Sat 11:00 am-9:00 pm and Sun 11:00 am-7:00 pm. Do check hours before you visit.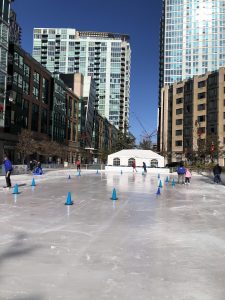 The Gravity Vault Indoor Rock Gym
Want your kiddos to challenge themselves? Visit Gravity Vault in Hoboken. Kids can try rock climbing and you can too! There are climbing options for little ones, older children and for parents too.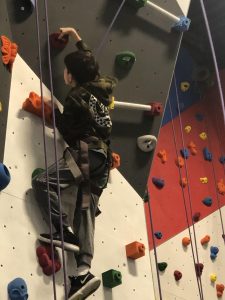 Check Out RPM Raceaway 
RPM Raceway brings you the thrill of competitive racing, no matter what driving experience you have and kids can especially enjoy this on a winter day.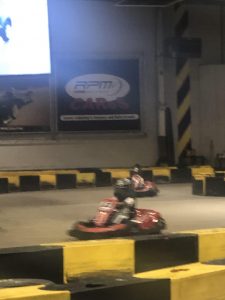 Stop by Cafe Esme For A Latte
Jersey City has so many cute cafes that are perfect to take the kids on a winter day. Stop by Cafe Esme for some hot chocolate.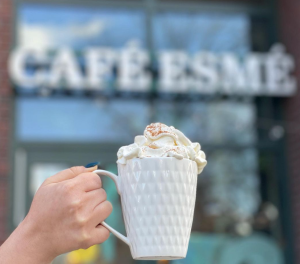 Visit Newport Centre
Newport Centre is the premier shopping destination in Hudson County which offers three levels of shopping in the heart of the Newport Hudson Waterfront Community in Jersey City. Apart from shopping, you and your family can catch a movie at AMC! Conveniently located adjacent to the Holland Tunnel, Newport Centre is easily accessible from the Hudson Bergen Light Rail and the Path.
Explore the food 
Jersey City is a melting pot of cultures, which reflects in the fabulous culinary offerings. Everyone will find something to their appeal, as the city arguably is the hippest food town in the Garden State. Your weekend guide to Jersey City cannot be complete unless you indulge your senses in sampling the fantastic food options. There are a ton of kid-friendly restaurants that you can check out.
Go bowling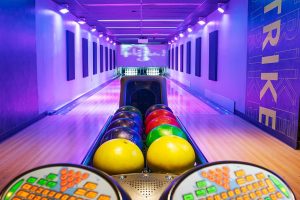 Another great activity to bond with the whole family that is affordable and fun is bowling. As the weather gets colder in January and February, you'll want to have some fun while keeping everyone warm and entertained.
Word Bookstore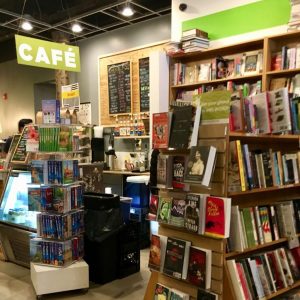 Grab a good book and a warm beverage and escape the cold weather! With books for children and adults, there's something for everyone to enjoy at WORD! Check out their calendar of events for book readings and author meet and greet!
Take an Art Class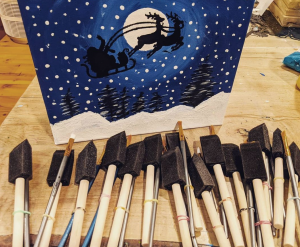 The perfect activity in the winter to get the kids creative is painting and arts & crafts. Luckily there are a ton of amazing classes that are available. Check out this list here.
Enroll Your Kids in STEAM Classes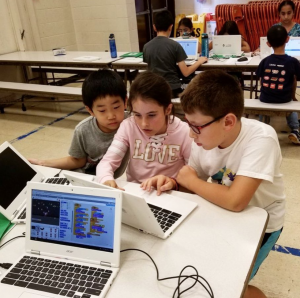 Is your child interested in exploring the "hows," "whys," and "what-ifs" of the world around them? Does he love to fix broken toys? Or maybe she likes to see how robots work? If so, it sounds like a STEM and coding-focused class may be right up your child's alley. STEAM and coding classes are perfect when you want your kids to keep busy. Here is a full list of them. 
Enjoy Some Indoor Activities 
It can be super tough to get out in the winter and be motivated to have fun with the kids but these quick ideas will help you enjoy the month! You can also check out our indoor activities for kids in and around Jersey City for some more ideas.
Visit Hoboken Historical Museum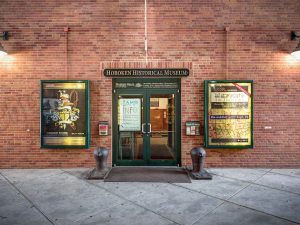 Why not head to a local museum? The Hoboken Historical Museum (est. 1986) collects and displays artifacts in themed exhibitions on Hoboken history and offers educational programs, lectures, tours, and hosts films and plays. Apart from the fascinating exhibits, the museum offers an educational Family Program. They are open six days a week, Tuesday-Thursday from 2 PM -7 PM, Friday 1 PM – 5 PM and the weekends from 12 PM – 5 PM! Admission is $4 and free for children and members.
Updated January 9th, 2023