How to Have an Unforgettable Christmas In And Around Jersey City 
Christmas is a particular time for dreams to come true. So if you want to spend this magical time with friends or family, Jersey City might appear to be a perfect place to stay. But which tourist spots in this city should you visit? Discover the list of hot places in the area you will likely enjoy and have an unforgettable Christmas around Jersey City.
Nothing new: before the Christmas holidays is usually a hot learning period for many students. You must complete many academic assignments, pass the tests, and learn a lot. Most students face difficulties and feel highly exhausted because of intensive studies. Is there anyone who can write this essay for me? What if I pay someone to do my homework online? 
These are the most common questions asked by many young learners. Suppose you are one of them, no worries. It's easy to find an essay order service online and get all your academic assignments done by professionals. But don't let your studies spoil your Christmas mood! If you order papers online, you can forget about all your learning issues and enjoy the holiday spirit. If you live or want to spend your holidays in Jersey City, this post is suitable for what you might be looking for. Below you will find a list of the most beautiful places and events you can visit during your winter holidays. So, get ready to plan an unforgettable weekend easily and quickly! 
Top Things to Do In Jersey City 
What else can you do during the Christmas holidays in Jersey City? It might be a great idea to walk around the city center, enjoy the holiday decorations and lights, buy more presents for your loved ones, and breathe in the unique Christmas air. 
Get ready to have a fantastic mood, try delicious cuisine in numerous cafes and restaurants in the area, and drink hot coffee. The winter decorations at some tourist places can blow your mind with their exclusive design, fantastic interiors, and welcoming atmosphere. Remember that Christmas is a time for wonders, so don't hesitate to spend more time outside to make them come true! I hope you will have an unforgettable Christmas around Jersey City.
Experience Miracle on Mercer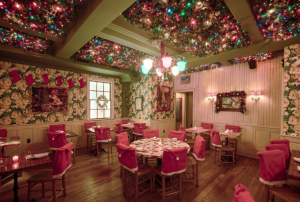 Holiday pop-up Miracle on Mercer is open for business. The Christmas-themed cocktail bar offers holiday libations from Franklin Social (292 Barrow) through Saturday, December 31. Stop by Frankin Social to enjoy holiday-themed foods, cocktails, and beautiful festive decor.
Watch The Jersey City Nutcracker 
Set to Tchaikovsky's renowned orchestral score, Jersey City Nutcracker tells the story of two children's city adventures, following them through fantasy, adversity, and celebration, with lessons about friendship and community.
Choreographed and directed by Nimbus Artistic Director Samuel Pott, this adaption of Tchaikovsky's holiday classic is performed by a stand-out cast of professional dancers from Nimbus Dance joined by youth and adults from the community; familiar characters such as the Sugar Plum Fairy, the Rat King, and Drosselmeyer – all with a Jersey City twist! Set against jaw-dropping animated video projections by Laia Cabrera and Isabelle Duverger, youth and adults alike are touched by this tale of Holiday spirit. Plus: surprise guest performers make unforgettable cameo appearances; stay tuned!
Get your tickets HERE.
Check Out A Local Holiday Market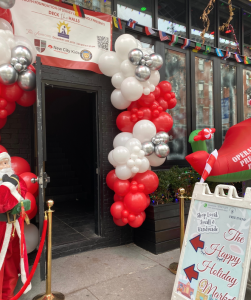 It's the most beautiful time of the year! So what better way to get in the festive mood than a holiday market? Shop and support local businesses! Check out this holiday market guide here. 
Take a stroll on Newark Pedestrian Plaza.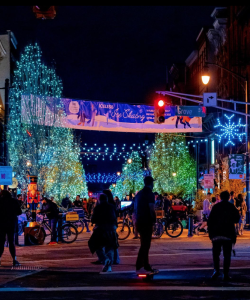 Walk along the Pedestrian Plaza in downtown Jersey City to enjoy the beautiful trees and lights.
Walk Around Newport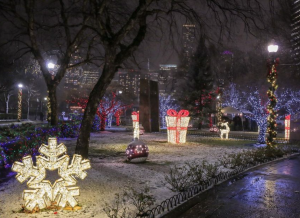 Newport Jersey City is filled with holiday lights and decorations. So take a stroll and your camera to get some beautiful photos.
Stop By The Ashford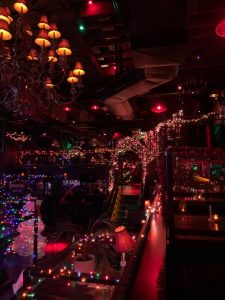 Check out Ashford for some local eats and beautiful Christmasy holiday lights. Their rooftop is also decked with holiday lights and is worth checking out.
Check Out Jacob Marley's Christmas Carol in Jersey City

Jacob Marley is dead, as we all know. However, we don't know that he has 24 hours to do the impossible in his death: redeem Ebenezer Scrooge, the one man alive who is worse than he. Otherwise, Jacob Marley will be condemned to eternal torment, wearing the genuine chains in death he metaphorically forged in life. So, guided by a mischievous imp called a Bogle, Jacob Marley sets out to redeem his former partner… and may find redemption himself. A playful twist on CharDickens'sns's classic taDon'ton't miss this Christmas treat for the whole family! More details here. 
Estimated run time: 1 hour and 30 minutes
Recommended for ages five and up for dark tone
Things to Do Around Jersey City
Stop By Bryant Park Winter Village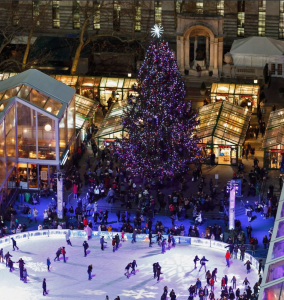 This village is created for the Christmas holidays only. This means you can enjoy this unique place in winter only. Many Jersey City ​​dwellers and tourists believe this is the best place to visit with your family and friends. The location might help you feel lyou'veu've found a wonderland. 
The place offers numerous facilities to all its visitors. You can enjoy skating in a specially designed place, walk in the park, and visit multiple cafes and food courts with delicious food and drinks. This place might become one of your favorites, so you will likely visit it at least a couple of times during the holidays.
See the Rockefeller Center Christmas Tree

The holidays in NYC begin at Rockefeller Center. Whetit'sit's a visit to the iconic Christmas Tree, a skate on the Ice at The Rink, seeing the Rockettes at Radio City Music Hall, or exploring attractions and fun; thinthere'sre's magic here tcan'tan't be denied. It's a holiday tradityou'llu'll want to make your own. Also, the tree lighting will not be open to the public and can only be seen on NBC.
Stroll on 5th Avenue in NYC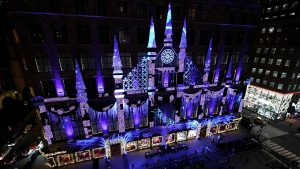 Every December, 5th Avenue between 55th and 59th Streets is a corridor of lights with its department stores filled with dazzling light displays. Saks FiAvenue'sue's windows showcase fashion by well-known designers. There is also an impressive light display that is worth checking out.
Check Out The Dyker Heights Christmas Lights

The Dyker Heights
Christmas Lights 2021 display has become one of the best New York attractions during the holiday season. The Brooklyn neighborhood is home to the most over-the-top Christmas light decorations with life-sized Santas, sleighs, and snowmen, and some houses even bump Christmas carols from loudspeakers. As a result, crowds of all ages flock to the Kings County neighborhood to wander down the multiple blocks and avenues.
Stop by The Bronx Zoo
A famous Bronx Zoo is also ready to surprise its visitors on Christmas. Not only will you have an opportunity to see exotic animals, birds, reptiles, and fish, but you can also come to see its Holiday Lights event. What should you expect? 
During the winter holidays, Bronx zoo becomes a spot with ice sculptures, ice-carving master classes, costumed characters, and much more. In addition, you can visit a 100% unique wildlife show and zoo theater and enjoy spectacular scenDon'ton't worry about the snacks and drinks – numerous cafes open at Bronx Zoo during the Christmas holidays. So feel free to buy a cup of hot sweet cacao drink and have fun with your loved ones.
As a rule, Holidays Lights are open for about two months, starting from the middle of November and ending in the middle of January.  
Check Out The Illuminating Lumino City Festival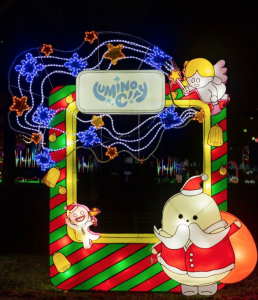 This installation is a unique event held during the winter holidays in Jersey City. This place will meet all your expectations if you want to see brilliant and unforgettable art installations. Dozens of inspiring sculptures related to winter, nature, holidays, and history are available during Christmas. 
You will be amazed to discover that the festival is a unique mix of traditional holiday celebrations and Chinese New Year. Therefore, you will not only see Santa-related sculptures and designs but also explore some out-of-the-box solutions. The festival is developed to make your holiday experience more diverse and to bring something new to the traditional Christmas spirit. To get a chance to visit the most well-known shows, it is better to visit the festival in the evenings. This way, you can also watch incredible night luminous shows. Not to mention, the festival usually welcomes at least a couple of guests from celebrities, attracting crowds of visitors. As a rule, over one million people visit this Jersey City festival annually.
Drive-thru Winter Wonder Lights

Winter WonderLights drive-thru has over 1.5 million lights animated to some of your favorite holiday tunes. In addition, they have' 20' Christmas trees, three magical tunnels, a tribute to our first responders & US Armed Forces, and tons of other stunning, larger-than-life holiday-themed displays for the entire family – all synchronized to the music playing in your car!
Guests are welcome to bundle up in their car, bring their snacks/beverages, and tune their radio to enjoy the show to give you an incredible experience.
See All The Lights At Magic Of Lights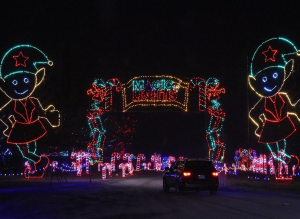 Magic of Lights is a dazzling, drive-through holiday lights experience featuring favorite holiday scenes and characters of the season. They use the latest LED technology and digital animations. Experience Magic of Lights from the comfort and safety of your car as you wind through the sparkling path of Jersey'sey's favorite holiday tradition. One carload, one price. You can go on Sunday – Thursday 5 pm – 10 pm. Friday – Saturday, 5 pm – 11 pm. Buy tickets now.
Skylands Stadium Christmas Light Show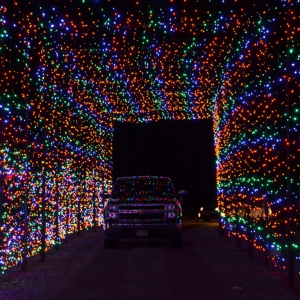 Christmas Joy is coming back to Sussex County. More significant and Better than Ever. This Winter, Skylands Stadium will be Dazzled with Lights on a Mile Long Drive-Thru course that now goes ON THE FIELD. A-One Mile Long Drive-Thru, with over 2 Million+ Lights, now goes On the Field at Skylands Stadium. Ride the Ferris wheel and carousel, skate the rink, take a photo with Santa, and stop by their Winter Beer Garden!
Take The Kids To Disney On Ice
Ongoing
Disney on Ice is one event not to miss this holiday season!  This action-packed extravaganza features the starsDisney'sey's Moana, Frozen, Coco, and Beauty and the Beast with other beloved Disney characters. Get your tickets today!
Updated December 12th, 2022