Holiday Markets To Check Out This Season In And Around Jersey City
It's the most beautiful time of the year! What better way to get in the festive mood than a holiday market? It's the perfect activity to enjoy holiday cheer and get shopping done. Enjoy a day filled with shopping, seasonal treats, Santa, music, and more at one of these markets. Luckily, many holiday markets are available this season near Jersey City.
And Co. Holiday Market 
December 16th, 2022:6-9pm
Shop small this holiday season at &CO! Check out our holiday market during happy hour this Friday, 12/16 from 6-9pm in the lounge. There'll be a variety of local vendors, DJ, drinks and food to enjoy!
The Happy Holiday Market
December 10-11 & 17-18th, 2022
The Happy Holiday Market is on the way! Music, food, unique one-of-a-kind gifts made by local artisans, iceless ice-skating, and more. It is the perfect way to shop & savor the holiday spirit. The event will be at Grove Street Path Plaza + Rooftop at the Ashford.​​​​​​​​
Dec 10th -11th + Dec 17th-18th | 12 pm-6 pm​​​​.
Heights Holiday Market 
December 10th, 2022: 10 am-4 pm
HOLIDAY MARKET is coming to the Heights! Shop 50+ local artisans. Discover delicious food and drinks, enjoy holiday music and meet Santa. The event will be at Riverview-Fisk Park.
Hoboken Community Center Holiday Market 
December 1oth, 2022: 1oam-2pm
Join the Hoboken Community Center for their 3rd annual Holiday Market on Saturday, December 10th, from 10 a.m.-12 p.m. at 1301 Washington St (side entrance). The Holiday Market provides an opportunity for our neighbors in need to select holiday presents for their families, including their children, young adults, and other household members like grandparents. The market is free to clients, with item limits per household. Participants do not need to pre-register before this event. You can also donate gifts. More details are here.
Hoboken Business Alliance + Main Street Pops Present Holiday Extravaganza
December 18th, 2022: 11 am-4 pm
Join the Hoboken Business Alliance & Main Street Pops as we celebrate the Holidays and cap the shopping season off with a Holiday Extravaganza! They have curated a varied collection of local makers & Hoboken small businesses offering unique gifts for everyone on your list this Holiday Season. More details are here.
Bryant Park Winter Village 
October 28th-March 5th, 2022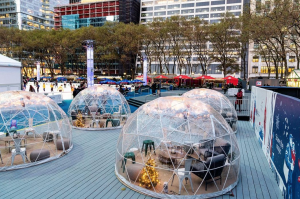 Bryant Park Winter Village is a must-visit during this season! It is Manhattan's winter wonderland. Enjoy New York City's only free admission ice skating rink, the Holiday Shops, and rinkside eats and drinks at The Lodge Deck by Urbanspace. You can now reserve tickets here. 
Dumbo x Brooklyn Flea Holiday Market
Every Saturday + Sunday 
Mask up and check out the Dumbo x Brooklyn Flea Holiday Market! This is a fun and festive holiday market. The surrounding streets will be decorated with lights and a tree on Pearl St Triangle, Santa's Mailbox, live music, hot beverages from local eateries, and a scavenger hunt to help you find even more great local stores. Join them on 11/28, 12/5, 12/12 + 12/19.
Grand Central Terminal Holiday Fair
November 14- December 24, 2022
Grand Central Terminal celebrates the festive season with the return of New York City's longest-running indoor Holiday Fair, presented by AmericanGreetings.com and SL Green Realty Corp.
Showcasing 36 local-artisan vendors offering one-of-a-kind products across a variety of categories, the Grand Central Holiday Fair opens on November 14th and runs for six weeks. One of New York's most extraordinary shopping events, the Grand Central Holiday Fair will take place in the stunning beaux-arts Vanderbilt Hall, welcoming countless visitors for a truly curated holiday shopping experience. This year's fair will feature unique local artisans and small businesses focusing on quality craftsmanship and products made in New York and the United States.
Vendors will sell a diverse mix of giftable items, including men's and women's clothing and accessories, original artwork, jewelry, stunning holiday keepsakes and distinctive home décor, self-care products, and endless varieties of handcrafted goods.
Union Square Holiday Market
November 17th- December 24th, 2022
The Union Square Holiday Market will be back this year and better than ever! It is an internationally renowned Holiday Market located at the heart of New York City, in Union Square Park. It is hailed as a must-visit destination, with over 160 vendors for unique gifts created by local craftsmen, artists, and entrepreneurs. Millions of people browse the winding aisles each year, enjoying this unique and eclectic holiday experience. We are excited to return this year to share the holiday magic tradition.
Updated December 1st, 2022