Best Sledding Hills Near Jersey City
Families can enjoy many activities during the winter season, including snow tubing, skiing, and ice skating. One activity that is perfect for a snowy wintery day is sledding. Sledding is fun, healthy, great kids' exercise, and it's also inexpensive to do. There are many spots you can go to near Jersey City to enjoy this winter activity. Therefore, we have created this guide on the best sledding hills near Jersey City, for you. 
Leonard Gordon Park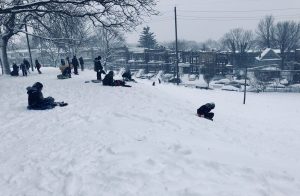 Located at Liberty Avenue and Kennedy Boulevard in Jersey City, Leonard Gordon Park, also known as Mosquito Park, is one of the best places to snow sledding this winter. Park-goers can enjoy more than six acres of the park with tremendous views of the city. This is arguably the best spot for sledding in Jersey City: it's steep, not too difficult to walk up, and located in a busy section of the Heights.
Liberty State Park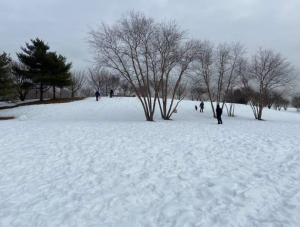 This gorgeous historic park is one of the largest Jersey City parks and playgrounds. It boasts a beautiful, unobstructed view of the Statue of Liberty and Manhattan. Liberty State Park is super close for locals. It may not have many hills for sledding, but it's a good spot for the younger kids to enjoy the snow on small hills, especially around the Empty Sky Memorial. You can enjoy sledding in the snow with the views of Manhattan.
Branch Brook Park, Newark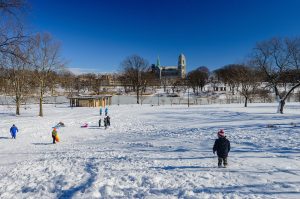 Branch Brook Park, the nation's first county park, is located in the North Ward of Newark, between the neighborhoods of Forest Hill and Roseville. The park is noted for the most extensive collection of cherry blossom trees in the United States. In addition, this park, located off Branch Brook Drive has been a well-known for sledding. Not only is it beautiful in the spring, but you also have to check it out in the winter. There are slope sizes for all ages, depending on how fast you want to go.
Bunny Hill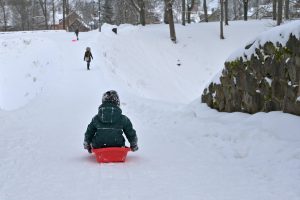 This spot on Passaic Avenue between Bergen Avenue and Afton Street may be the best place in Hudson County to sled. It's a big hill that is perfect for children and adults to go sledding. 
Lewis Morris County Park, Morristown
Located about 45 minutes from downtown Jersey City, Lewis Morris County Park provides a combination of sledding and fantastic scenery, so you can either take a beautiful hike and watch the sledding or ride down the hill yourself.
James J. Braddock North Hudson County Park
With a land area of 167 acres, James J. Braddock Park is one of the largest and most beautiful of HudsonCounty'ss parks. The park is home to the 16-acre Woodcliff Lake. It offers an impressive array of forty-five various athletic facilities and a variety of natural features. Easily accessible with something for everybody, Hudson County residents can't miss out on this gem atop the cliffs of the Palisades! This is perfect for sledding in the winter. You will also get views of Manhattan while sledding. 
Van Saun County Park – Paramus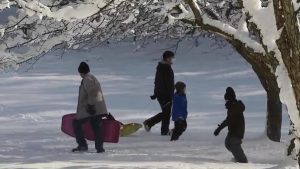 This park has it all a zoo, carousel, pony rides, an ice skating rink, and a pond. In addition, there are a few hills to try here for sledding on snowy days. 
Monmouth Battlefield State Park – ​Manalapan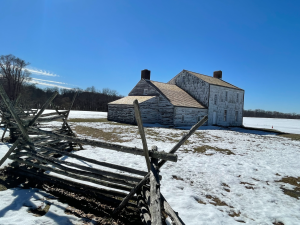 Monmouth Battlefield State Park is both beautiful and historically significant. When the snow falls, the park is the perfect place to do some sledding. The sledding hill is long but not steep, making for a fun ride.
Cheesequake State Park, Matawan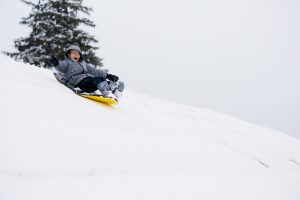 Cheesequake StatePark'ss uniqueness lies in its geographical location. Although it is situated in the middle of the urban north and the suburban south, it lies in a transitional zone between two different ecosystems. Open fields, saltwater and freshwater marshes, an Atlantic white cedar swamp, pine barrens habitats, and a northeastern hardwood forest await you. It is another perfect spot to go sledding. It is permitted on the hill adjacent to the Hooks Creek Lake parking area.
Samuel Nelkin County Park, Wallington
Located on Rose Street in Wallington is tucked against a hillside; the 17 acres of Samuel Nelkin County Park provide a variety of activities for visitors, including a large new accessible playground. Samuel Nelkin County Park is a great place to enjoy the snow. Known for its amenities, the park has many winter activities that everyone can enjoy. Most popular at the park in winter, of course, is sledding.
Updated April 11th, 2022