Top 10 Scenic Places To See Cherry Blossoms Near Jersey City
Our appreciation for nature is evolving after being driven indoors during the pandemic. Most of us spend enough time staring at electronics, so venturing outdoors allows us to celebrate the local treasures that Jersey City offers.
As summertime approaches, it signals the beginning of many outdoor activities, including picnics, strolls, sports activities, and more. So how do your best take advantage of all the natural wonders that the Jersey City area offers? We compiled a list of extraordinary parks where you can view the cherry blossoms and explore all the marvels of nature.
Here are the top extraordinary places to see cherry blossoms near Jersey City NJ. Let this list help you bloom into spring with a bang.

Branch Brook Park-Lake Street & Park Avenue, Newark, NJ 07104
https://www.essexcountyparks.org/parks/branch-brook-park
New Jersey has the bragging rights to the largest collection of cherry trees within the United States. Branch Brook Park boasts well over 4,000 cherry tree blossoms, offering the closest you can feel to being near the festivities in Japan than anywhere else. Their annual Bloomfest celebrates the cherry trees on April 19th. Around 10,000 people are reported to attending the festival every day, totally about 80,000 for the entirety of Bloomfest. The park has 360 acres and was founded in 1895. It is open 24 hours a day, seven days a week. Visit Branch Brook Park as it is one of the best places to see cherry blossoms near Jersey City NJ.
Central Park-Central Park West and 5th Ave, NYC

Everyone knows about Central Park in New York City. But many don't know about the cherry trees that bloom there every April until May. The Yoshino and Kwanzan cherry trees both pull their share of nature modeling for the enjoyment of you and your family. The drive from Jersey City is around thirty minutes with good traffic. With it being so close, you don't need any other excuse but to take a picnic with the family to enjoy a pretty spring day. Dining under the cherry blossoms is so enticing that you will never want to leave. There are plenty of activities to check out in Central Park to make an entire day seem like a vacation. The hours for the park are daily from 6:00 am until 1:00 am.
Queens Botanical Garden-43-50 Main St, Queens, NY     
At a little under an hour's drive from Jersey City, Queens Botanical Garden is well worth the visit. You may see a few bridal photo shoots, as the garden is a popular wedding destination this time of year. They offer nature tours that are geared for the season. The hours for the weekdays are 1:00 pm to 2:00 pm and weekends from 2:00 pm to 4:00 pm. Admission details
November-March
FREE
April-October
Members FREE
Adults $6
Seniors (age 62+) $4
Students w/ID $4
Children (age 4 thru 12) $2
Children (age 3 & under) FREE
The garden also offers a few walking tours during the season. If you want a guided tour to learn about the blossoms and other plants then make this one of your places to see cherry blossoms near Jersey City NJ.
Riverside Park-100th St and 125th St, Manhattan, NY
https://www.nycgovparks.org/parks/riverside-park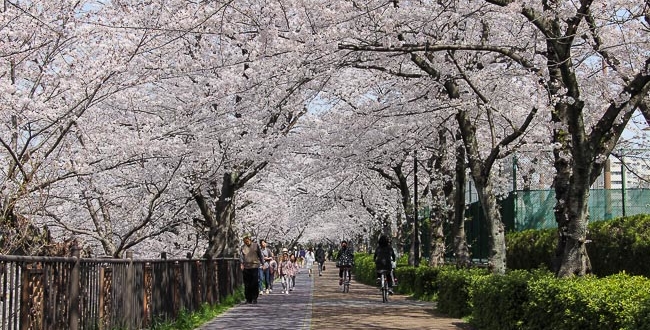 The Cherry Walk located in Riverside Park is one of the most unusual places to see cherry blossoms near Jersey City NJ. Beautiful blooming trees that fall to the ground create an ethereal experience. With the ground's delicate floral covering, it's like walking on a cloud of cherry blossoms. Gaze up to see the sky bordered by luscious pink blooms that will brighten anyone's mood. Take your camera for some high-quality visuals to remember for years to come. The park is beautiful year-round.
Roosevelt Island-1 FDR Four Freedom Park, NY
http://www.fdrfourfreedomspark.org

For the past seven years, Roosevelt Island outside of New York City has put on a Cherry Festival for tourists and residents alike. What makes this spot unique is the cultural learning activities it provides for those who attend. Traditional Japanese activities are showcased to teach visitors about the culture behind the cherry blossoms and Japan, truly allowing it to be one of the best places to see cherry blossoms near Jersey City NJ. Some of the activities available are dancing, karate, Japanese music, and so much more. The events are mostly free and there is food available to purchase from local food trucks. No admission fee is required, but small donations are suggested.
Hamilton Park, Jersey City
Hamilton Park – a 5.4-acre square green space in downtown Jersey City is one of its residents and visitors' favorite destinations. It's beautiful in the spring and is filled with cherry blossoms. This is a perfect one if you are looking for something local. Engulfed in tall trees and sporting an array of historic houses and shop fronts, charming boutiques and restaurants. Hamilton Park offers many activities for people of all age groups.  Here is a curated list of things to do around Hamilton Park in Jersey City.
Liberty State Park, Jersey City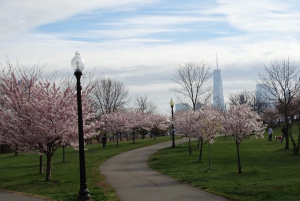 This gorgeous historic park is one of the largest Jersey City parks. It boasts a beautiful, unobstructed view of the Statue of Liberty and Manhattan. Liberty State Park always has some of the most beautiful cherry blossoms in the spring. You can go and enjoy a picnic or take a walk to check them out. There are ample grassy areas ideal for picnics and barbecues, not to mention a two-mile riverside promenade with plenty of benches along.
Riverview-Fisk Park, Jersey City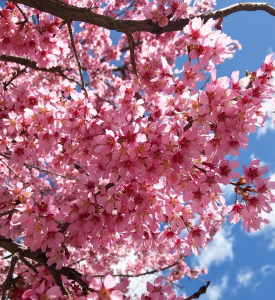 Photo by: Erin Delaney
This park offers the best view of the Manhattan skyline, Verrazano Bridge, and George Washington Bridge. You can sit in the park's gazebo while you relax and enjoy the view. Situated on the Hudson River, it offers a lot of recreational activities but in the spring a must-see is the row of gorgeous cherry blossoms!
Van Vorst Park- Jersey City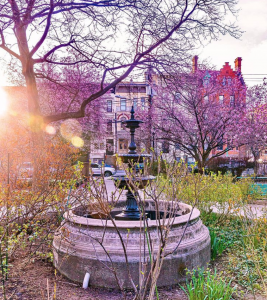 Photo by Jersey Photographer
If you are in the downtown Jersey City area, Van Vorst Park is the perfect area to see beautiful bright cherry blossoms. They have 16 Cherry trees, plus 16 gardens full of spring flowers. A two-acre space full of green trees and ample seating, bounded by Barrow Street on the east, Montgomery Street on the north, Jersey Avenue on the west, and York Street on the south.
Chapel Ave – Cherry Hill, NJ

Cherry Hill is an hour and a half away from Jersey City. The magnificent, pink-and-white blooms that pop from the branches of the cherry trees along Chapel Avenue and throughout Cherry Hill are a must-see!
Despite a later-than-usual bloom following a very cold winter, the Cherry Blossoms have finally made their spectacular return, and it's truly a sight for all of Cherry Hill to behold and celebrate! Over the next week, the vibrant blossoms will help to brighten the area. Definitely drive by and check it out!
Jersey City is one of the best places to live, as it is so close to many fascinating areas of interest. Spring offers an array of cherry tree viewing activities that will provide memories for many years. Cherry blossoms are special since they can only be seen from April to May. Most parts of the country do not have the opportunity to see one of nature's finest works of art: the cherry tree in bloom. The festivals are a huge occurrence with many visitors annually that you can partake in. Be sure to take advantage of the top five places to see cherry blossoms near Jersey City NJ. The opportunity awaits with just a short drive. Be sure to check them all out for a fulfilling spring excursion. Enjoy the crisp spring air before the heat of the summer hits.
Updated March 29th, 2022