The Most Beautiful Residential Areas In Jersey City
To say that Jersey City is "growing" would be a severe understatement. In fact, what it's going through right now is nothing short of a renaissance. New buildings appear seemingly overnight. So do the businesses – both large and small. Murals adorn every corner, deepening the rich cultural heritage the city boasts. With each passing day, Chilltown becomes better, more beautiful, and more alluring. So, if you plan to relocate to Jersey City, now is the best time to do so. Still, choosing the right place to live in can be a daunting task, especially in a city with so much to offer. To help you make the right decision, here is a list of the most beautiful residential areas in Jersey City. Each one is a choice worth considering before you start packing.
Downtown
When we talk about the most beautiful residential areas of Jersey City, Downtown will always come up as an obvious first choice. The sheer convenience this neighborhood offers makes it a top choice. With a plethora of cultural venues, bars, restaurants, and shops, anything your heart desires is within reach. The ideal position within the city also made Downtown a prime target for investors. The whole neighborhood develops and grows at a head-spinning rate. At moments, it seems like not a day goes by without some new building or shop popping up.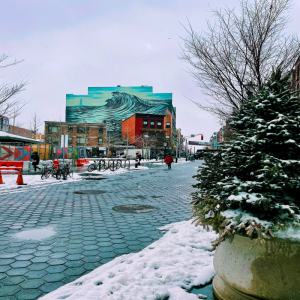 But, when you avert your gaze from high-rise buildings and rapid urbanization, you will discover a whole new face of JC, one that captures the essence of the city. A quick stroll through the streets will reveal the true beauty of the neighborhood. Cozy little shops and family businesses create a welcoming atmosphere. Restaurants with live music offer a welcome respite from the troubles of the outside world. Charming historic brownstone buildings blend seamlessly with their modern counterparts. Friendly chatter, so typical for small towns, dons the streets wherever you go. To put it simply: if you want to grow into a full-fledged Jersyite, Downtown is the place to do it.
Hamilton Park
If Downtown, as a whole, captures the essence of JC, then Historic Downtown is its soul. And nowhere is this more pronounced than in the Hamilton Park area. Here, there are no high-rise buildings, big shopping malls, or soulless corporate headquarters. Instead, you have cozy brownstone buildings and rowhouses, the cutest family shops and businesses, and at the center of it all – Hamilton Park. This vast green area is a perfect escape from the constant hustle of the city. It hosts year-round events and one of the best farmer's markets in Jersey City. So, the area is not only breathtaking and safe; it works to hone a welcoming and accepting environment.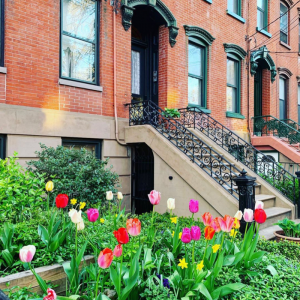 Grove Street
This iconic street separates the two most beautiful residential areas in Jersey City. It runs right between The Historic Downtown and The Waterfront. But – it's different from both. In a way, passing through Grove Street might seem like you stepped back through time. Rows upon rows of low-rise buildings, doused in brick, should evoke an industrial era feel.
However, this couldn't be further from the truth. And it only takes a quick walk up and down the street to see it. Underneath the facade of pre-war buildings, there are fantastic and modern apartments. Ground floors house well-stocked shops that make everyday necessities readily available. Hip bars will let you have a blast with old friends and make it all too easy to meet new ones. Upscale restaurants offer a variety of worldly options, enough to please even the most demanding gourmet. It is no wonder why both families and young professionals trip over each other for a chance to live here.
The Waterfront
The Waterfront is the most prestigious area in Jersey City, bar none. And, also, one of the most beautiful ones. Wide streets and sidewalks house stunning high-rise buildings. At the same time, they make the city walkable and easy to get around. Yet, despite excessive urbanization, it remains calm and quiet. It's almost like The Waterfront is a small town. To add to that vibe, the people are also warm and welcoming. If you ignore the fact that it is expensive, you're looking at one of the best areas in JC for families, young professionals, and retirees alike. 
What really sells the place, though, is the awe-inspiring view. You can't say you lived in JC until you take a stroll down the boardwalk along the Hudson River and turn your gaze toward the horizon to see the breathtaking Manhattan Skyline and towering Statue of Liberty. It is a sight you'll never get tired of.
Newport
If you want the feel of NYC without living in it, Newport is exactly what you need. Over the past decade, this area has seen rapid expansion. Luxury skyrises, corporate buildings, playgrounds, parks – you name it, Newport has it. Or, if it doesn't – it will in no time. This and the proximity and ease of commuting to NYC through PATH lines turned Newport into a dream for those who work in New York City.
However, you need to take into consideration that this part of the city is master-planned. As such, it's not everyone's cup of tea as, at moments, it lacks the "organic" feel of its older counterparts. Of course, this isn't necessarily a downside. After all, this makes everything seem like it's exactly where it's supposed to be. Still, some people prefer a speck of chaos that makes other neighborhoods so alluring.
Jersey City Heights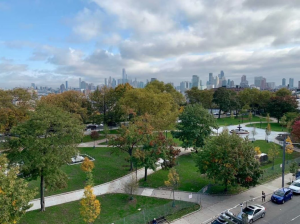 A few years ago, The Heights were up and coming, and now they have arrived. With new construction and more space, many find a reason to buy here. The neighborhood centers on Palisade Avenue, which is bustling with coffee shops, bakeries, and some restaurants and bars. They also have some beautiful parks and a lot of the stores downtown have started to open in the heights. It is a residential neighborhood with some Victorian and Edwardian homes so it's perfect if you are family and a little more space.
Jersey City revealed its true face – and it is beautiful!
For the longest time, Jersey City had a bad reputation. Little did people know that JC is a diamond in the rough, and it's shining brighter every single day. So, don't think for a moment that moving here is a bad call. Quite the opposite! With everything it provides and everything it will offer in the next period, moving to Jersey City might be the best decision of your life.
About the Writer:
Angie Sims used to work in the traveling industry for six years, and her current job in the relocation industry. For the last three years, she has helped many people with their domestic and international relocation. She is also a full-time mom and a part-time content writer. She writes about traveling and moving with children using her own experiences.