Guide To Jersey City Parks and Playgrounds
Jersey City is a beautiful, thriving city with a lot to offer. It's close enough to New York to have a metropolitan feel but far enough to be more laidback and relaxed. Although it's one of the most populated cities in the US, it boasts dozens of parks and playgrounds for all ages to enjoy. These parks offer oases of peace in the middle of the busy, fast-paced city and numerous activities. So whether you're interested in sports, scenery, family picnics, movies, or music, you're bound to find a perfect place. Please look at our guide to Jersey City parks and playgrounds and find the one (or more) that suits you best. So head over to some outdoor parks in Jersey City and have fun.
Lincoln Park
Located at Westside Avenue, this beautiful park is one of the largest in Jersy City. It spreads across over 250 acres of green parkland and offers twenty-one tennis courts, a golf course, and several sports fields. In addition to that, there are baseball diamonds, basketball courts, handball and racquetball courts, and a running track.
You can enjoy jogging, walking or cycling. It even has a pond for recreational fishing! What's more, there are three playgrounds suited for children of different ages and lots of slides and climbing frames. In addition, vast picnic areas and beautiful scenery make this park an ideal place for the whole family to enjoy. This is such a beautiful outdoor park in Jersey City.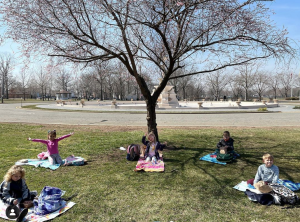 Photo by Three Little Birds
Van Vorst Park
This beautiful historic park boasts beautiful nature – an abundance of trees and flowers and a gazebo and community gardens. Also, it has separate playgrounds for toddlers and older children, two dog runs, and open green spaces, waterfalls, and ponds.
That's what makes this park a perfect spot for various activities, from free yoga and fitness classes to casual walks. Not to mention multiple cultural events such as Shakespeare in the Park, Summer Movie Series, and one of the best Farmer's Markets in Jersey City that take place here. So when are you planning a picnic in these beautiful outdoor parks in Jersey City?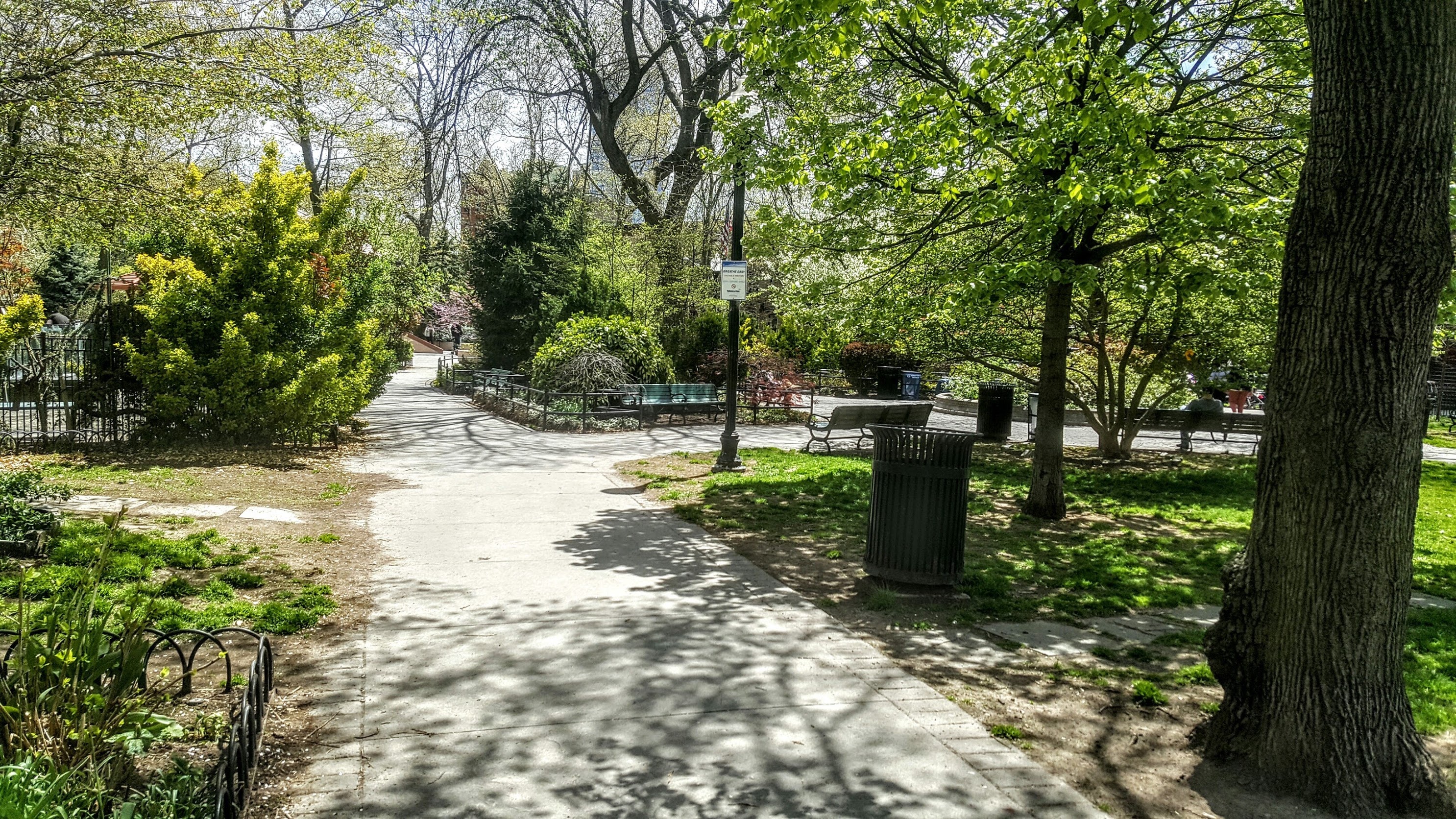 Newport Green Park
This park is an excellent place for all ages to spend warm, sunny days. Picnic tables and chairs and lovely walking trails enchant all visitors. But, what makes this park unique is an artificial sandy beach with an impressive view of the Manhattan skyline. So, you can soak in the sun and enjoy the view simultaneously.
What's more, Newport Green Park is one of the best Jersey City parks and playgrounds for families with kids. If you're planning some screen-free activities for the kids this summer, this park provides ample opportunities. There are beautiful climbing contraptions, one of which is shaped like a pirate ship. Rock walls, slides, dangling bridges, and swings will keep the children happy and busy. On top of that, there is a splash pad, sprinklers, and carousel! This is one of the kid's favorite parks in Jersey City.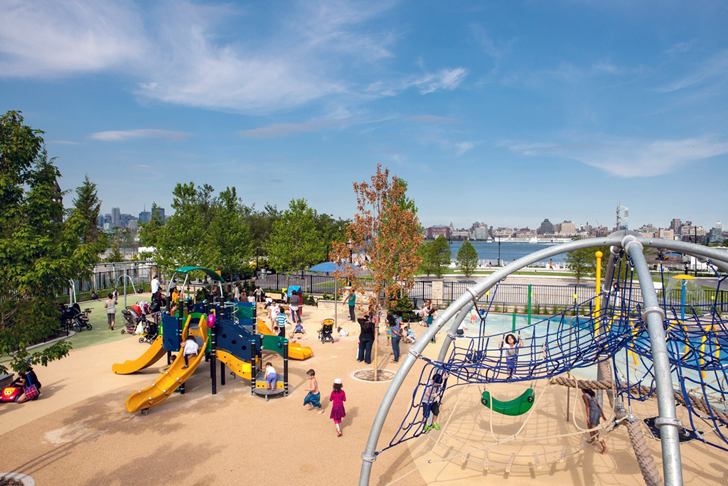 Hamilton Park
If you consider JC as your future home, know that you won't be far from green open spaces even if you move downtown. For example, Hamilton Park is an ideal place for all city dwellers. It's situated between Eighth Street and Ninth Street and is surrounded by restaurants, cafes, and shops.
Despite its position in the city center's heart, it offers ample opportunities to enjoy the fresh air and stay active. It's got several tennis courts, a basketball court, two dog parks (one for big and one for small dogs) and a pagoda. What's more, there are three playgrounds for kids of different ages and the waterpark!
Jersey City is one of the best places to raise your kids. More and more people are opting to move to Jersey City because of its job market. As a result, there are numerous opportunities in both the private and public sectors. There are also great housing options -from renting an apartment to buying a house. So, if you're planning to move to JC, make sure to find the best apartment you can get. Also, there are plenty of good schools, kids' areas, and amenities for your children to enjoy, and of course, all the parks for the whole family to explore! So, plan a family day in some of the outdoor parks in Jersey City.

Riverview-Fisk Park
This park offers the best view of the Manhattan skyline, Verrazano Bridge, and George Washington Bridge. You can sit in the park's gazebo while relaxing and enjoying the view. Situated on the Hudson River, it offers a lot of recreational activities.
There is something for everyone, from free yoga and fitness classes to basketball courts. Playgrounds are there for all children to have fun and enjoy. Also, it boasts numerous cultural events such as Jazz Festival and Farmer's Market. It's one of the most popular places in the city to celebrate the 4th of July and watch the fireworks!
Liberty State Park
This gorgeous historic park is one of the largest Jersey City parks and playgrounds. It boasts a beautiful, unobstructed view of the Statue of Liberty and Manhattan. What's more, it's connected to Ellis Island by ferry so you can enjoy the short trip while you're there. There are ample grassy areas ideal for picnics and barbecues, not to mention a two-mile riverside promenade with plenty of benches. If you don't have time to plan a perfect family trip, this park is an ideal place to spend an exciting day for the whole family.
Whether you prefer jogging, hiking, or skating, this park has it all. And of course, it features gigantic playgrounds for children of all ages. Multiple climbing structures, bouncy bridges, low-sloping slides, and a giant sailing ship with a prow and lookout post will keep the younger children happy and occupied. There are tunnels, rock climbing walls, and winding slides for older children. It offers multiple activities for every season. What's more, there's a Science Center for children to explore and learn.

Bayside Park
This beautiful park, located in Greenville, is a perfect place for the whole family. It's clean and quiet, with open grassy areas, walking trails, and beautiful scenery. With spring already here, this park offers numerous activities for people of all ages. Whether you enjoy tennis, basketball, or jogging, this park is the right place for you. Also, if you're a skateboarder, Bayside park has some unique ramps you'll enjoy. It also features several playgrounds for children. What's more, it offers a water park and jungle gym. Kids will love spending a day here!
Berry Lane Park
Located in the Bergen-Lafayette part of the city, this park isn't only one of the newest Jersey City parks and playgrounds, but it's also the largest municipal park. If you love being active and doing sports, this one has a lot to offer. There are two basketball and two tennis courts and a soccer field and a baseball diamond. Bike paths are great for cycling enthusiasts. Vast green areas and six hundred new trees are ideal if you're looking for peace and rest from busy city life. It has a great splash pad, one of the most fun places in outdoor parks in Jersey City.
Thomas McGovern Park
This is one of the smaller Jersey City parks and playgrounds located in Greenville. Although it's short on size, it's long on charm. It's peaceful and quiet and, thus, ideal for families with young children. Your little ones will enjoy having fun and playing in this park. During the summer there are Movies in the Park, an event suitable for movie lovers of all ages. Also, there is a well-lighted outdoor tennis court for all who enjoy having a good tennis match.
Audubon Park
This park occupies an entire city block and is the most famous for its basketball courts. It's located in Bergen-Lafayette, and it's a haven for all basketball lovers. The basketball courts are in the middle of the park and several tennis courts, providing outdoor exercise and a fun time with friends. There is also a playground ideal for younger children. The kids will enjoy slides and climbing frames, as well as spending a day outdoors.
Arlington Park
This beautiful park, situated in Bergen-Lafayette, is a peaceful oasis in the urban environment. You can enjoy walking, hiking, and jogging here. Beautiful scenery will soothe you and enable you to get a breath of fresh air when you need it. Whether you enjoy a solitary and relaxing walk or a fun picnic with the whole family, this park is a great place to visit. Also, it's a dog-friendly park, so it's a good idea to take your pet for a walk and a frisbee game.
If you're looking for summer activities for your kids, you shouldn't miss out on Berry Lane Park. There are playgrounds suited for younger and older children. There's a beautiful splash pad water park the kids will enjoy on hot summer days. This park is also a must-go-to for all skateboarders. The latest addition is the city's largest skatepark – it spreads across almost 12000 square feet! It has a layback bank, a roller, an A-Frame ledge combo, a pump bump, a backyard bowl, and many other skateboarding features that make this place ideal for beginners and professional skateboarders.
Embrace the great outdoors by exploring Jersey City parks and playgrounds
We all need a break from our busy, hectic lives, especially when we can't spend much time socializing and traveling. These parks combine the history and beautiful scenery with ample opportunities for recreational activities for the whole family. They're green islands in the urban environment where we can breathe fresh air and relax. Therefore, don't hesitate to explore and find your favorite Jersey City parks and playgrounds.
Author Bio:
Angie Sims used to work in the traveling industry for six years, and now she works in the relocation industry. For the last three years, she has been specializing in helping people with their domestic and international relocation. She is also a full-time mom and a part-time blog writer. From her own experiences, she writes about traveling and moving with children on her blog.