Fun Ideas For Your Next Jersey City Staycation
Cold days are almost behind us, and not a moment too soon! Finally, we can have some long-craved fun outside of the warmth of our own homes. Fortunately, to do so, we don't have to look further than our backyard. Jersey City offers virtually infinite opportunities to enjoy a day off with the family. There are beautiful parks, family-friendly events, parent-child classes, historical, cultural, and science venues. In a sense, JC has everything to keep you and your kids occupied for, well – ever. But, with so many choices, sometimes it isn't easy to pick the right one. So, here are some fun ideas for your next Jersey City staycation.
Plan your Jersey City staycation if you're not a local
Jersey City has an abundance of fantastic staycation options. So much so that it would take nothing short of moving here to experience them all. Jersey City offers lots of options, whether you're looking for a job, education, or fun activities. However, if you only plan on visiting, you should take some time to plan your Jersey City staycation. That way, you'll make the most of your time and enjoy every minute of your stay. With that out of the way, let's get on to the good stuff.
Spend the day at Liberty State Park
Yes, we do mean the entire day. Liberty State Park is too good a destination to pass for your next Jersey City staycation. It's one of the most popular destinations for Jerseyans to hang out in during warm days. But, don't let that concern you. The park is so large that you can have a cozy family picnic without ever feeling cramped. So, grab that checkered blanket and fill the biggest wicker basket you can find to the brim. The view of the mesmerizing Hudson River, towering the Statue of Liberty, and the Manhattan skyline will surely make you never want to leave. Isn't this a great Jersey City staycation idea?
Visit Liberty Science Center
Liberty Science Center is a place that blends fun with science. Interactive exhibits are both entertaining and informative. They also cover a wide variety of exciting topics, for instance:
At the

Our Hudson Home

exhibit, you can learn more about the Hudson River and the animals that inhabit it. Aquariums contain various animals, such as fish and turtles, that are a true joy to observe.

The

Making Mammoths

exhibit

 

took a page from Jurassic Park's playbook. Only geneticists involved in the project aren't trying to bring back dinosaurs. Instead, they are trying to combine mammoth genes with an Asian elephant to bring back these long-extinct colossi

.
And, as a perfect ending to a science-filled day, definitely take the time to visit Jennifer Chalsty Planetarium. What was once an IMAX theater is now the biggest planetarium in the Western Hemisphere. Stunning shows will take you on a journey through our solar system, galaxy, and beyond. Whether you're a stargazing enthusiast or not, it will surely leave you in awe.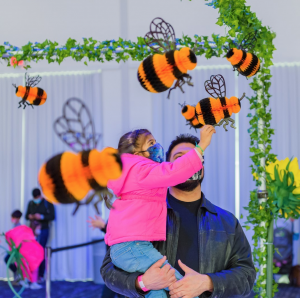 Ferry on, history lovers!

Of course, no Jersey City staycation would be complete without visiting the iconic Liberty Island and Ellis Island. Various tours include a visit to Ellis Island Immigration Museum and Statue of Liberty Museum and grounds. However, bear in mind that if you wish to visit the crown and the pedestal (which you definitely should!), you need to reserve the tickets well in advance. When it comes to the US's most iconic monument, the best tours sell out super quickly.
Find the perfect memento of your Jersey City staycation

Grove Street PATH Plaza plays host to the Artist and Maker Market during the spring and summer months. As warm weather approaches, this outdoor bazaar becomes a true boiling pot of creativity. Painters and sculptors create masterpieces on the spot. Various artisans craft intricate jewelry and other bits and baubles that make for a perfect gift or addition to your collection. Although you should buy something to support them, just watching them work is entertaining enough. And it will surely spark up the artistic flame within you. They also have a farmer's market where you can get local goods and veggies. 
Feel the rush

If you're looking for an adrenaline-packed experience, Pole Position Raceway and RPM Raceway may be just the thing you need. Both venues offer various go-kart racing options suitable for both adults and children. So, don the helmets, rev the engines, and wait for the checkered flag to drop! However, if you prefer something safer, head to RPM Raceway and take a shot at their RPM SIM. This is a full-motion simulator – the same one that professional race drivers use to practice. It will give you a realistic feeling of being on the racetrack: the danger, speed, and adrenaline rush.
Have fun by learning

Jersey City is teeming with fun activities for families with kids. They are a fantastic choice when you want your kids (and yourself) to learn something new and have tons of fun along the way. Here are some unique venues you can visit:
Pip's Island

is an award-winning theater for kids that does things a bit differently. Here, your little ones can take part in the show and feel the wonders of being on the stage.

Tiny Greenhouse

is a nature-friendly art studio where kids can use a variety of recycled materials to make art. They will awaken the artist within and learn to preserve the environment.

Bambino Chef offers cooking classes for your little foodies. A fantastic option if you don't mind having cookies for breakfast, lunch, and dinner for the next few weeks.
Go for a sweet Jersey City staycation

Ice cream! Everybody loves it, especially if it's the tasty, creamy goodness you can find in the best JC ice-cream places. Torico and Milk Sugar Love are the Jersey City ice cream scene's staples, with their unique flavors, hand-made from fresh ingredients. But you don't have to stop there. Angel's Recipe has some of the best crepes in town, while Downtown Yoghurt is sure to refresh you during warm summer days. Isn't this a sweet Jersey City Staycation ideas?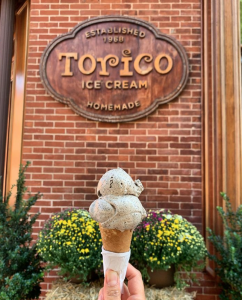 With things listed here, we have only scratched the surface. But whoever visits JC once is sure to come back for more! So, for your next Jersey City staycation, you might opt to do something different. Maybe take a gourmet tour that will guide you through some of the best places to enjoy family lunch or dinner. Or opt for an active staycation at Perishing Fields, playing basketball and tennis with your family. Maybe even catch a show at Jersey City Theatre, or swing by for storytime at Word Bookstore. The possibilities are endless. Still, one thing remains certain – no matter which activity you choose, you will have a blast!
Featured Photo: @casadefallon via Instagram 
Author Bio:
Angie Sims used to work in the traveling industry for 6 years, and now she works in the relocation industry. For the last 3 years, she has been specializing in helping people with their domestic and international relocation. She is also a full-time mom and a part-time blog writer. From her own experiences, she writes about traveling and moving with children on her blog.