Little Island At Pier 55, New York
About Little Island New York City
Little Island in New York City is a brand new, accessible public Park pier within the larger Hudson River Park. They opened to the public on May 21, 2021. It is a 2.4-acre public park in Hudson River Park on the West side of Manhattan. Components of the pier, nestled among more than 350 species of flowers, trees, and shrubs, include a 687-seat amphitheater, an intimate stage and lawn space, and dazzling views of other portions of Hudson River Park, New York City, and the Hudson River.
Little Island's structure emerges from the remnants of the former Pier 54. Piers in this area north of the Gansevoort Peninsula operated the luxury transatlantic Cunard and White Star cruise lines in the early 1900s. In 1912, survivors of the RMS Titanic were brought back to safety at Pier 54 on the RMS Carpathia. Then in 1915, the RMS Lusitania departed from Pier 54 before it was sunk off the coast of Ireland by German U-boat, a significant event leading up to the United States' entry into World War I.
Pier 54 was an art and entertainment pier that hosted concerts and events in more recent years. When it fell into disrepair, the vision behind Little Island was to stay true to the original Pier 54 and build something spectacular in its place. Learn more here. 
It is open daily from 6 am- 11 pm. No timed entry reservations are required through May 21st.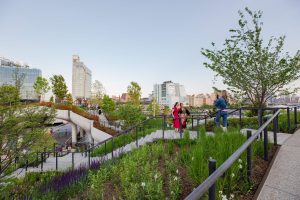 Getting To Little Island in New York City
Subway:
The nearest subway stations are the A, C, E, and L trains located at 14th Street and 8th Avenue (ADA accessible); the 1, 2, and 3 trains located at 14th Street and 7th Avenue; and the F and M trains located at 14th Street and 6th Avenue. In addition, you can take the PATH to 33rd Street and get off at Christopher Street. Then walk for about 15 minutes.
Car:
Vehicles should drop off guests on 10th Avenue. There is also a taxi pick-up and drop-off location at Pier 57, just north of Little Island. You can also take an Uber. If you are driving, it's about a 20-minute drive. Unfortunately, little Island does not have any dedicated parking areas. The nearest public paid parking garage is MPG Manhattan Parking, located at 450 West 17th St between 9th and 10th Avenues.
There are pedestrian crosswalks across the West Side Highway at 14th Street and 13th Street. In addition, visitors may enter Little Island from the South Bridge near 13th Street or the North Bridge near 14th street.
How Much Does it Cost?
It's always free to visit Little Island. Also, there are certain ticketed events in The Amph that cost $65 for adults and $25, but there are many free events on the calendar, too.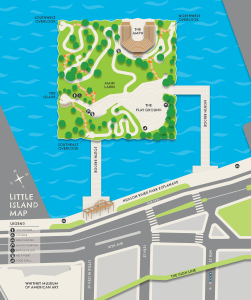 Beginning in June, Little Island will host a season of programming to foster and support New York, City-based artists. Most events will be free, and ticketed events will be primarily free or low-cost. Additionally, there will be performances and educational programming six days a week, with music, dance, circus, spoken word, and more offerings. Programming ranges from surprise performances with local performers to special events with renowned New York City arts organizations. You can visit their calendar of events for all the updates.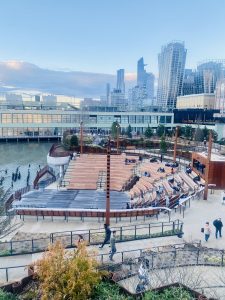 What To Do Nearby:
Food:
Chelsea Market: is located in the heart of New York City's Meatpacking District; the market's collection of distinctive and diverse merchants adds up to more than just your average food hall, instead of a lively marketplace where one can shop the region's finest fishmongers, take home prime cuts of meat from one of the area's best whole-animal butchers, load up on artisanal cheeses, fresh produce, and imported Italian dry goods.
The Donut Pub is a classic donut shop open 24/7 that serves my all-time favorite Old Fashioned donuts. They have fresh-made donuts, cookies, and croissant donuts worthy of culinary commendation. In addition, the Donut Pub is peanut and tree nut-free, making it the perfect stop for anyone with a nut allergy.
Starbucks Reserve Roastery: is way more of an experience than your standard Starbucks- you can watch beans being roasted while sipping a specialty beverage from one of the three bars inside.
Jack's Wife Freda: A lively all-day NYC bistro executing American-Mediterranean cooking & classic cocktails in understated digs, with Soho and the West Village locations.
Los Tacos No. 1: Located just around the corner from Amy's Bread, Los Tacos No. 1 is an indoor taco stand started by three young taco-preneurs, two from California and one from Mexico. It is serving tacos and quesadillas from a luxury retail sidewalk. You can't usually find excellent tacos this close to a sample sale on bedding.
Other:
Whitney Museum of American Art:
The Whitney Museum of American Art presents the full range of twentieth-century and contemporary American art, with a particular focus on works by living artists. The Whitney is dedicated to collecting, preserving, interpreting, and exhibiting American art. Its collection—arguably the finest holdings of twentieth-century American art globally—is the Museum's essential resource. In addition, the Museum's flagship exhibition, the Biennial, is the country's leading survey of the most recent developments in American art.
The High Line is a 1.45-mile-long elevated linear park, greenway, and rail trail created on a former New York Central Railroad spur on the west side of Manhattan in New York City. It is open daily from 7 am to 10 pm. No reservations are currently needed to visit.
Updated April 11th, 2022