Splash Pads and Swimming Pools in Hoboken
As the summer heat comes, we know how essential a day at the pool or splash pad is. There is nothing better than having a fun day splashing in a sprinkler park or a pool on an extremely hot day. Therefore, we have created a list of the best splash pads and swimming pools in Hoboken for you to enjoy and cool off! New Jersey offers a variety of other options too for your family whether you're hoping to swim, fish, paddleboard, or kayak too.
Pools
125 Marshall St 7th floor, Hoboken, NJ 07030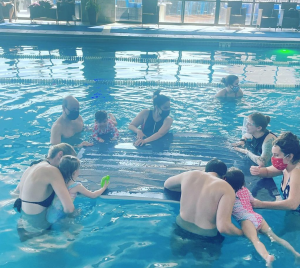 XCEL Athletic Lifestyle is an exclusive, Rooftop Athletic Club serving up a healthier lifestyle. They have a pool for adults and kids as well as swim lessons. Unfortunately, this isn't free, and you would need a membership or join classes to attend.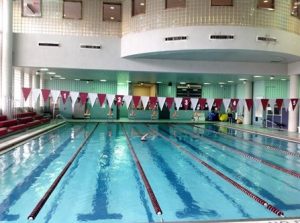 Stevens Students, Faculty and Staff may utilize Open Lap Swim hours for lap swimming free of charge by presenting their valid Stevens ID to the lifeguard on the pool deck. But the public can purchase a monthly membership as well. Membership options and pricing can be found here.
Weehawken Pool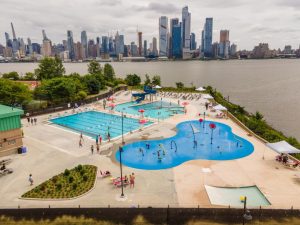 Weehawken Township pool complex is open! Please note that the pool will be open to New Jersey residents only. For the safety of all visitors, anyone 17 years old and under must be accompanied by an adult who is an immediate family member or resides in the same household.
Operating hours for the pool complex are as follows:
Saturday and Sunday:
8 am to 10 am: Lap pool only
10 am to 6 pm: General swim
These hours will be applicable for all weekends (Saturdays & Sundays) until and including June 18, 2023.
The full pool season schedule will begin on Friday, June 23. Weehawken Pool Complex 2023 Season Pass Information
Splash Pads
4th Street and Willow Avenue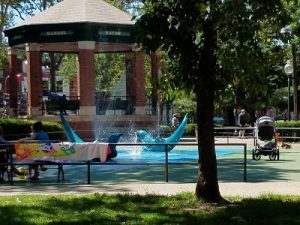 Church Square Park is perfect to check out on a hot summer day. The sprinklers are turned on during the summer with dolphins spouting water. This park has multiple playground areas as well for all ages. It also has a gazebo, chess tables, basketball courts and more.
Jackson Street and 1st Street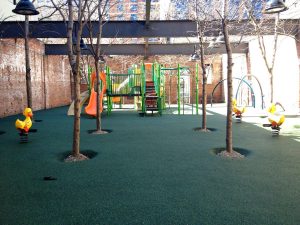 This park is tucked away in a quiet area of Hoboken. This enclosed playground features a brand new playground as well as sprinkler arches ready to enjoy in the summer.
Located on Madison Street and 3rd Street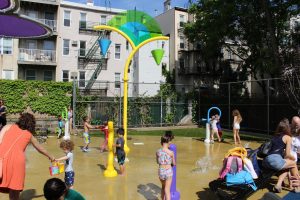 Hudson County awarded the City of Hoboken a $500,000 grant for improvements to the Madison Street Park Playground through the Hudson County Open Space Trust Fund. It reopened in 2019. It is bright and beautiful in the summer. The park includes a new splash area. There is also a playground with equipment for both younger and older children. The park is open to the public from 8AM-8PM.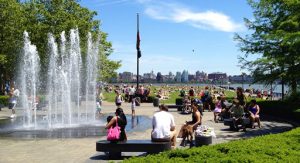 Pier A Park is a beautiful spot to check out on the weekend in the summer. The Pier A fountain is huge and shoots up several feet high, making it a great space for tons of kids to run in and out of the water to cool off. This wouldn't be exactly called a sprinkler park but this spray fountain area is a ton of fun in the summer.
Clinton Street between 9th and 10th Streets

This park was renovated in 2019. It is updated with beautiful playgrounds and brand new splash pads. In addition to the splash pad, there is a lot of green areas, basketball courts, and more! The ground surface at the splash pad is concrete so do keep that in mind for the little ones.
1225 Willow Avenue

Legion is also known as "Frog Park" to some. It is a little park on the corner of Willow Avenue and 13th Street. Kids can enjoy the little playground as well as the frog and flower sprayers. It is well shaded so perfect for the little ones in the summer to cool off.
Hudson Street and 10th Street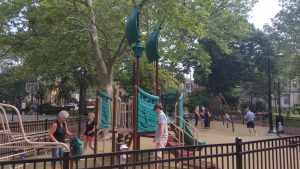 Close to the waterfront, this location is great for families living uptown. It allows you many options to walk around with your little ones. This area has great views, a splash pad as well as a basketball court.
401 Hudson Street
Stevens Park is perfect for all families! The park has small playground areas with a sprinkler park in between. They also have a ton of green space, a fenced dog park, and gorgeous waterfront views.
Updated June 26th 2023