The Best Burgers in Hoboken
Welcome to our guide to the best burger spots in Hoboken! Hoboken is known for its diverse food scene, and this charming city has a lot to offer when it comes to burgers. Whether you're in the mood for a classic cheeseburger, a juicy specialty burger, or a vegan or gluten-free option, you'll find plenty of options in Hoboken.
BAR & GRILL
10th & Willow Bar & Grill
935 Willow Ave, Hoboken
The star of the 10th & Willow Bar & Grill menu is undoubtedly their mouthwatering burgers. Made from high-quality ingredients, each burger is crafted to perfection, satisfying even the most discerning taste buds.
Burger Menu
10th Street burger — provolone, mushrooms & a1 sauce
willow ave. burger — bacon, cheddar, mayo & ketchup bbq burger — cheddar, bacon & bbq sauce
french burger — caramelized onions & crumbled bleu cheese
Philly burger — onion ring, American cheese & hot cherry peppers
the burger melt — rye toast, swiss, sautéed mushrooms & onions
mexicali burger — avocado, pepper jack cheese & pico de Gallo
Mills Tavern
125 Washington St, Hoboken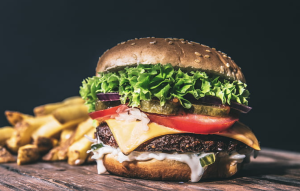 Mills Tavern has a burger to satisfy every craving. The flavors are bold, the textures are sublime, and the attention to detail is evident in every bite. Paired with their crispy golden fries or a refreshing side salad, these burgers are a true delight.
Green Rock Tap & Grill
70 Hudson St, Hoboken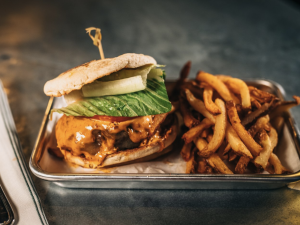 Green Rock takes pride in serving up mouthwatering creations that are sure to satisfy any burger connoisseur. From classic options like the juicy cheeseburger with all the fixings to more unique choices such as the flavorful avocado and bacon burger, there is a burger for every palate. This is also a popular spot for its beer and fun atmosphere!
The Shepherd & the Knucklehead
1313 Willow Ave, Hoboken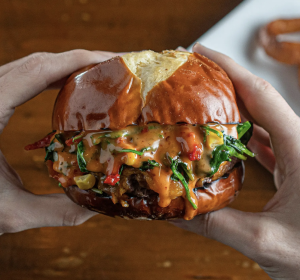 The Shepherd & the Knucklehead does not disappoint. Their menu boasts an array of mouthwatering options that cater to various tastes and preferences. Whether you're a fan of Shep's Classic cheeseburger or prefer something more adventurous like their specialty Bang Bang Burger a mix of buffalo, BBQ, honey, and crushed red pepper flakes, topped with mozzarella and bang bang radish, there's a burger for everyone. What sets this place apart is the attention to detail in the quality of its ingredients and the skillful execution of each burger.
Wicked Wolf Tavern
120 Sinatra Dr, Hoboken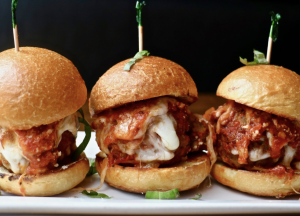 The Wicked Wolf Tavern takes pride in crafting burgers that are bursting with flavor and made from the finest ingredients. From classic favorites like the juicy bacon cheeseburger to unique creations such as the mouthwatering truffle mushroom Swiss burger, there is a burger to satisfy every craving.
343 Park Avenue, Hoboken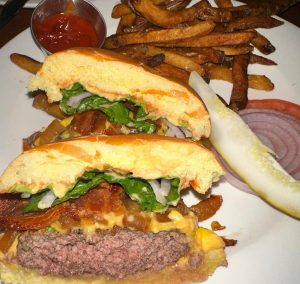 Set on a quaint corner off of Church Square Park, Onieals offers a rousing but comfortable scene. Join us for quality food and drinks seven days a week and experience the warm and welcoming vibe that keeps patrons coming back for more.
You may recognize Onieals from its across-the-river outpost in SoHo – or you may know it simply for their original, all-American style burgers. Onieals prides itself on delivering top notch quality hamburgers off their specialized burger menu, featuring our country's favorites: bacon, barbeque sauce and melted cheeses.
501 Garden Street, Hoboken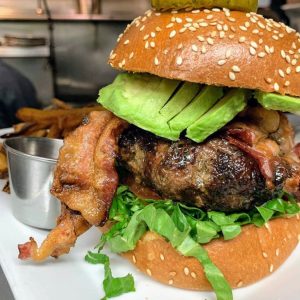 Moran's has been home to the finest pint of Guinness this side of the Atlantic for over 25 years — and as of January 2016, they also proudly serve some of the best pub fare that Hoboken has to offer! The includes their delicious burgers.
232 Willow Ave, Hoboken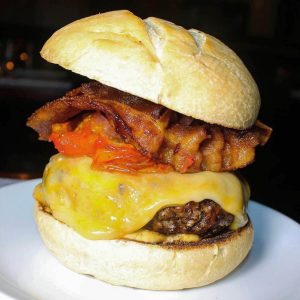 Zack's is located in a historically rich section of Hoboken. Zack's corner building was constructed in the late 1880's and originally housed a grocery store catering to immigrants from Germany, England and Italy.
Hoboken residents recommend the Brisket Blend Burger calling it the best burger in Hoboken!
RESTAURANTS
Bareburger
515 Washington St, Hoboken
Bareburger takes pride in using high-quality organic and sustainable ingredients to craft its mouthwatering burgers. With a diverse menu that caters to various dietary preferences, including options for vegetarians, vegans, and gluten-free individuals, everyone can find something to indulge in.
Shake Shack
111 Washington St Suite 101, Hoboken
Shake Shack sources the finest ingredients, ensuring each burger is a delectable masterpiece. Every bite is flavorful from their classic ShackBurger with its juicy Angus beef patty and signature Shack Sauce to their mouthwatering SmokeShack topped with crispy bacon and cherry pepper relish.
VEGAN RESTAURANT
Northern Soul
700 1st St, Hoboken
Northern Soul is a hidden gem in Hoboken that captures the essence of comfort food and good vibes. Tucked away on First Street, this cozy and inviting eatery is known for its mouthwatering burgers that satisfy even the heartiest of appetites.
Jerrell's BETR BRGR
324 Washington St, Hoboken
Jerrell's BETR BRGR offers a range of options to cater to various tastes and dietary preferences. The patties are grilled to perfection, boasting a juicy texture and a depth of flavor that will please even the most discerning burger enthusiast. Accompanied by a selection of vegan-friendly toppings and a side of perfectly seasoned fries, these plant-based burgers are a delightful alternative that doesn't compromise on taste. Even their milkshakes are vegan!
DINER
Johnny Rockets
134 Washington St, Hoboken
Johnny Rockets in Hoboken is a nostalgic and vibrant diner that transports you to the golden age of American burger joints. Johnny Rockets is known for its retro-themed decor, friendly staff, and, of course, its classic all-American burgers. When you step inside, you're greeted with the sounds of rock 'n' roll and the aroma of sizzling burgers on the grill. Johnny Rockets takes pride in serving juicy and flavorful burgers with fresh, high-quality ingredients.
Hoboken is a food lover's paradise with plenty of options for every palate. From the burger spots we've highlighted to the city's Italian delis, seafood restaurants, and artisanal bakeries, Hoboken's no shortage of delicious eats.
Updated June 26th, 2023