Must-try Food Trucks in Jersey City
Jersey City is filled with delicious food options, and food trucks are a big part of it! Over the past years, many delicious food trucks have been born that offer a ton of different cuisines and options for the foodies out here. From Mexican food, seafood, and sushi to dessert, we have rounded up a list of food trucks in Hoboken and Jersey City to check out!
Torta Truck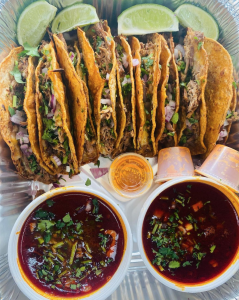 Torta Truck is delivering all authentic Mexican eats to the streets. Whereas most focus on tacos, Torta Truck elevates the standard by focusing instead on the torta's beauty. Their words, not ours, but we're apt to believe them, considering they're sticking to traditional preparation methods, spices, and seasonings that make each a treat to behold (and to taste.) Get a torta for meat lovers packed with chicken Milanese, salchica, and ham, or go for the classic al pastor with refried beans, lettuce, avocado, quesillo, and pickled jalapenos.
Mister Softee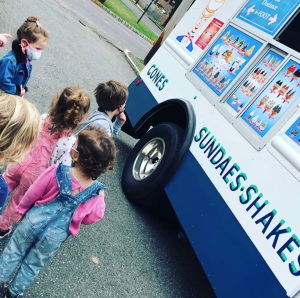 Mister Softee has been in business for over 64 years. It is a tri-state favorite that started here in New Jersey. They specialize in delicious ice cream cones, sundaes, and shakes. You will see them drive around the neighborhood in the summer.
The Cupcake Carriage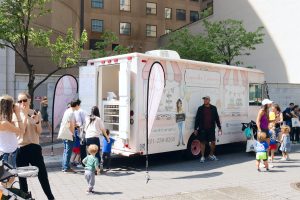 Tenille Ortiz specializes in the creation of confections almost too exquisite to eat! She is known for her attention to detail and her cupcake truck, the Cupcake Carriage. Their truck offers cupcakes and other delicious desserts.
Sunday Toast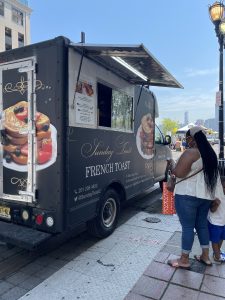 Sunday Toast is a local food truck that lovers of the art of French Toast. They want you to enjoy the delectable taste of our French Toast without the work. You can purchase their Sunday Toast two ways. They can cook it for you on their truck, or you can buy their premade mixture to make at home. If you love sweet and savory, their french toast is a must-try.
Angry Archie's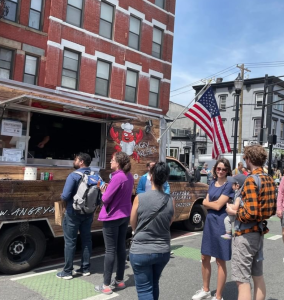 Angry Archie's is a Jersey City-based family-run Food Truck Company. He is specializing in Seafood specialties such as Lobster rolls, crab poutine, and their signature dish Angry Archie's Crab Cake Sandwich. Owner and Chef Chris Curado founded Angry Archie's over five years ago and has seen his business flourish thanks to the fantastic community of Jersey City. They have a food truck as well as a location at Harborside.
Wisp Express is a food truck specializing in freshly prepared Asian cuisine and custom sushi selections. They have various options on their menu ready for you to enjoy. Additionally, everything is super fresh! You can order via their website or check their Instagram for where they will be located daily as it changes.
Jerkin Chicken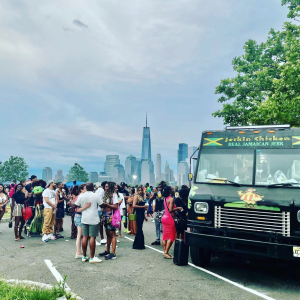 You'll enjoy a taste of Jamaica at Jerkin Chicken! Inspired by travel and a passion for different cultures, Jerkin Chicken brings a taste of Jamaica, utilizing the freshest ingredients and homemade dishes straight to your table.
Pizza Vita NJ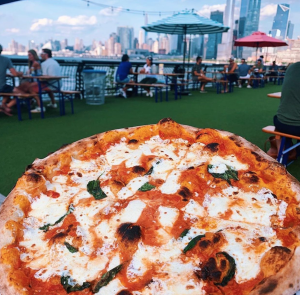 Pizza Vita is a contemporary pizzeria and Cucina inspired by the traditional pizzerias of Naples, Italy. After months of delicious research and working on perfecting their dough recipe, they opened our doors on July 18, 2011. The menu also features delicious pasta dishes, fresh salads, and homemade gelato. They have several locations, but they also have a food truck.
Amanda's Bananas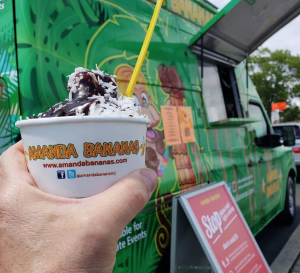 A 15+-year career in the restaurant business and a love of bringing fresh, new, healthy, and delicious products to their communities made opening Amanda Bananas the right fit for the owners. Amanda Bananas make tasty treats that are healthy, dairy, and gluten-free. Bananas are turned into delicious smooth ice cream, and you can add toppings you like. Their ice cream truck is not one to miss in the summer.
Lomo Food Truck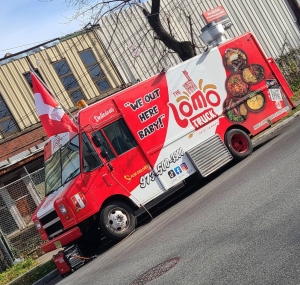 The Lomo Truck is the spot when you are looking for some delicious Peruvian food. Additionally, some of their specialties are, of course, lomo saltado, which is beef strips stir-fried, onions, and french fries,  Try the green monster if possible; it's pesto spaghetti with beef strips, and their Fritura, which is Fried chicken and steak strips, with beef hot dogs over fries covered in a pink sauce.
La Coqueta Mexican Cucina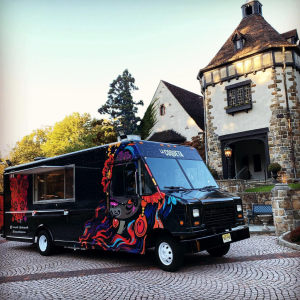 La Coqueta is a women-owned small business food truck bringing you food from her soul. They serve traditional Mexican cuisine with unique flavors and recipes. The menu includes tacos, burritos, and quesadillas.
Updated June 2nd, 2022