Top 12 Restaurants For Mexican Food In Jersey City
Jersey City serves some very authentic cuisines, which include some of the most delicious Mexican food spots. Whether you are looking for tacos or a flavor-packed burrito, Jersey City will not disappoint. From traditional taquerias to mold-breaking Mexican-inspired eateries, finding a taste of Mexico in Jersey City is easier.
Taqueria Downtown
345 Grove Street, NJ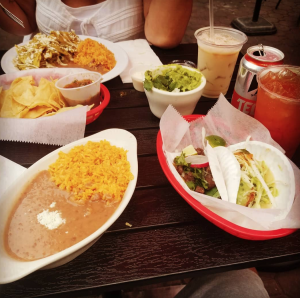 Are you looking for delicious tacos in Jersey City? Check out Taqueria in downtown Jersey City. Rather than judging the restaurant by the way it looks, judge by the line you will see most evenings outside of its doors. The inside and the outside can be crowded, but take this as a sign of food quality; it's worth bearing with the crowd. If you want delicious food reasonably priced, make this your next outdoor dining adventure in Jersey City. They also have some fantastic margaritas to go with it but prepare to be waiting in line for a bit on the weekends. 
Gringo's Tacos
12 Coles St, Jersey City, NJ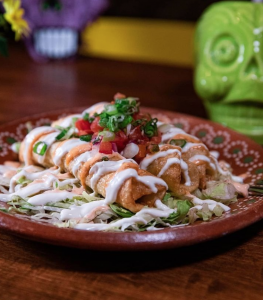 Gringo's Tacos is inspired by the fusion of ancient techniques and modern dining sensibility. It's here where the best of Mexican and American cuisines become one to provide unique tastes unavailable anywhere else. Through the collaboration of these shared culinary cultures, they've crafted an unforgettable experience of diverse flavors through relatable food and cocktails. They have many options, like tacos, empanadas, flautas, enchiladas, and much more. For summer, they have a spacious outdoor seating area, and there's more than enough room inside as well.
Los Cuernos 
499 Washington Blvd, Jersey City, NJ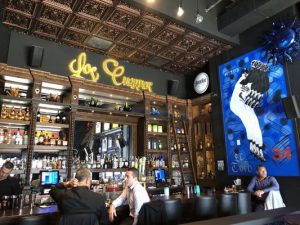 The Mexican food scene grew in Jersey City this year. Los Cuernos was another one of those restaurants added to the list in 2019. The new restaurant comes from Andrea and Phil Barraza, who own Taqueria Downtown. This spot is serving up some delicious Mexican food and your favorites. From street tacos, and steak to burritos, they have it all. Also, their margaritas are too yummy to pass up. It is located in the heart of Newport near the waterfront.
Taqueria Mi Mariachi
213 Sip Avenue, Jersey City
This is a hidden gem. It is located in the Journal Square neighborhood and is close to the JSQ PATH station. Taqueria Mi Mariachi makes classic authentic dishes like tacos dorados, chilaquiles, tamales, fajitas, and lots more. Additionally, they also offer catering.
Tacoria
24-26 Erie Street, Jersey City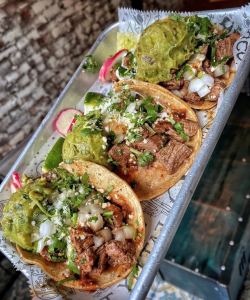 Tacoria is a New Brunswick-based restaurant specializing in Mexican street food, offering a mix of tacos, burritos, quesadillas, and more. It is a fast-casual eatery located right across Tarico in downtown Jersey City. If you want so some delicious tacos, stop by! This is a BYOB spot.
Taqueria Viva Mexico Kitchen Café
133 Morris Street, Jersey City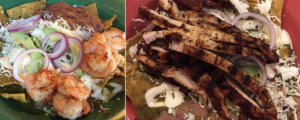 Taqueria Viva Mexico Kitchen Cafe offers delicious dining, takeout, and delivery to Jersey City. They are a cornerstone in the Jersey City community and have been recognized for their outstanding Mexican cuisine, excellent service, and friendly staff. In addition, their Mexican restaurant is known for its modern interpretation of classic dishes and insistence on only using high-quality fresh ingredients.
Mezcal Kitchen Jersey City
665 Newark Ave, Jersey City, NJ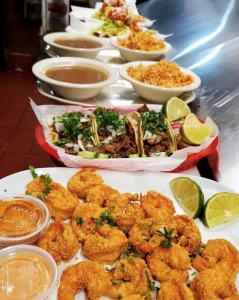 Mezcal Kitchen is a must-try when it comes to Mexican food. They have it all, from tacos, and burritos to delicious fish mains. The owner of Mezcal Kitchen grew up in Mexico City and wanted to bring a piece of it here. This fun spot not only has fantastic food, great drinks, and a DJ, but they also have mariachi.
Orale
341 Grove St, Jersey City, NJ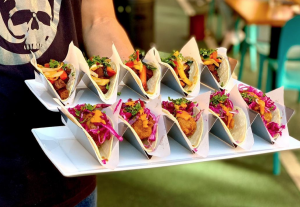 Orale is a fun and unique space as you enter from downtown Jersey City to enjoy authentic Mexican cuisine with a bar with some of the best-handcrafted cocktails. On weekends, enjoy their $6 happy hour brunch. Orale has some of the best Mexican food in Jersey City and some vegan tacos.
Tacos Victoria
324 1/2 7th St, Jersey City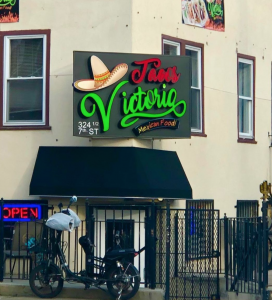 At Tacos Victoria, they do their best to make you feel at home and will strive to serve you the best, most authentic Mexican food you've ever tasted.  Tacos Victoria specializes in the freshest, most authentic Mexican food around. They serve lunch and dinner. They have a menu with lots of options from Mexican quesadillas, flautas, nachos rancheros, and a delcious tres leches.
Los Tres Chilitos
456 Central Ave, Jersey City