Best Places for Tropical Drinks in Jersey City
Welcome to Jersey City, a vibrant city with a thriving food and drink scene that caters to all tastes and preferences. In recent years, one particular trend has been taking the city by storm: tropical drinks. These delightful concoctions have become increasingly popular among locals and visitors with their refreshing flavors and exotic ingredients. As the desire to sip on tropical libations grows, so does the need to uncover the best places for tropical drinks in Jersey City. Whether you're seeking a beachy escape, a fusion of global flavors, or an elevated mixology experience, this post will guide you through the city's top spots to indulge in the paradise of tropical drinks. So, explore the best Places for Tropical Drinks in Jersey City and embark on a flavorful journey.
Island Vibes at Surf City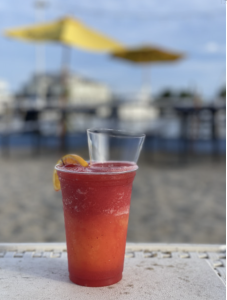 Situated on the waterfront, Surf City provides a beachfront atmosphere that captures the essence of a tropical paradise right in Jersey City. The expansive outdoor seating area offers ample space for guests to bask in the sun and enjoy the cool ocean breeze. Regarding tropical drinks, Surf City boasts a remarkable selection that caters to all preferences. From beloved classics like the Mojito and Margarita to innovative concoctions like the Watermelon Basil Smash and Mango Tango, every palate has a tropical drink. Additionally, Surf City often features specials and happy hour deals on their tropical drinks, making it even more enticing for visitors seeking a refreshing libation. Sipping on a tropical drink at Surf City while taking in the breathtaking view of the Manhattan skyline creates an unparalleled experience combining a beach vacation and the best city life.
Taste of the Caribbean at Porta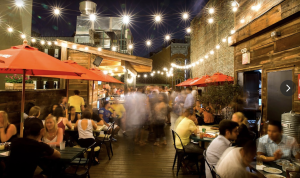 Porta exudes a vibrant, lively atmosphere that transports visitors to the sun-soaked Caribbean. It's one of the more popular places for tropical drinks in Jersey City. The moment you step inside, you're greeted by colorful decor, lively music, and a contagious energy that sets the stage for a memorable experience. The tropical drink menu at Porta is a true delight, with an array of rum-based cocktails and refreshing concoctions that capture the essence of the islands. They infuse Caribbean-inspired twists and flavors into their tropical drinks, such as the Pineapple Rum Punch or the Mango Mojito. Porta often hosts live music performances and themed events to enhance the tropical vibe further, ensuring a lively and unforgettable experience for all who visit.
Essence of the Tropics at Rumba Cubana
If you're searching for a must-visit place for tropical drinks in Jersey City, look no further than Rumba Cubana. This vibrant and lively establishment captures the essence of the tropics with its energetic atmosphere and captivating Latin music. Rumba Cubana boasts an extensive menu of tropical cocktails that will transport your taste buds to paradise. Their offerings cater to every palate, from classic favorites like piña coladas and mojitos to innovative creations with a Latin twist. What sets this place apart is their skilled mixologists craft each drink precisely, using only the freshest ingredients. Their dedication to authenticity ensures that every sip is a burst of tropical flavors. That makes it a true gem for tropical drink enthusiasts in Jersey City.
Exploration of Flavors at The Archer
The Archer stands out as a top destination for tropical drinks. Step into this establishment and be enchanted by its unique ambiance and decor. It will effortlessly transport you to a lush paradise. The Archer boasts a diverse selection of tropical cocktails inspired by different regions, ensuring a delightful exploration of flavors. What sets them apart is their commitment to using only fresh and high-quality ingredients, resulting in refreshing and exquisite drinks. Whether you're craving a classic Tiki cocktail or a modern tropical creation, The Archer promises a tropical drink experience that is unparalleled anywhere.
Exotic Elixirs at Cellar 335
Step into Cellar 335 and be transported to a speakeasy-style setting with a tropical twist. This hidden gem combines the allure of a hidden bar with the vibrancy of a tropical paradise. Cellar335's menu of inventive tropical drinks is a true delight for the adventurous palate. They expertly incorporate unexpected ingredients and flavors, such as chili-infused tequila or dragon fruit puree, creating a harmonious blend of exotic elixirs. What truly sets their drinks apart is the presentation and garnishing techniques. From flaming garnishes to elaborate fruit carvings, each drink is a visual masterpiece that adds to the overall experience. As you sip on these extraordinary drinks, you'll be immersed in a lively atmosphere that is filled with energy, making Cellar335 a must-visit destination for those seeking an unforgettable tropical drink experience.
Conclusion
In conclusion, Jersey City offers an array of top-notch establishments where you can delight in tropical drinks that transport you to faraway paradises. From the beachfront oasis of Surf City and the speakeasy-style of Cellar 335, each place has its own vibrant atmosphere and unique offerings. So, why not venture out and experience the tropical vibes these venues offer? Indulge in the exotic elixirs and savor the moments. Share your favorite tropical drink experiences in Jersey City, and let the world know about the amazing places for tropical drinks in Jersey City.
Meta Description: Discover the top places for tropical drinks in Jersey City. This guide highlights the best spots to sip on refreshing and exotic beverages.
Author's Bio: Angie Sims
Angie Sims used to work in the traveling industry for 6 years, and now she works in the relocation industry. For the last 3 years, she has been specializing in helping people with their domestic and international relocation. She is also a full-time mom and a part-time blog writer. From her own experiences, she writes about traveling and moving with children on her blog.
Updated July 26, 2023