Franklin High School In Jersey City
JCFamilies representative asked the Franklin High School's administration to answer a few questions we received from a few local parents who have their kids in middle school and are getting ready for high school soon. Hope these can help you to decide about your decision for high school; please submit you have any questions for them to [email protected]
What are some of the changes/reforms in education that you have imbibed (in terms of ideas and knowledge) in Franklin School?
Franklin's curriculum synergizes historically successful teaching and learning practices with a forward-thinking approach to academic, interpersonal, and career-specific skill development. Our hands-on learning model, reflecting the move away from teacher-driven lectures and "skill and drill" learning, affords students the time and space to explore topics and subjects that they're already passionate about, as well as those that may spark their interest anew, through micro-courses and electives. In addition to our rigorous core curriculum and AP classes, these courses are taught by experts in their field and cultivate industry-specific skills essential for graduates to succeed in the most dynamic and competitive employment arenas.
Can you elaborate on the "forward-thinking approach"?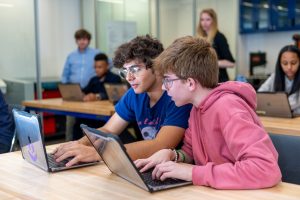 Our forward-thinking approach can be seen in three programs spanning all four high school years. First, the Skills Curriculum promotes individual and critical thinking skills, preparing students to be global citizens and agents of positive change. We utilize interactive teaching and learning strategies grounded in best practices and the latest research to design classes focusing on problem-solving and engaging projects.
Through our Academic Care Program, we provide all students with mentoring, social and emotional support, and sustained academic skill development regardless of where they are along their education continuum. We develop a personalized educational pathway to harness students' strengths, achieve their goals, and nurture their passions. This also ensures that parents are regularly informed about the holistic development of their children.
Finally, through Capstone Continuum workshops, students are exposed continually to increasing levels of research, self-management, critical writing, and presentation skills required to complete a project of their choosing as seniors and to prepare them for college and beyond.
Please tell us about the philosophy and thought that went into creating the Maker Curriculum. Will it evolve going further to accommodate newer academic trends and vocational requirements?
Our maker curriculum reflects Franklin's hands-on educational experiences — student-centered learning by doing — designed to be unique, exciting, and purposeful. We nurture curiosity and encourage students to question and create, solve problems, collaborate, and make something themselves. We know that students are resourceful in response to large and small challenges, and we foster their creative confidence in Franklin's state-of-the-art Fab Lab, home of design and tech courses. Here we have various design and fabrication tools, machines, and materials. In the Fab Lab, students apply their project-based learning, develop new skills, and can create whatever they want.
The Fab Lab is also where our incubator — Franklin Student Ventures — is based. Students bring their ideas for businesses and nonprofits to fruition here, equipping them with entrepreneurial skills. These are invaluable as technology and the working world change at a furious pace. We must prepare students now for the jobs of the future and have focused on creating learning environments like our Fab Lab, where they can develop the necessary knowledge and competencies, including digital and technical fluency, as well as flexibility. We will continue to evolve, as remaining on the cutting edge of education is an integral part of Franklin's DNA.
Can you tell us more about the extracurriculars and activities beyond academics at Franklin?
Franklin's approach engages students actively in their learning within and beyond the classroom. Athletics and after-school clubs are an important extension of the school day and culture, providing students with myriad opportunities to develop their interests and talents ― and to discover new ones. Extra-curriculars ― ranging from robotics, fashion, and viral media to investment, and environment and sustainability clubs ― reinforce what students learn in class and extend their skill development.
Tell us more about the faculty at the school that will be mentoring and teaching these students.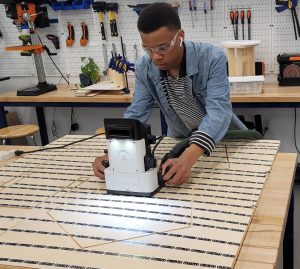 Our faculty is comprised of passionate expert educators, mentors, and coaches, who are all dedicated to creating the best and most innovative learning experiences that we can offer students. Faculty regularly participate in academic discourse about how we can enhance or modify learning opportunities for students to stay on the cutting edge.
Can you tell us more about what's happening in the incubator program? For example, can you share the prototypes the students have created so far?
We are very excited by the work underway in our incubator, Franklin Student Ventures. Every student has the opportunity to develop their passion project here. One example is DoGooders, which freshman Ruhie conceived as an online platform to enable students to "do good" for their communities and make a difference by connecting them with volunteer opportunities that match their interests. DoGooders has grown to include the participation of several of Ruhie's classmates, who collaborated on a service project to support St. Lucy's Homeless Shelter in Jersey City.
Another example is a project by eleventh grader Shaurya, who fabricates custom computer keyboards by designing circuit boards, writing the software, and manufacturing all the parts in our Fab Lab. Shaurya plans to turn this into a business selling bespoke custom keyboard kits. Finally, freshman Emre is designing a glove that controls a drone with the movement of his hand.
High school is considered a crucial point in academic and personal life. So, apart from the curriculum, what else can a student gain in terms of values, attitude, and outlook when they enroll at Franklin School that will set them on the right path for life ahead?
At Franklin, we strive to empower students to have agency over their future. We enable them to pursue their passions at a time in their lives when greater independence and decision-making take root and should be encouraged. The first thing every student does is work with our team of expert educators and college guidance counselors to create a personalized four-year plan to reach their goals and fulfill their dreams, setting them on the right path for life ahead.
Through our incubator, students develop creative confidence, along with the problem-solving skills, adaptability, and resilience of entrepreneurs and the mindset of innovators to question, create, and thrive. When our students leave Franklin, they will not only have a top-notch education, but they will also have the ability to take an idea of their own and turn it into a reality. Graduates will be prepared to carve their paths with the attitude and foundational competencies needed to succeed in the ever-changing working world.
As a new high school in Jersey City, how do you aim to position yourself here?
We are committed to educating innovators who are socially responsible global leaders who can help make a difference. Our focus on creating a culture of compassion, empathy, and understanding is a learned and a lived experience at Franklin. We love the diversity of Jersey City and the surrounding regions. We want our student body to embrace it and find ways to engage with and enhance community connections through our service and action programs. As a school, we model this value for students, whom we have already seen eager to launch their ideas for giving back.
July 10th, 2023