Meet An Exciting New High School in Jersey City: Franklin School High School in Jersey City
Located at 88 Town Square Place, the new Franklin School sits on Jersey City's waterfront, right outside the Newport PATH station — just a stop away from downtown Manhattan. Franklin's windows ask passersby, "Are you ready to reimagine high school?" The School certainly is, and they're bringing a cutting-edge approach to education. Franklin combines world-class academics with real-world readiness to educate students to become innovators and globally responsible leaders.
Opening in the fall, Franklin has sparked lots of buzz and interest in the community and is still accepting applications. 
Franklin is a new school with historical roots. Tell us about that.
Franklin dates back to 1872 when its predecessor school was founded in Manhattan. Today's Franklin is affiliated with Dwight Schools around the world. Both Franklin and Dwight are spearheaded by Vice-Chancellor Blake Spahn and Chancellor Stephen Spahn. Stephen Spahn, as Chancellor of Dwight School in New York, is distinguished as the longest-serving head of an independent school in the U.S. The next generation of Franklin students will chart their course, inspired by visionary educators and propelled by their curiosity and passions.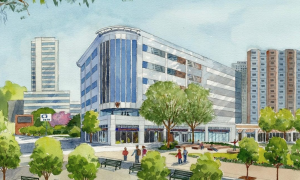 What kind of student is Franklin School looking for?
Every Franklin student — indeed, all students — is a unique individual with diverse interests, talents, cultures, and backgrounds. So there is no one type of student. We do want our students to have great character and be enthusiastic learners. Our curriculum is designed for students who are laser-focused on the future and eager to make a difference in the world. 
What sets Franklin apart?
From the very beginning, we will get to know each student to develop a personalized educational pathway to harness their strengths, help them achieve their academic goals, and support their passions while guiding students to select the optimal courses for college and career readiness. The Franklin educational experience is designed to be unique, exciting, and purposeful.
Our curriculum will cultivate a culture of learning to nurture curiosity and encourage students to question and create. Through an extensive array of micro-courses and electives, students will be introduced to industry leaders, new ways of learning, and incubators of creativity. These offerings will also work synergistically with our rigorous core curriculum to carve a path to success in college and beyond while also allowing for flexibility to pivot to match students' growing curiosity and progress. 
Additionally, our innovative, hands-on curriculum includes design and technology classes in a state-of-the-art maker space, as well as numerous opportunities for students to apply what they learn in class to internships and community-based programs. Additionally, in Franklin's "Shark Tank"-like an incubator, every student will develop their ideas, guided by mentors through the design thinking process, into a product, business, or service project.
In addition to AP and honors classes, the electives and micro-courses personalized to the goals and passions of students mentioned above range from blockchain design, finance, biotechnology, and artificial intelligence and machine learning, to journalism, legal concepts, fashion design, and an introduction to anatomy and physiology, with many other choices across industries.
How many students will be in a class?
Depending on the subject, a typical class will have approximately 14-16 students. This small size will facilitate personalized learning. In addition, we will provide students with mentoring, social and emotional support, and sustained academic skills development wherever they are along their education continuum. 
Do you offer financial assistance and scholarships?
Franklin is committed to supporting students who wish to have an independent school education regardless of their family's financial circumstances. And as a central part of our commitment to diversity, equity, and inclusion, we strive to enroll a qualified student body with diverse talents, interests, cultures, and backgrounds. Financial aid recipients must reapply each year, and our award decisions are based on demonstrated need. Scholarships are also available for eligible students. 
Franklin is still accepting applications for the 2022-23 school year. Visit their website to apply or register for upcoming Open Houses and other events to learn more and meet the Franklin team.