Hidden Gems Of Jersey City You Should Explore
In the past couple of years, we've noticed a trend in the making just across the Hudson River. That's right; we're talking about all the newcomers flocking to Jersey City. There's a good reason why that is so. The closeness of NYC, many fun activities, and the not-small-but-not-big-town feel Jersey City offers its residents are only some of the many advantages living in this city has to offer. Also, it's not just the residents that enjoy it. A number of tourists each year visit this beautiful NJ town. Wondering what else's so special about this place? In the article you'll find below these lines, we'll show you the hidden gems of Jersey City everyone should explore. Stay tuned!
The Central Railroad of New Jersey Terminal
Located on the banks of the Hudson River, just across Manhattan, lies a structure sometimes called the most accessible urban ruin in and around the NYC area. If you're a fan of urban exploration or post-human world tales, this one might be just the thing for you. Since 1967, there have been no trains passing through it. Also, you can see nature taking over where humans left, and photographers and artists of all kinds are well-known to have a good time visiting this place, as it can really inspire some interesting thoughts.
Ellis Island Immigrant Hospital
We've all heard stories about Ellis Island. There isn't a place more associated with 20th-century immigration to the USA than this one. If you wanted in, you had to go through it. Many of us have relatives that entered the country via Ellis Island. The Ellis Island Immigrant Hospital was the first public hospital in the US, believe it or not. It was shut down in 1930 and stayed abandoned to this day. There are tours organized by Save Ellis Island, an organization dedicated to taking care of this historical toponym. Check their website in order to see how to book a date.
The White Manna
The White Manna was a burger joint originally located in Queens. After the 1939 World's Fair in NYC was over, it was transferred to Jersey City, where it stands today as a reminder of this fantastic event that took place at an unfortunate historical moment. Still, if you're into the whole retro-futuristic thing, this is the place to visit while staying in Jersey City.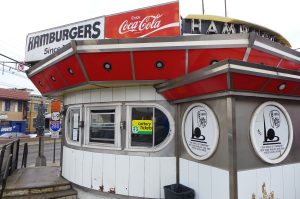 The Colgate clock
As far as great historical monuments in Jersey City go, this one's not so talked about (even though you basically can't miss it). Yup, it's the Colgate clock, one of the largest of its kind (according to some research, it holds the ninth place on the list of the world's largest clocks). The original one was built in 1908, only to be replaced in 1924 by the clock we see today. There's no need to emphasize the fact that this monument can be an excellent background for a good family picture.
Harsimus Cemetery
This hidden gem of NJ is one of the oldest cemeteries in the state still in use. Unfortunately, it was neglected for a good period until, in 2008, a Board of Trustees was established to bring this cemetery back to its former glory. Each summer, goats (we kid you not) are brought over to help control the cemetery's weed population. The cemetery has a specific atmosphere to it. Of course, all cemeteries do, and that's nothing new. Still, Harsimus Cemetary stands out for some reason. You'll have to experience it yourself!
Infinity Chamber
Are there any extreme sports enthusiasts amongst our readers? If there are, they'll be very interested to know that Jersey City's Infinity Chamber is the first suspended climbing space of its kind. It's composed of 64 platforms that resemble petals, encased in 19 miles (!) of wire mesh (threaded by human hands) dangling 35 ft above the floor. The Infinity Chamber possesses no reach bigger than 20 inches. Also, climbers have minimal room for their heads. These two things make you crawl/crouch your way through the Chamber. This also completely eliminates the chances of you falling.
If you're a climbing fanatic from across the river, this might motivate you to leave NYC and make this city your home. We've seen many people move from the Big Apple to NJ in pursuit of their climbing dreams.
RPM Raceway
Another cool Jersey City feature for thrill-seekers and adrenaline-junkies, RPM Raceway is a great place to spend a Sunday afternoon with your family. You'll get to enjoy eco-friendly all-electric, all-American, indoor go-kart racing and other entertaining additions RPM Raceway has to offer, not to mention that the pace is entirely safe. Everyone's invited, regardless of whether they've ever tried go-karts. The raceway was created for racing enthusiasts of all levels and skills. This one really holds a special place on the list of hidden gems of Jersey City.
So, there you have it, folks! If you were planning to visit (or even move to) here, now you know some hidden gems of Jersey City. As you've had a chance to see, there's much to do and much to see in Jersey City. There's a good chance you'll never have to think thoroughly about where you want to go or what you want to visit during the weekend.
About the Writer:
Angie Sims used to work in the traveling industry for six years, and her current job in the relocation industry. For the last three years, she has helped many people with their domestic and international relocation. She is also a full-time mom and a part-time content writer. She writes about traveling and moving with children using her own experiences.