Top European-style Restaurants and Cafes in Jersey City
There are plenty of reasons to visit beautiful Jersey City. Its rich and diverse culture, fantastic nightlife, and proximity to NYC make it an excellent place to raise a family. However, Jersey City's cuisine is probably the best thing about the place. Numerous restaurants make Jersey City a foodie paradise. If you are a fan of European food, you will find plenty of great European-style restaurants and cafes in Jersey City, offering French, Italian, British, and Greek cuisine. You will love the unique style and diversity of these fantastic restaurants. JCFamilies has created a list of some of the finest dining places you must see in Jersey City.
Some of the best European-Style Restaurants and Cafes in Jersey City
If you have never been to Jersey City, you probably need suggestions about the best places to eat European food. After a long moving day, you should relax in a cozy restaurant or drink a nice cup of hot chocolate in a cafe. And while your movers can help you settle in with ease and assist you with unpacking after an overseas move, we are sure they cannot provide as many interesting facts about the top places to eat as we can. Therefore, here are some of the best restaurants and cafes worth visiting:
Battello

Satis Bistro

Bistro La Source

Mishka Soho Restaurant

Cafe Esme

Botany Lounge
BATTELLO
There are many Italian restaurants in Jersey City, but Battello is one of a kind. Offering some of the best seafood in the world, this Italian classic will take your breath away. The food is flawlessly arranged on the plate, complemented by a fine glass of wine, and the atmosphere is cozy and welcoming. Battello is a great spot for small family gatherings, romantic meetings, and large celebrations such as weddings and birthdays. If you want to taste one of the best European wines, make a reservation beforehand, especially during the holidays and romantic times of the year.
SATIS BISTRO
There's no better place to dine with an oaky glass of wine, a decadent charcuterie board, and your bestie. Satis Bistro is still Jersey City's finest European-style cafe that attracts many visitors year-round. This is where you can relax with a glass of wine in hand and some innovative cuisine on the menu. Taste some of the most delicious desserts, such as Pistachio Cheesecake, Chocolate Lava Cake, and Ricotta and Berry Creme Brulee. Enjoy an eclectic European meal, along with Spanish, French, and Italian cuisine, while at the same time glamping around Jersey City with your family and friends. 
BISTRO LA SOURCE
Another great place for European-style lovers is Bistro La Source. This famous French/Belgium restaurant offers classic French broths, some with Madras curry and some with a Thai coconut bath. If you want to experience Paris in Jersey City, this is the right place. You can order a cheese board with or without charcuterie at an affordable price. Add a nice glass of wine to this, and voila! You get a perfect atmosphere combined with simple yet traditional food. The best thing about the place is that you can order online and eat fresh mussels every Monday.
CAFE ESME IS ONE OF THE BEST EUROPEAN-STYLE RESTAURANTS AND CAFES 
Cafe Esme is a trendy spot and one of the widely-known cafes in Jersey City, inspired by the French style. It is owned by a Romanian woman who wanted to make her own "Little Paris" in an American city. You will love this charming French cafe and its chick Parisian style. Esme is popular for its strong coffee, great tea selection, including Rishi, and fresh-squeezed juices made on the spot. Moreover, the best feature of the place is that nothing is pre-made. You can rest assured that your snack or drink did not stay overnight but was made from scratch.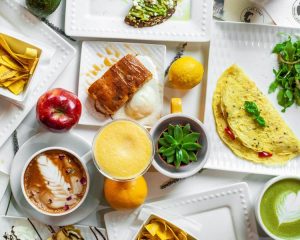 Around Jersey City: 
MISHKA SOHO RESTAURANT
This is a restaurant that you will gladly go to if you like Eastern European food. The staff is welcoming and friendly, speaking with an Eastern European accent. There is food for everyone here, including traditional cabbage rolls, freshly baked bread, wild mushroom soup, and beef stroganoff. The atmosphere is enjoyable, with a nice interior and a romantic feel. You can listen to live music while enjoying your Sunday afternoon tea. If you are visiting this winter, warm yourself with delicious hot chocolate while at the same time doing interesting winter activities in Jersey City.
BOTANY LOUNGE CLIFTON, NJ
Botany Lounge is a Balkan restaurant combining traditional and modern styles. If you want to try something new, don't miss the chance to visit this place. You can dine in or take out and make a reservation in advance. Order delicious pasta, sandwiches, great desserts, and other meals with fresh ingredients. The food is nicely arranged on the plate, with a careful selection of fruits and vegetables to complement the already great style. Therefore, Botany Lounge is a good place to stop if you wish to try something different in Jersey City. You will undoubtedly leave the place filled with great memories and the desire to return.
Jersey City is very famous, and you will never get bored here. Apart from so many other things to do, visiting some of the finest European-style restaurants and cafes will bring a lot of excitement and fun. Whether you are a traditional cuisine fan or prefer something modern, Jersey City has everything. You will not remain indifferent to anything from delicious pasta, sandwiches, and seafood to traditional European meals. Therefore, don't hesitate to start this adventure; get ready and visit one of these restaurants today!
About the author: Angie Sims
Angie Sims used to work in the traveling industry for 6 years, and now she works in the relocation industry. For the last 3 years, she has been specializing in helping people with their domestic and international relocation. She is also a full-time mom and a part-time blog writer. From her own experiences, she writes about traveling and moving with children on her blog.