La Festa Italiana In Jersey City:
La Festa Italiana Celebrates its 120th Year
A community celebration like no other, La Festa Italiana celebrates its 120th year with five fun-filled nights of fabulous foods, delicious drinks, and outstanding live bands to dance the night away.
The fun begins Wednesday, August 9, and runs through Sunday, August 13, where, from 5 pm-11 pm, the neighborhood surrounding Holy Rosary Church on 6th & Brunswick Streets becomes an exciting family and friends block party. Every evening, festival goers will choose from local restaurants and food trucks serving delicious street foods; neighborhood pubs pouring frothy brews, and crowd-pleasing cover bands blasting the hottest hits where the sidewalk becomes the dance floor.
"I run into so many people weekly that stop and ask "When is La Festa?!" co-chairman and Emcee Nick Grillo says. "People love this event. They plan days off, vacations, and even weddings around these 5 days. It's so wonderful to still see so much excitement around this century-old event in this ever-changing city."
Live Bands
This year's entertainment roster is a Who's Who of musical talent that plays the top hits from Bruno Mars to Bruce Springsteen, with a new band performing every night from 7-11 pm. The B-STREET BAND, a Springsteen Tribute Band, kicks off La Festa Italiana on Wednesday night, performing the best of The Boss. Performing Thursday, Aug 10: THE COUNTERFEITERS. Friday, Aug 11: TOGA PARTY BAND. Saturday, Aug 12: THE CAMEOS; and, Closing Night, Sun, Aug 13: TOTAL SOUL, the 9-piece rock band that plays dance hits like 'Shout' and 'Proud Mary'. Band leader Jeff Dieterle says. "We've been performing La Festa since 2010, and it has become the highlight of Total Soul's summer. All the members of the band look forward to La Festa. Everybody from the church treats us great. The whole community comes together, and we love being a part of that."

Delicious Foods
Back from last year's success, YOUR SISTERS BALLS food truck will serve homemade meatballs and sauce. It wouldn't be La Festa without an authentic Italian sausage and peppers on a hard roll, and DELLANO'S is again returning to bring festival goers those traditional Italian sandwiches. The KREME BAR plans to serve mozzareppas, and MAGLIONE'S ITALIAN ICES, and the MILK & CREAM BAR will offer cool summer treats. TROPICAL ISLANDS, with three locations, will sell smoothies, waffles, and crepes to sweeten things, and WHITE STAR'S three bars with craft beers & cocktails promise to cool off the crowds. PATI BROS' wood-fired pizzas and mozzarella sticks will be a big hit at La Festa, along with HOBOKEN CUCINA'S Italian food by Maria Kling, who will serve up her mouth-watering Fried Raviolis, Meatballs, Eggplant Stackers, and Mozzarella & Roasted Peppers sandwiches. "I love La Festa," Kling says, "and I love serving my food to the people who go to La Festa."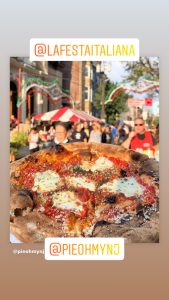 Also serving delicious wood-fired pizzas, PIE OH MY returns once again. New this year is MARIACHI GRILL, with a menu of Mexican Tacos and Nachos. "My friend Tony, a Jersey City police officer, told me about La Festa Italiana," owner Rigo Alvarez says. "He said, 'Try it. Everybody's nice there."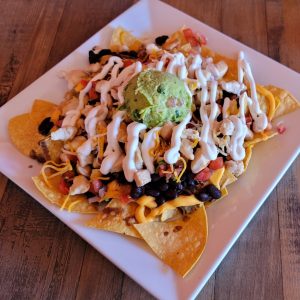 Highlights of La Festa are the Italian specialties handmade by church parishioners, like the Zeppole created from a secret recipe and dusted with powdered sugar. Homemade Rice Balls (Arancini) drizzled with tomato gravy always wow the crowds. At Caffe Italiano behind Holy Rosary, our 'Church Ladies' will sell freshly made cakes, cannoli, pies, coffee and tea. There's plenty of family seating in the back, along with the popular Money Wheel and DJ CARLY, who will provide the backyard's musical soundtrack. Another DJ will rock Brunswick Street with nonstop tunes.
This year marks the 3rd summer, O'Leary's Publik House on Garfield Avenue hosts the Wine & Peaches and Limoncello booth. "We love doing it," owner and Jersey City firefighter Kevin Hennessey says. "It's a great neighborhood and it's fun getting to know everybody. Last year was phenomenal. We're hoping for the same great weather. It's classic Jersey City and a classic Italian event."
Sponsors
As a 501© (3) entity, La Festa relies on financial support from our very generous Presenting Sponsor as well as our Gold, Silver and Diamond Sponsors. This year's Presenting Sponsor is Ziggy's Auto Body of Jersey City. Our Gold Sponsors are Murray Paving and Panepinto Properties. Silver Sponsors include Inserra Shop Rite, Cinelease Studios, the Dante Aleghieri Society, Johnston Communications, Key Food Fresh & Natural, Silverman, Children's Cancer Society of America and Arco Construction. Diamond Sponsors are Saputo, Sorrentino Electric, and Grillo Funeral Services.
Feast Day Masses and Procession
On August 13, 15, & 16, Holy Rosary Church will celebrate the Assumption and St. Rocco Feast Days. On Sunday, August 13, at 11:30 am, the Feast Day Mass venerating Maria SS. Dell 'Assunta and San Rocco will be celebrated. Holy Rosary's traditional Street Procession will follow the Mass, with statues of Maria SS. Dell 'Assunta and San Rocco carried through the neighborhood as a blessing to Downtown Jersey City. The Clarity Festival Band will join us once again to play traditional Italian melodies along the Procession route.
Faithful are invited to return on Tuesday, August 15, at 11 am for the celebration of the Feast of the Assumption of the Blessed Virgin Mary, and again on Wednesday, August 16, as we honor the Feast of San Rocco with a Healing Mass. Community fellowship and unity are a highlight of La Festa Italiana, the Rev. Pastor Jerzy "Jurek" R. Zaslona says.
"Every summer our parishioners' families and friends and those visiting Jersey City come together in both a community and spiritual unity," Fr. Jurek says. "Holy Rosary Church has always been a church of inclusivity – we welcome everyone – and La Festa gives us the opportunity to celebrate that inclusiveness with lively music, delicious food, and meaningful fellowship."
Founded in 1885, Holy Rosary Church is the first Italian Church in New Jersey, and La Festa Italiana is Holy Rosary's special way of saying thank you to its parishioners and neighbors. The Church will be open for visitors to see up close the magnificent beauty that is Holy Rosary Church. Visitors are invited to offer a 7-day Memorial Candle before San Rocco or the Blessed Mother in honor of or in memory of their loved ones. Donation is $15 per candle, and candles will be available in the church vestibule every evening from 5-to-9 pm.
For more information, please call us at (201) 795-0120 or (201) 776-9222, or visit our website: www.lafestajc.com; our Facebook page: www.Facebook.com/lafestaitalianajc; and our Instagram page, @lafestaitalianajc.