Events Happening This Week/Weekend In Jersey City
Look no further if you want to have a good time this weekend. Jersey City offers a diverse range of activities and sights to see, guaranteeing that you have a great day. There's something for everyone. We've put up a selection of local events that you might like.
Featured Image: JerseyPhotograher
Ongoing Events
Artist + Maker Market Hosted by HDSID
Wednesdays, Fridays and Saturdays
Artist and Maker Market is every Friday, Saturday and Wednesday. This event will be held at the Grove Street Path Plaza and includes an open-air bazaar featuring locally created fine art, premium hand-crafted goods and more. More information here.
Groove On Grove 
Every Wednesday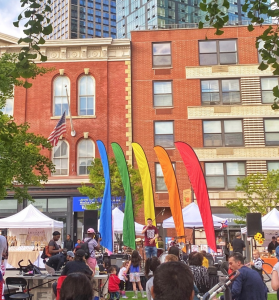 Hands up if you're ready to Groove! This event is FREE! Join HDSID for homegrown live music at the Grove PATH Plaza every Wednesday. More information here.
New Moms Outdoor Meet-up at Cafe Esme
Every Wednesday
Hi Mommies,
JCFamilies and Jersey City Moms are organizing weekly New Moms Outdoor Meet-up At Cafe Esme.
Come out to have coffee and meet with other moms at Cafe Esme's outdoor patio. They have a beautiful patio in the back to enjoy the weather and connect with others moms. The meetup will be every Wednesday from 10:30 am-11:30 am. Babies and kids are welcome to join too!
Date and time: Every Wednesday, 10:30-11:30 am
Location: Cafe Esme, 485 Marin Blvd
City/Town: Jersey City, NJ
Week/Weekend Events