Zoos and Aquariums Near Jersey City
Summer is here we know how important educational and fun activities are for kids and parents which is why we are creating this helpful guide for parents about zoos and aquariums. Step out today and treat your kiddos to a day filled with adventure at a local zoo or aquarium! All of these zoos and aquariums are taking proper measures for safety reasons due to coronavirus including wearing masks and social distancing. Some of them are offering drive-thru options as well! Most of them require you to purchase tickets in advance so make sure to check their schedule on websites before you visit.
Please make sure to check each business's website about reservations and openings before you visit.
 Zoos
707 U.S. 9, North, NJ 08210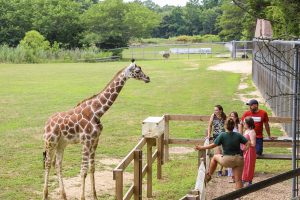 Cape May County Zoo is now open! What's better than a trip to the zoo? Maybe free admission? Well, Cape May County Zoo meets the criteria! You can now enjoy free admission and parking when you visit this zoo. As a park visitor, you and your family are able to observe almost 600 unique animals over 80 acres of luscious land. There is a range of programs that teach visitors about the different animals and the preservation efforts being taken to encourage their survival in the wild. There are a ton of different activities here besides visiting animals such as their carousel, rock-climbing, and a fun train ride!
560 Northfield Ave, West Orange, NJ 07052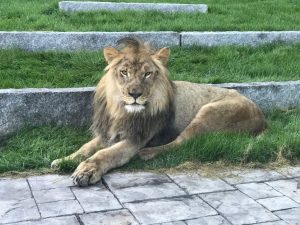 Turtleback Zoo is open daily from 10am-4pm! It is around 30 minutes away from Jersey City and is one of the oldest zoos in the area. They are offering timed tickets right now if you would like to visit. Tickets are only valid for the date and time specified. You have a 30-minute time frame to enter the Zoo after the time specified on your ticket. Do not get in line to enter until we are within your time block. Read more here. The zoo features an amazing number of exhibits and also offers various events monthly and seasonally to keep visitors entertained and learning. Lions, bears, tigers and so much more is what you can find here.
1 Six Flags Blvd, Jackson Township, NJ 08527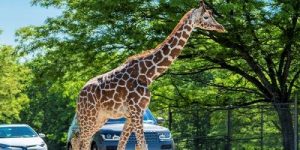 Six Flags Wild Safari Drive-Thru Adventure now open from the comfort of your own car! HOT TIP: Plan your visit on a weekday for the best reservation availability. You will have to make an online reservation before your visit of course. Six Flags Safari boasts 1,200 animals from all parts of the world. The drive itself takes you very close to the animals while being entertained and informed by guides the whole way through. Camp Aventura is the main stop on this excursion. It offers opportunities for different activities like ziplining and seeing exotic animals up close. This kind of trip is bound to be a great bonding experience for the whole family, regardless of age. You can read more about the precautions they are taking here.
89 Mt Pleasant Road, Columbian NJ

Want to take a wild wolf tour? Luckily, you can at Lakota Wolf Preserve. During the tour, you and the kids will also learn all about wolf habits, wolf packs, their interactions with humans, and so much more. This is truly an amazing experience to have with the whole family, making it one of the most places to visit in New Jersey this summer. They have received permission to start running tours again. However, they are limited to 50 people per tour and are only taking online reservations. Please do not show up without a confirmed reservation, as they will not be able to accommodate you.
218 County Road 519 Sussex, NJ 07461
Space Farms Zoo in Sussex, NJ is home to over 500 live wild animals. Explore the most popular zoo animals. Space Farms Zoo is home to many big cats: African lions, black leopards, South American jaguar, cougars, lynx, bobcats, and Bengal tigers. Space Farms has the largest private collection of North American animals in their natural surroundings, in the United States. You can buy your ticket online or at the door.
Aquariums
1 Riverside Dr, Camden, NJ 08103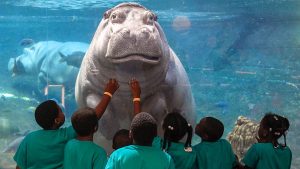 Adventure Aquarium is open! You can make reservations or purchase date/time-based tickets at adventureaquarium.com. Explore one-of-a-kind exhibits and over 15,000 aquatic animals, including the largest collection of sharks on the East Coast. Discover the underwater world like never before at this aquarium! There are a ton of other attractions for kids to enjoy!
300 Ocean Avenue, Point Pleasant Beach, NJ 08742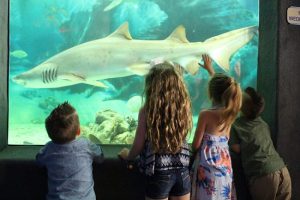 Right of the boardwalk is the aquatic oasis! Visit Jenkinson's Aquarium for exhibits such as Atlantic sharks, Pacific sharks, coral reefs, penguins, and seals, and the opportunity to get up close to animals from around the globe. Another attraction, the touch tank, allows visitors to touch live animals ranging from a sea star to a stingray! At the moment, they will be limiting the number of guests in the aquarium at one time. Tickets will be available for purchase at Guest Services. The line to enter the aquarium will begin at the front doors and extend toward the right. Masks are required. Read more here.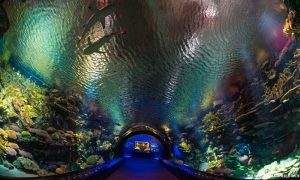 All visitors have to make reservations online. They are taking full precautions for safety during this time. You can read more here. The New York Aquarium is the oldest continually operating aquarium in the United States, located on the Riegelmann Boardwalk in Coney Island, Brooklyn, New York City.
101 Woodbridge Center Dr, Woodbridge Township, NJ 07095
SeaQuest Aquarium is now open to the public. They are open Monday-Sunday from 11am-7 pm. Masks ARE required for guests over the age of 2. Guests are encouraged to connect with animals and learn about their ecosystems through various hands-on activities which include hand-feeding sharks, stingrays, birds, and exotic animals. Adventurers in search of a more daring experience can enjoy walk-in aviaries, behind-the-scenes tours, feeding caiman alligators or snorkeling with reef sharks, stingrays and hundreds of tropical fish.
As more of the zoos and aquariums open up, we will update this list.