Fun activities to do on Governors Island for families in NYC
Hey Families! We know that families are always looking for new and fun exciting places to visit.  Governors Island New York is a 172-acre island in the heart of New York Harbor. It is a world unto itself, unique and full of promise. If you are looking to escape the daily city life without having to go too far, check out Governors Island New York. With a ton of exciting activities for the family, beautiful views, good food, and so much more, you can have a perfect weekend here. This blog covers so many Governors Island NYC Activities.
The great news is that Governors Island New York is open every day 7 am-6 pm. To ensure the health and safety of all visitors during this time, they have implemented new protocols including a new ticket reservation system to ensure social distancing on their ferries, requiring face coverings, enhanced cleaning, and more. Families are encouraged to take advantage of the Island's wide-open park spaces by engaging in passive recreation activities like biking, birding, and picnicking.
Please make sure to call and check their website before visiting as timings and activities can change on a daily basis. 
Fun activities to do At Governors Island NYC
Hammock Grove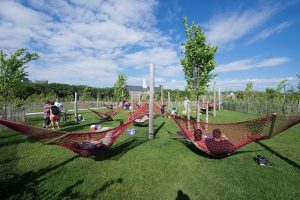 Want to just relax on a summer day? Head to Hammock Grove to relax and swing in the Island's iconic red hammocks. Kick back in peaceful nooks among the lush foliage of the park. You may even see the Statue of Liberty and the City skyline peeking over you! This is a perfect summer activity especially for parents while the kids play at the Hammock Grove Play Area. Make sure to get there on time because they fill up very fast. This is one of the most fun Governors Island NYC activities
Guided Bird Walks with 
NYC

Audubon

Visit NYC Audubon's seasonal nature center for family-friendly activities, information on the city's birds and habitats, binoculars to borrow, and opportunities to meet avian-inspired artists at work. Bird walks and nature-themed workshops will also be scheduled on weekends throughout the season. All of the events below are free and open to the public with no registration necessary Meet at Nolan Park House 17.
Check out Castle Williams and Fort Jay
Castle Williams is a circular defensive work of red sandstone on the west point of Governors Island. It was designed and erected between 1807 and 1811, designed by the Chief Engineer of the US Army Corps of Engineers, Lt. Col. Jonathan Williams, for whom the fort is named, and considered a prototype for new forms of coastal fortification. You can take a guided tour with the kids to learn more about it. You can also check out Fort Jay.
Governors Island Urban Farm

The GrowNYC Teaching Garden at Governors Island is a one-acre urban farm that aims to engage, excite, and educate its visitors in all aspects of urban farming. The Teaching Garden features over 20 vegetable beds made from recycled plastic lumber, farm-style rows, an aquaponics system, an outdoor kitchen, a large solar oven, a high tunnel greenhouse, fruit trees, several rainwater harvesting systems, a rain garden, and much much more. Urban Farm is closed for hands-on learning this season you can still visit it on weekends from Noon to 4 p.m.
Adventures at Governors Island
Adventures at GI are the perfect attraction for kids. It provides thrill seekers with a zip-line, amazin' maze, and 25-foot walls to attempt to climb. You'll be able to see the Statue of Liberty from new heights as you soar past the zip line at a peak of 35 feet high and over 300 feet long. You must be at least 40 inches tall and over 45 pounds to ride or attempt to rock climb three different towering walls. There will also be a new mini-golf adventure course with 18 holes of unique challenges.
Kayaking
Get onto the water with some kayaking! You can get free kayak rentals provided by the Downtown Boathouse. They offer free sit-on-top kayaks for public use at Pier 101. The Boathouse staff gives free instruction and provides all necessary safety equipment. Spend a good family time doing adventures at these Governors Island NYC activities.
Food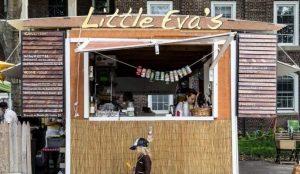 Governors Islands has a ton of options for foodies! The list includes almost 20 eateries from food trucks to oysters and ice cream for a hot summer day! There is something for everyone! Vendors set for the opening include: Island Oyster, Taco Vista, Jamaican-fusion establishment Fauzia's Heavenly Delights, Kimchi Taco, traditional Ethiopian and Eritrean food eatery Makina, Threes Brewing, The Meat Hook, ice pop and slushies haven People's Pops, Melt Bakery, Venezuelan-style hot dog restaurant Perros Y Vainas, Joe Coffee, Three Peaks Lodge at Collective Retre. You can see more about food here. You can also take your own food and have a picnic if you like.
How to Get To Governors Island From Jersey City
It takes approximately 1h 26m to get from Jersey City to Governors Island, including transfers. There is no direct connection from Jersey City to Governors Island. However, you can take the PATH train to the World Trade Center, then take a walk to Pier 11/Wall St. then take the ferry to Governors Island. The cheapest way to get from Jersey City to Governors Island is to train and ferry which costs $6 – $13 and takes 1h 26m. The quickest way to get from Jersey City to Governors Island is by taxi which costs approximately $35 – $45 and takes 12 min.
Manhattan ferries will run daily from the Battery Maritime Building at 10 South St. Capacity on Governors Island ferries will be limited during the 2020 season to allow for social distancing. Visitors must reserve tickets in advance through a new ticket reservation system. Please arrive at least 30 minutes prior to your ferry departure time. They will start processing the line to access the Island 30 minutes before your departure time and will be closing processing 5 minutes before departure to ensure all visitors board safely. Visitors are required to wear face coverings at all times while traveling on Governors Island ferries. Visitors must depart on their assigned return ferry time selected at purchase. If a visitor misses their selected return ferry, spots on later ferries are first-come, first-served.
If you would like to pay for tickets with cash, please email [email protected] to make your ticket reservation. Reservations are still required for visitors wishing to pay cash. When you arrive for your ferry, proceed to the ticketing agent to complete your transaction. More tickets will be released in the near future. If you have any issues with your reservation, please email [email protected] Passengers ride free on Saturdays and Sundays before noon.
Other Things To Know
Restrooms
Indoor restrooms are located at Building 110 on Governors Island. Trailer restrooms are available at Yankee Pier, the south end of Nolan Park, the west end of Liggett Terrace, and near Slide Hill. Hand washing and sanitizing stations are also available across the Island. Increased cleaning procedures and schedules will be implemented for all amenities.